/ Source: The Associated Press
Just over two years ago, he was likening himself to an ancient emperor and urging Iraqis to hold their swords high to resist invasion. Now, sitting in a prison cell, Saddam Hussein faces the start of a public trial Wednesday that could lead to his execution.
Saddam has been a consummate survivor in Iraq's cutthroat politics, but even his staunchest supporters no longer harbor much hope of bringing him back.
Some of his fellow Sunni Arabs complain that his trial — pushed by the now-governing Shiites and Kurds that the dictator often persecuted — is designed mostly to settle old scores, and the proceeding could further inflame Iraq's sectarian tensions.
Saddam himself was always quite willing to do so.
During his 23 years in power, he ruled brutally, displaying a savage willingness to crush anyone who questioned his position or even just displeased him.
He challenged the world community repeatedly, but went too far in a final showdown with the United States. He ended up with U.S. troops not only in his capital, but living in the palaces he built to glorify his rule.
In eight months as a fugitive, Saddam taunted American soldiers in audiotapes carrying exhortations to his people that helped fuel the start of the insurgency. That ended near his hometown of Tikrit when U.S. troops found him hiding in a cellar with unkempt hair and beard.
Since then, he has been seen mostly in humiliating photos taken in jail and leaked to the media — or in brief court sessions where he has shown defiance while denying charges leveled against him.
From rags to ruling
Saddam was born April 28, 1937, a fatherless peasant boy who clawed and killed his way up from poverty to power.
In 1959, he was on an assassination team that ambushed Iraqi strongman Gen. Abdel-Karim Kassem in Baghdad, wounding him. Saddam, himself wounded in the leg, fled Iraq. But he returned after the Arab Baath Socialist Party killed Kassem in a 1964 coup he helped organize.
Saddam quickly became the power behind the country's new leader, a cousin on his mother's side, and eventually pushed the cousin aside in July 1979. After the ouster, Saddam had 22 high officials executed, participating in the firing squad himself.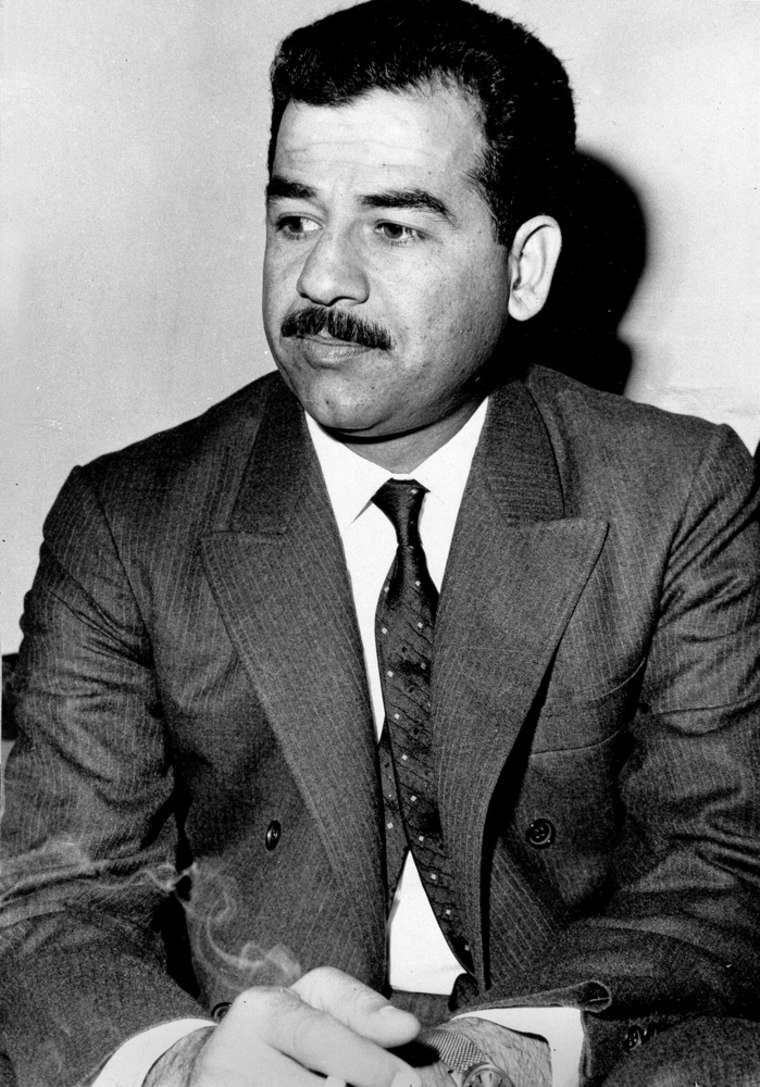 He established a ruthless dictatorship, dominating through fear and murder even as he portrayed himself as the loving father of a nation.
During his bloody 1980-88 war with Iran, he persecuted groups in his own country for dealing with the neighboring country. Campaigns to suppress rebellious Kurds in the 1980s left 180,000 people missing and presumed dead. Saddam also used chemical weapons to kill 5,000 Kurds in the north and sent tanks to crush dissent among Shiite Muslims in the south.
Stories of abuse, such as children being tortured in front of their parents, were rife.
But his rule also brought the longest period of internal stability to his coup-plagued country, which was created by the British after World War I with a volatile mix of Shiite and Sunni Muslims, Christians and Kurds and minority tribes.
Using oil wealth for social reform
Using Iraq's oil wealth — its known reserves are second only to Saudi Arabia's — Saddam initiated ambitious social, educational and economic reforms in the 1970s. Within a decade, he raised the literacy rate from 30 percent to 70 percent, among the highest in the Arab world.
But, craving to be seen as the paramount leader of the Arab world, Saddam moved into the international arena with a series of monumental blunders.
In 1980, he invaded Iran, his country's historic rival, expecting a swift victory. The inconclusive eight-year war impoverished Iraq and killed hundreds of thousands of soldiers on both sides. Washington and its allies sold weapons to Saddam to help stave off victory by Iran's radical Islamic regime.
Seeking to rebound, he demanded in 1990 that Kuwait forgive the debts taken on by Iraq during the Iran war — and then invaded his tiny oil-rich neighbor. A U.S.-led coalition drove his army out, with hordes of Iraqi soldiers surrendering after Iraq was battered by weeks of air attacks.
United Nations sanctions imposed after the Kuwait invasion were meant to stay in place until the destruction of all of Iraq's long-range missiles and chemical, nuclear and biological weapons programs. Saddam maintained the weapons programs were dismantled, and months of searching by U.S. weapons experts after the 2003 invasion failed to find any.
But President George W. Bush — whose father, President George H.W. Bush, had been the target of a Saddam assassination plot — threw Washington's power behind the idea of toppling Saddam once and for all after the Sept. 11 terror attacks on the United States.
Many Arab governments had quietly wished Saddam would go, and some went so far as to publicly call for him to step down to spare the region another war.
A hero to some
But to the Arab world, a weakened Saddam kept in check by the United States and Britain was preferable to an Iraq rid of Saddam by U.S. military forces. Many ordinary Arabs consider Saddam a hero for standing up to Washington, although others criticize his brutal reign.
In his personal life, Saddam trusted few people other than his sons, Qusai and Odai. They died together on July 22, 2003, in a four-hour gunbattle with U.S. soldiers at their hideout in the northern city of Mosul.
Saddam's two oldest daughters, Raghad and Rana, fled to Jordan shortly after the start of the U.S.-led war. Their younger sister, Hala, is believed to be living with her mother, also outside Iraq.