/ Source: msnbc.com news services
Some 200 Japanese lawmakers paid their respects at a Tokyo shrine for war dead on Tuesday, one day after Prime Minister Junichiro Koizumi outraged China and South Korea by visiting the shrine, a spokesman for the shrine said.
The parliamentarians are members of a group that usually visits the Yasukuni shrine — seen by critics at home and abroad as a symbol of Japan's past militarism — during spring and autumn festivals such as the one taking place this week.
Japan's relations with its neighbors could go into a deep freeze following Koizumi's latest visit, his fifth since taking office in 2001, to Yasukuni, where war criminals convicted by an Allied tribunal are honored along with 2.5 million war dead.
A meeting tentatively planned for later this week between Foreign Minister Nobutaka Machimura and Chinese Foreign Minister Li Zhaoxing to discuss a possible Sino-Japanese leaders' summit is now in doubt, while a South Korean presidential aide said on Monday that President Roh Moo-hyun was unlikely to meet Koizumi for their semi-annual summit meeting this year.
Machimura told reporters, however, that the diplomatic schedule should not be affected.
"We will seek (the two countries') understanding through various channels," Machimura said. "I think that various scheduled meetings should take place as planned."
Japanese business executives are worried the diplomatic strains will hurt economic relations especially between China and Japan, which have annual trade worth about $212 billion.
"Japan's relations with China and South Korea are the most important bilateral ties after those with the United States, and a deterioration is a minus for Japan's national interests," said an editorial in the Nihon Keizai Shimbun financial daily.
"Even if there is conflict politically between the countries, we must avoid this having an impact on economic ties and private sector exchanges," the newspaper said.
Visit decried as 'serious provocation'
China's ambassador to Japan, Wang Yi, "sternly criticized" Koizumi's visit on Monday, saying it was "a serious provocation to the Chinese people" and that the prime minister should take responsibility for undermining bilateral ties, China's official Xinhua News Agency reported.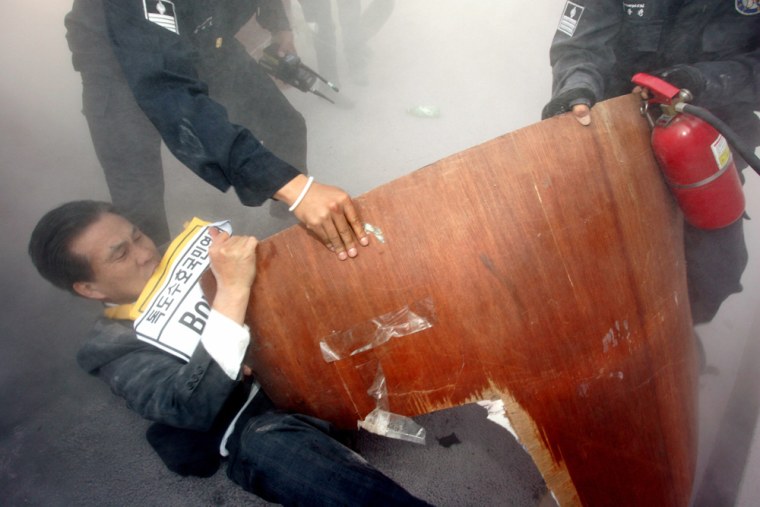 Japan's war fatalities are worshipped as deities at Yasukuni, a shrine in Japan's native Shinto religion. They include executed war criminals from World War II, such as wartime Prime Minister Hideki Tojo. The shrine also runs a museum that justifies Japan's wartime aggression.
The visits are popular among conservatives and the families of soldiers who died in World War II.
"If my children were dead and enshrined here, I would want him to make a visit," said Kyoko Matsuura, a woman in her 40s who was in a crowd at the shrine. "I think he comes here with a commitment not to repeat a war."
later on but I cannot predict what exactly may happen," Hosoda said.