MUZAFFARABAD, Pakistan — The first deliveries of hundreds of millions of dollars worth of international relief are beginning to reach Pakistan's remote villages, if only just.
The trickle of relief agents has become a steady stream of visits by U.N., Western and Asian dignitaries, all seeking to be seen waving their organization's flag high over the miserable ruins.
But given the scale of the devastation here, many Pakistanis are wondering how they will ever recover from the earthquake that has left at least 54,000 dead and many more injured.
It's called "Week Two," the breaking story is out of the news rundowns, and the world's media start to "reassess" their presence. Many journalists, including this reporter, have started to head home.
But quite few of us, it seems, are still scratching our collective heads, sensing we've just covered something unique — even those of us who "do" disasters for a living — are not yet able to nail down what made it so.
Concentrated devastation - like nothing else 
Over the past week our NBC News team camped out in the heart of the quake zone (there were no roofs safe enough to sleep under).
During that time we got an up-close, ground-level look at Muzaffarabad — the once-bustling city that is now 80 percent destroyed.
We drove along a long part the quake's axis, some 80 miles, from Muzaffarabad to Ghari Hajibullah, to Manserha, and to Islamabad.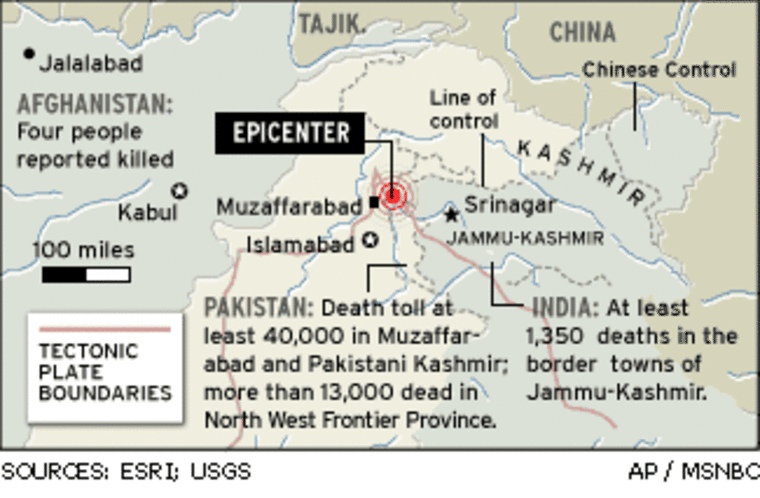 And, once the road was cleared, we made it up to what had been inaccessible mountain villages, like Danna, high above the Jehlum River Valley.
It was still a just a snapshot of the total picture — even the long drive was a fraction of the 1,500-mile Himalayan fault line that convulsed in at least three South Asian nations: India, Pakistan, and Afghanistan.
But it was certainly enough to convince me that I've never seen anything quite like this kind of concentrated devastation before. Not even in Mexico City, back in 1985, when an 8.3 monster quake destroyed thousands of buildings and killed over 20,000.
Looked like a war zone
Walking through Muzaffarabad, just nine days ago the thriving capital of Pakistan-controlled Kashmir, was what I imagine it was like to move through a German town in World War II after a Dresden-like firebombing. Except there were no bomb craters, no carbonized bodies — only building after building spewing out bricks.
Sometimes whole city blocks were pancaked. It appeared just like the homes of Muslims and Croats, after Serb demolition experts systematically blew them up during the "ethnic cleansing" of Yugoslavia's civil war.
But again, it just felt unique.
It looked, and smelled, like a war zone just after battle. But the people were still here, amassed and dazed, in the streets.
It was as if, warned of impending house-to-house combat, 100,000 of Muzaffarabad's city folk chose to stay and watch, rather than run for their lives.
Take the New Orleans death toll and multiply it by 50.
This kind of catastrophe, we all know, usually happens in poor, backward countries where towns molded from baked mud fold like so many sandcastles hit by a huge wave.
But, this was a regional capital full of hospitals, schools and government offices, and now it is a city full of rubble.
Whatever the causes behind this catastrophe — be it shoddy construction, endemic corruption, or just plain denial — its aftermath, for me, has all the elements of a nightmare.
Enduring images
I can't help but think of the medical staff in Muzaffarabad's main hospital, which was 90 percent destroyed, trying desperately to save patients in a makeshift triage center on the hospital grounds while, within earshot, their own family members were screaming for help from beneath the rubble.
I think of all those "first responders," like the ones the media beat to the Gulf Coast calamity. But unlike the situation there, many of those in charge of emergencies here — the Pakistani Army, the police, local government officials, ambulance drivers and fire fighters — were killed within seconds of the tremor. 
So it wasn't difficult for us to beat those first responders to places like Danna, the village some 6,000 feet up in the Kashmir Mountains.
Old men, their faces still caked with blood and their wounds beginning to fester, approached us, seeking help. We were the first "Westerners" they had seen since the quake and of course they assumed we were aid workers.
Nassem Khan, an elderly man who spoke good English after years of work in Saudi Arabia, seemed to sum up the anger in Danna:
''Where are our commanders?'' he screamed at us. ''Where is the aid? You come up, why can't they come up and help?'' The short answer (unlike in New Orleans): many of them were dead.
I'll take away numerous images from this assignment but one will haunt me for a long time to come. It is of a little, nameless Kashmiri boy on a stretcher, just choppered into Muzaffarabad's sports stadium that served as a field hospital.
A beautiful boy, no more than 3 years old, with large hazel eyes, and hardly any skin left on his small battered face.
He lay there and stared at me with those eyes, already beyond pain, beyond tears. No doubt in shock but, somehow, beyond that, too. He just stared, expressionless. Motionless. And I looked back, helpless.