• |
Life on the lam is no life at all (Keith Morrison, Dateline correspondent)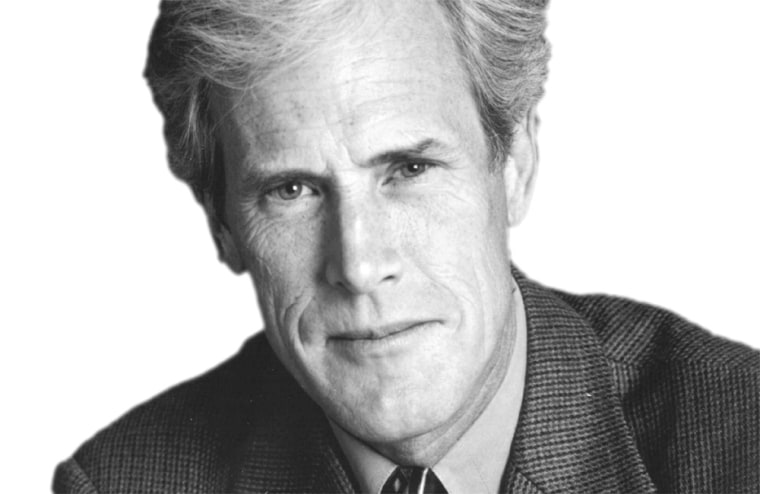 We had no idea where she had come from, or where she was going when she left us, only that she was sitting here in a well-known Los Angeles hotel, jet black hair billowing over her shoulders, fingers working  a string of beads she kept in her lap.  She was jetlagged.  She was wary — not frightened — but tense, nervous, carefully composed.  And she knew precisely what she was about to do, and why, and how much it might cost her.  The day after our meeting, she would present herself to authorities in Las Vegas, and surrender.
Her name is Heather Tallchief, a name all but forgotten now in the blizzard of briefly famous criminals who came after her. But her crime was, well, "perfect," according to the police and FBI investigators who had tried for 12 years to find her.  On a sunny morning in 1993 she had driven away from a Las Vegas casino in an armored truck loaded with $3 million dollars in unmarked bills.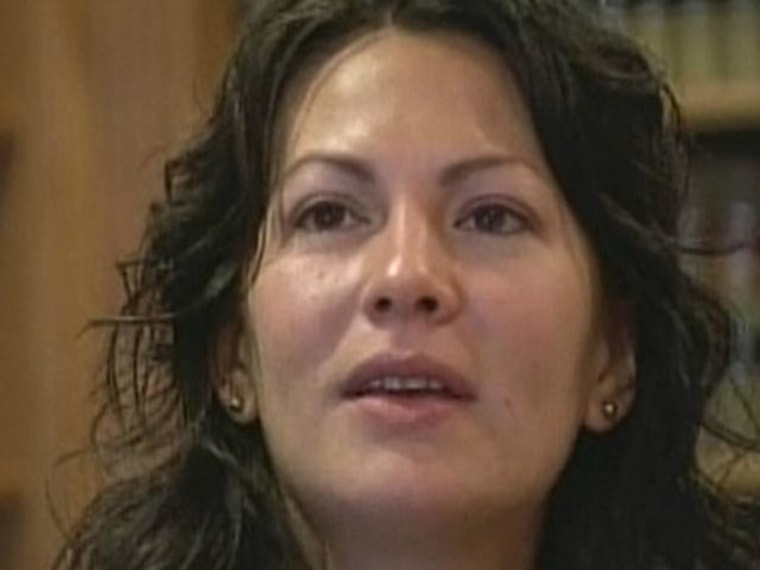 The story of the heist itself is fascinating, and the now-retired investigators who worked the case were eager to hear the story she told.
She had wanted to give herself up years ago, she told us.  There were many reasons — son, boyfriend, "right thing to do," but what struck me was the reason at the heart of a decision that could mean she spends years in jail: life on the run isn't really a life at all.  Its a theme I've heard many times now.
Its difficult, wearing, frightening, says Heather, and others who have been in her circumstances, to live without an identity, or permits, papers, credit cards, drivers licenses, apartment leases, loans, diplomas, subscriptions, regular jobs... or any of the hundreds of regular bits of life the rest of us don't think about.
But to turn yourself in?  It turns out to be much more complicated that simply walking into a police station and saying "here I am." 
But the small piece of the process we witnessed during our meeting produced a remarkable story...
• October 21, 2005 |
Convicted for the Palladium murder, David Lemus walks free after 14 years (Dan Slepian, Dateline producer)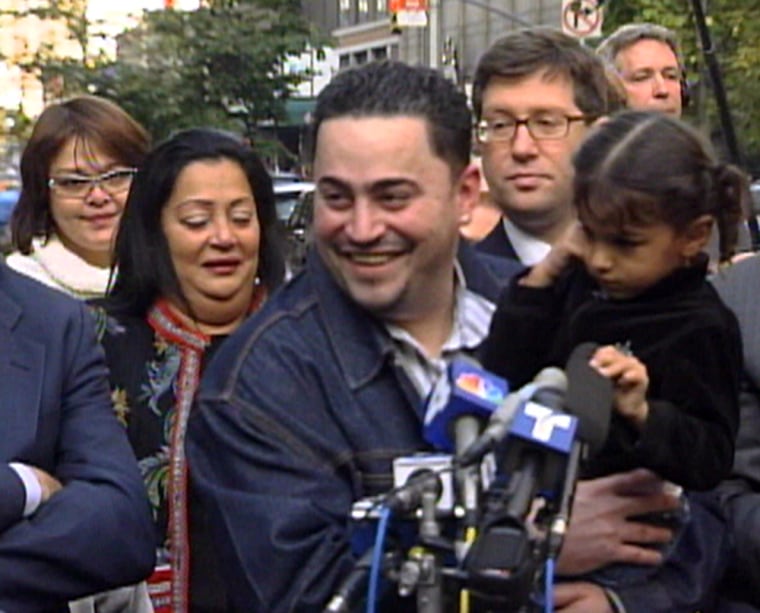 I followed David Lemus out of the courthouse earlier this week and watched as he approached an assembled gaggle of reporters waiting to hear from him. The murder conviction that sent Lemus to prison in 1992 had just been vacated by  Manhattan Supreme Court Justice Roger Hayes. Lemus was free. It was one of those moments in life where you never find the words to properly describe it. Perhaps "epic" is a good place to start.
On a hot August day more than three years ago, I drove to Greenhaven Correctional Facility in upstate New York with a former Assistant United States Attorney named Steve Cohen. He was taking me to the maximum security prison to meet David Lemus and Olmedo Hidalgo, two men serving 25 years to life for committing a murder together. I videotaped the trip, and listened how the former prosecutor had come to believe that both men were actually innocent of the crime and why he had taken on their case for free. That summer marked the end of the 11th year of Lemus and Hidalgo's incarceration, but even so, Cohen seemed confident— even calm— about the outcome.
"Give me a year" he said, "we'll have this figured out within a year."
I was introduced to Cohen a few weeks earlier by NYPD Detective Bobby Addolorato, whom I had also recently met. At the time, I was beginning to shoot a documentary for Dateline about the detectives of the Bronx Homicide Task Force. I remember thinking what an interesting and educational opportunity it would be to spend time with the men and women of the NYPD, particularly in the months following the attacks at the World Trade Center.
After several months of discussions with various ranks of police brass to secure the necessary access to make this project work, I was told the detectives assigned to me would be two 20-year veterans, Bobby and his partner, Detective John Schwartz. I worked their hours, ate at their hangouts, and saw the grisly crime scenes they faced every day.
I was immediately taken by the commitment and sense of duty of both men. They loved the NYPD. Sure, they would complain that they had to still type their reports on carbon paper in an electric typewriter, as detectives did in the 1970's. And they were frustrated that they were forced to pay their own cell phone bills, when a large portion of the calls were to victims families or informants with leads. Most of all, they learned to hate the hours, often not sleeping for two days at a time. But even so, Bobby and John— along with their fellow detectives—worked tirelessly to solve horrible murders that no one will ever hear about.
We were out to dinner one night.
"You must bring this job home with you. You see some terrible things everyday?" I asked.
"You know, I really don't," Bobby paused, "except this one case. This one case keeps me up at night."
The "I'm searching for the right story" bulb went off in my head. "What's it about?"
"It's this case from 1990. These two guys are doing 25 to life for murder but I think they may be innocent. Seriously, it keeps me up at night."
In that single moment, no matter where the story led, I immediately realized it was going to be worth following. What I couldn't know, of course, is that it would cause Detectives Addolorato and Schwartz to retire from the NYPD in disgust, force former prosecutor Cohen to question the very system he's dedicated his life to, and spark an investigation that uncovered a complicated and ugly case.
This summer, the Manhattan DA's office conceded that Olmado Hidalgo's conviction should be thrown out. Weeks later he was deported to his native Dominican Republic.
The DA's office says it intends on once again trying Mr. Lemus. But for now, he's out on bail, trying to adjust to a very different society he left in 1992.
E-mails, questions, or comments about this case? Click here.
• October 20, 2005 |
Police arrest teen in murder of Daniel Horowitz's wife
A 16-year-old has been arrested in the slaying of the wife of criminal defense lawyer Daniel Horowitz, authorities said Tuesday.
The name of the suspect was not released. Investigators were trying to determine the motive for the slaying, Contra Costa County Sheriff's Department spokesman Jimmy Lee said in announcing the arrest.
Click here to read more. Dateline Sunday will have more on this case.
• October 17, 2005 |
Mistrial declared on Susan Polk case
The judge in Polk's case declared a mistrial in the Susan Polk case due to the ongoing investigation into Pamela Vitale's death. 
Vitale was married to Daniel Horowitz, Susan Polk's attorney.
Defense lawyer Mickey Sherman, also a legal pundit for television, explained on MSNBC today that judges have to declare mistrials in instances such as these. Sherman said it would be unreasonable to expect that Horowitz would be able to proceed in defending Polk given the awful personal circumstance.
• October 17, 2005 |
Homicide in (Susan Polk attorney) Daniel Horowitz's family (Stone Phillips)
On Friday, Dateline brought you the story of Susan Polk, on trial in the San Francisco Bay Area for the murder of her therapist husband. Prosecutors allege she followed through on numerous threats and stabbed him to death.
She says it was self-defense, following a toxic marriage with a man who had been her psychotherapist and her lover from age 15.
Her lawyer is Daniel Horowitz, a well known local defense attorney and television commentator. The day after that story aired, and four days into the Polk trial, murder has hit the attorney's family.
Last night Daniel Horowitz called police to say he'd found his wife's body in the doorway of their home. Lafayette Police describe the death as violent and say they are treating this as a homicide and following leads to establish a suspect and a motive.
It is not clear if there is any connection between Polk's case and the death of Horowitz's wife. Click here to read the latest from MSNBC.com.
E-mail Dateline@MSNBC.com