/ Source: The Associated Press
With just two weeks before the trial's start, one of Saddam Hussein's defense lawyers waited in his London office for a courier to bring formal notice of the charges against his client. It didn't arrive.
"This is a joke," said Abdel-Haq Alani. "How can we prepare a defense in a few days?"
The Iraqi Special Tribunal that will try Saddam beginning Wednesday is a work in progress as Iraq tries to build a democratic tradition while seeking to adhere to international norms of justice in dealing with allegations of war crimes and crimes against humanity.
There will be some differences from recent international tribunals that have handled such cases, the most significant being that Saddam faces the death penalty as a possible punishment. Also, he is being tried by his own countrymen.
He is being taken before a formal court, however. Romania's communist dictator, Nicolae Ceausescu, was executed by firing squad alongside his wife following a summary military court hearing in a 1989 uprising, while Italian dictator Benito Mussolini was lynched with his mistress by communist partisans in 1945.

Using Milosevic's trial
Human rights advocates hope the course of justice for Saddam will generally follow the model of Yugoslav President Slobodan Milosevic, who was flown to a U.N. war crimes court in the Netherlands in June 2001 to face charges of genocide and crimes against humanity in the Balkans.
The Milosevic trial has proceeded for more than three years with meticulous care to ensure the appearance of fairness, although critics say the judges have gone overboard in making that point.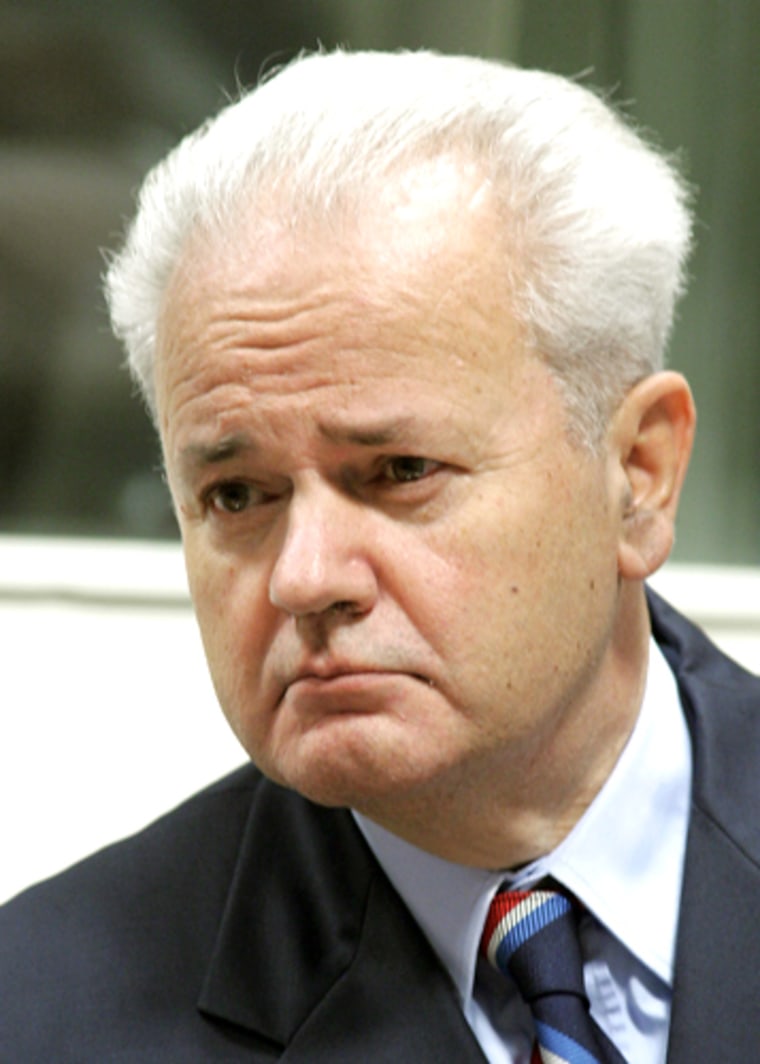 They also complain that the court's allowing Milosevic to defend himself has given him a podium to promote his political agenda back home in Serbia rather than contest the 66 charges against him.
Michael Scharf, a former State Department attorney who helped train Iraqi judges for Saddam's trial, said the Iraqi Special Tribunal's statute safeguards Saddam's rights and is founded in international law.
He argues that letting Saddam take the stage like Milosevic would be a mistake.
"It is not an international right to be able to defend yourself. Milosevic was erroneously given that opportunity and ended up resurrecting his reputation back home, restoring his legacy and making him look like a martyr," said Scharf, director of the Frederick K. Cox International Law Center at Case Western Reserve University in Cleveland.
Saddam's defense will look very similar to that of Milosevic, Scharf predicted, with his lawyers trying to turn the tables and incriminate the former dictator's Western enemies.
Alani, Saddam's London-based attorney, expects the court to appoint a lawyer to defend Saddam rather than allow him to conduct his own defense.
"At the end of the day it is little more than a political farce and has nothing to do with law. This is Saddam in a lynch court, being tried by enemies," Alani told The Associated Press.
Basic rights not guaranteed
Richard Dicker, director of the International Justice Program at New York-based Human Rights Watch, said the Iraqi tribunal risks jeopardizing its legitimacy if basic rights are not afforded Saddam.
"We have real concerns about shortcomings in the law and procedures of the tribunal that raise questions about the fairness of the trial," Dicker said in a telephone interview from New York.
Saddam's trial, he said, is a further development in the emergence of an international system of justice that began with the trials of German and Japanese leaders after World War II and continued with the creation of special courts to judge war crimes in Yugoslavia and Rwanda in the 1990s.
But the Saddam trial diverges from the rules of those courts, Dicker said. It lowers the bar for reaching a conviction so that "beyond a reasonable doubt" is no longer required. And the prosecution didn't give Saddam's lawyers adequate time to prepare, disclosing their evidence less than a month before the trial's start, he said.
"For justice to be done, the trial has got to be fair," Dicker said. "If it is not fair it will simply be a political show trial."