Cell phones today are blessed (or cursed, depending on your point of view) with so many features that in the near future they'll be able to replace your PC or laptop in many instances.
The following three phones fit into the "this device does almost everything" category. While none of them can do everything, each in its own way makes for a worthy addition to your belt, pocket or pocketbook.
Today is release day for Hewlett-Packard's iPAQ hw6500 Mobile Messenger. It's a quad-band, GSM/GPRS/EDGE world phone with 128 MB of memory and a 3-inch color screen. The camera is a built-in SXGA, 1.3 mega pixel device capable of 1280 by 1024 resolution.
In terms of categorizing it, the iPAQ is a PDA which also has a phone inside (as compared to a cell phone handset which also has PDA functions inside). Actual dimensions of the device are 4.65 by 2.8 by 0.71 inches and it weighs 5.8 ounces.
The new iPAQ features digital wireless voice, wireless e-mail, access to Cingular's nationwide EDGE network, integrated GPS receiver, a built-in keyboard, Bluetooth and a 1.3 mega pixel camera. It has the distinction of being the first Pocket PC in the U.S. to use Cingular's high-speed EDGE network.
In real life use, the hw6500 is a terrific device. Its BlackBerry-like shape is easy to hold and to get used to. I was able to wirelessly send/receive my Outlook mail directly from my company's mail servers with ease. Loading Web pages was pretty good; I've seen faster, but I've also seen slower (see below). 
I appreciate the Bluetooth connectivity but wish H-P had also included Wi-Fi inside. I believe that any modern device should be able to bypass the cellular network and use Wi-Fi for speedier downloads and even VoIP. There is even a Skype software client available for Pocket PC devices like this.
Cingular plans to sell the hw6500 for $449 when you sign up for a two-year contract, plus they'll charge $39.99 per month for unlimited data when you also buy a qualified voice plan.
I've been a Nextel fan for years and when I saw their first smart phone being announced at the CTIA show in San Francisco last month I couldn't wait to get my hands on one.  Not only is it a PDA and phone rolled into one, but it's also the first Nextel world phone to be released in many years.
The Motorola i930 works on Nextel's iDEN network in the North America (800/900 MHz) and worldwide GSM/GPRS (900/1800/1900 MHz) networks. That means it has two radios inside and is literally two phones in one. That explains its size: 3.5 by 1.9 by 1.2 inches. With a high-capacity battery, it weighs 5.9 ounces. In real life it feels thicker and heavier than the numbers suggest.
The i930 is runs on the same Windows Mobile 2003 operating system as the HP iPAQ mentioned above. It's not the latest version of the OS but it does have enough features to keep you busy. The handset can do everything a Windows Mobile smart phone can do, but just a little slower. Nextel's data network is not as fast as an EDGE (T-Mobile/Cingular) or EV-DO (Verizon/Sprint) network but does get the job done.
Road warriors desiring instant communication will benefit from Nextel's walkie-talkie services in the United States, another first for smart phones. The company also offers international walkie-talkie services that allow you to instantly connect with other users on the Nextel network in and between the U.S., Argentina, Brazil, Canada, Mexico and Peru.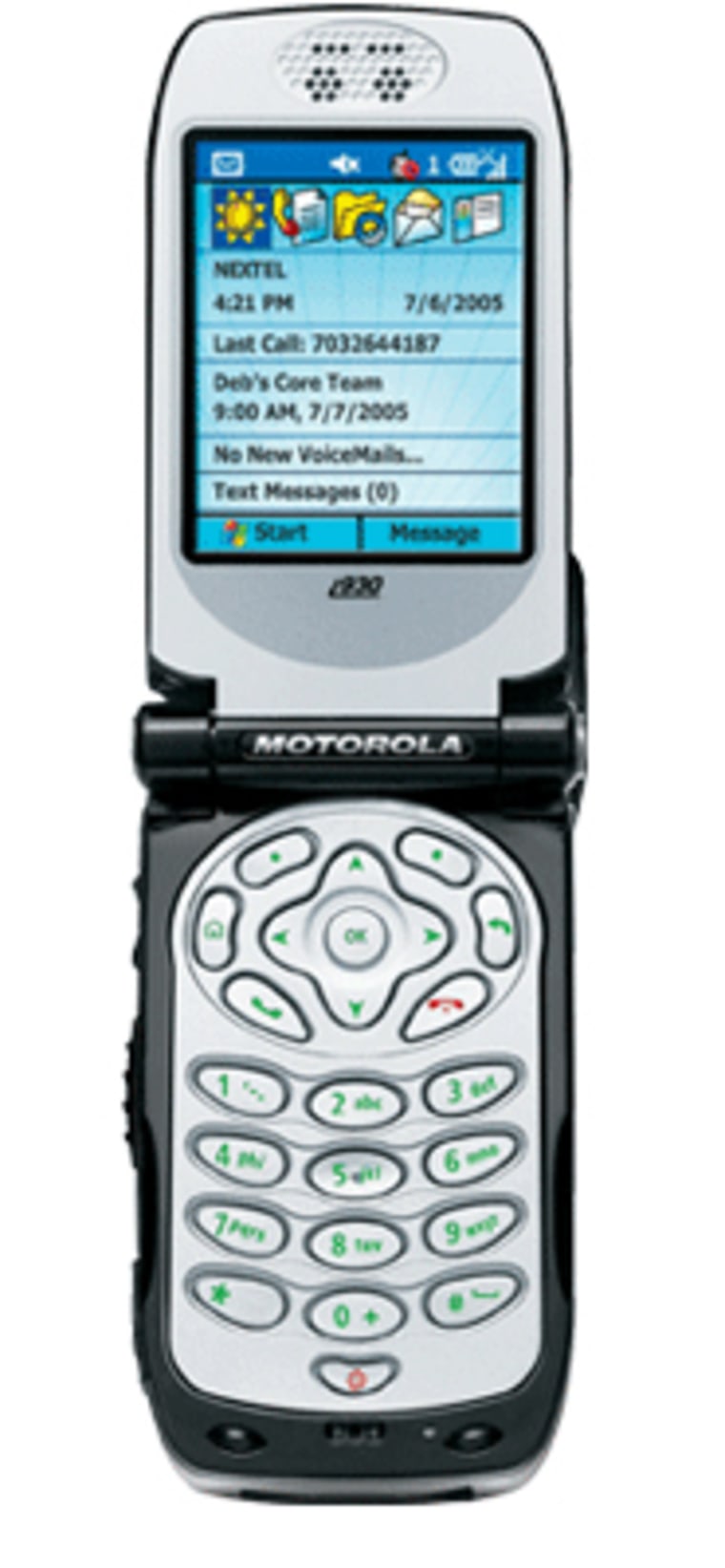 The i930's instruction manual suggests that if you use the device to connect with an Outlook e-mail server that you set it to get your mail every 10 minutes or less. I set it to retrieve my e-mail every 5 minutes and in less than six hours began getting low battery messages. Of course, better Nextel signal strength in my new neighborhood would probably help preserve battery life. I then changed the phone to retrieve e-mail every ten minutes and battery life was much improved.
Overall, I'm happy with the i930. Despite the teething pains, it does what I want a Nextel smart phone to do. Sprint/Nextel is selling the i930 for $499.99. To their credit, they're only charging $10 extra per month (in addition to your voice plan) for unlimited data services. 
Finding the i930 on the new, combined Sprint/Nextel Web site is not easy. Navigate to Nextel phones then look for the small print at the bottom of the left hand column that says "View International Phones."
Finally, the musical phone. Ericsson has been making cell phones for years and everyone knows the term Walkman has the name Sony in front of it.  So a SonyEricsson Walkman phone should be good, and it is.
The phone's official name is the W800i. Small, white and orange, this one phone that cannot be mistaken for other little cellular handsets. I measured at 3.8 by 1.8 by 0.8 inches weighing in at a scant 3.5 ounces. It seems smaller in real life than the numbers suggest.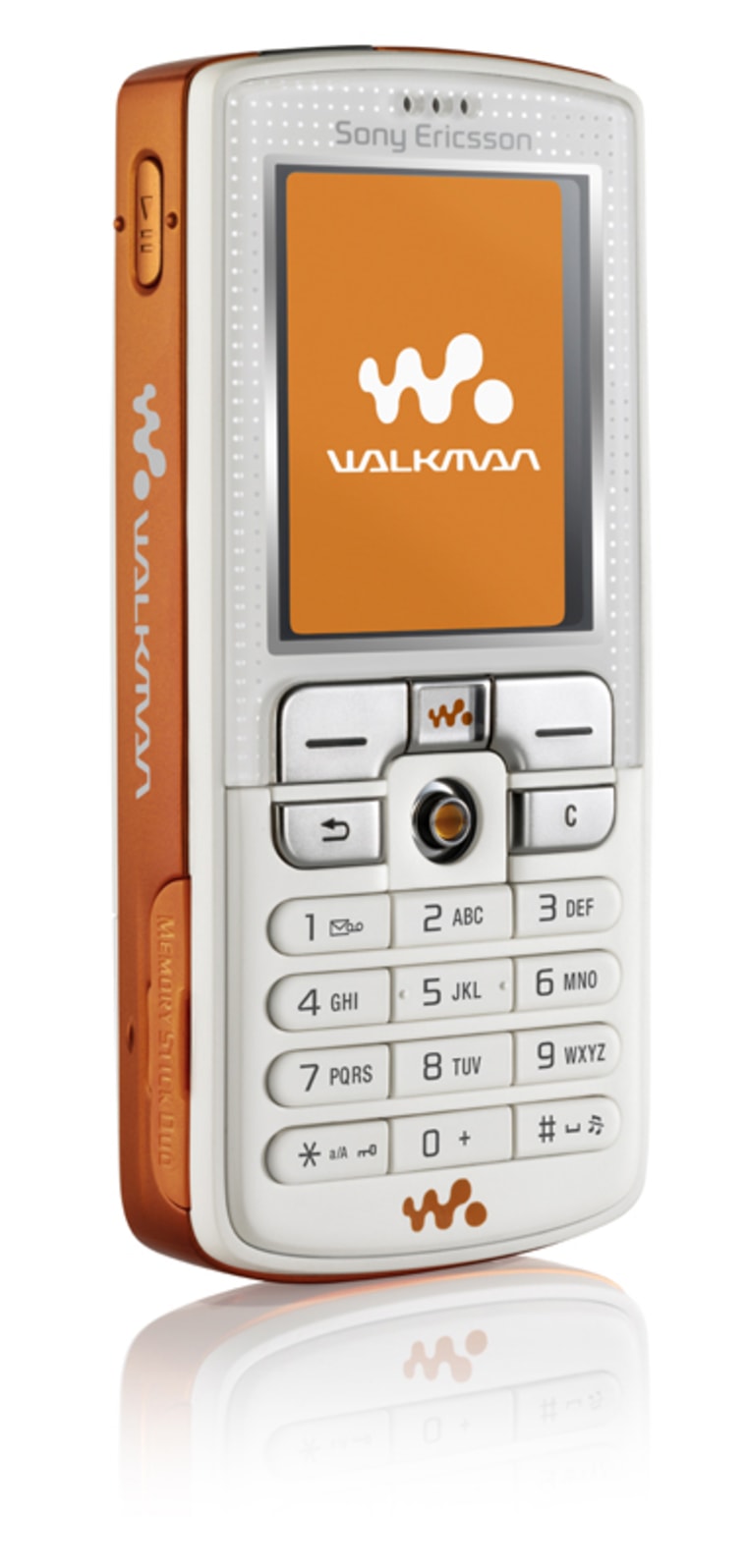 The W800i is a tri-band, GSM/GPRS world phone (900, 1800, 1900 MHz) with a nifty 2.0 mega pixel Sony digital camera on the back and a Sony Walkman MP3 player inside. The phone can handle as many songs as you can fit on a memory card — not limited to just 100 songs like on the Motorola/iTunes phone.
Instead of an SD memory card slot like the previous two smart phones, this phone has a proprietary Memory Stick slot. In this case that's a good thing because the W800i comes with a 512 MB card to store your music.  The other two phones above just have the slot.
A Sony spokesperson told me that 2 GB cards will be available by Christmas and that 4 GB cards will be on the market in early 2006. That means your Walkman phone will be able to hold a whole lot of music.  Batteries are said to last up to 30 hours of listening time with the phone off.
The phone has built-in stereo speakers but doesn't play as loud as the Motorola/iTunes handset. Plugging in headphones or headsets requires a dongle, instead of plugging directly into a headphone jack on the phone. It's a minor inconvenience. Sound quality through the provided earplugs is pretty good.
The i800 was able to sync to my Outlook e-mail servers with ease. Transferring music files was not as fast as on an iPod (not much is) but that's because Sony's transfer software (Disc2Phone) checks each file to make sure it will play perfectly on the phone. You get to set the compression speed and the software does the rest.
The W800i is not available through any U.S. cellular carrier (why not?). That means you can buy the Walkman phone as open phone for $499 from SonyEricsson online and arrange for service from a GSM carrier — T-Mobile or Cingular in the U.S. That also means that you might have to deal with the carrier's service department for help in setting up the phone.