It took Hurricane Katrina's wicked winds and churning waters just an hour or two to pulverize hundreds of years of history and development in the neighboring Mississippi towns of Bay St. Louis and Waveland. But more than six weeks after the most destructive storm in U.S. history, questions about the futures of the close-knit beachfront communities aren't close to being answered.
While no one is suggesting that the picturesque towns in coastal Hancock County won't be rebuilt, local officials acknowledge that it will take years to repair what Katrina ripped to shreds.
"I don't know how to describe it," Bay St. Louis Mayor Eddie Favre said of the devastation that in some places extends miles from the beach. "… It's just nothing but piles of sticks and lumber and people's entire lives in one pile of mess."
It also will take time to regain the sense of community that residents of the towns treasured. "A lot of people have left for good," said Camille Tate, a Bay St. Louis real estate agent. "A lot of people just couldn't stand it, came back and looked at it and said, 'I will not stay here.'"
In a scene playing out in communities all along the Gulf Coast, local leaders are contemplating a massive rebuilding effort at the same time they are facing severe budget shortfalls because of damage inflicted by the storm.
"We're being promised that there has never been a municipality that has gone bankrupt after a presidential disaster declaration, so … all we can hang our hat on is that it will be made better, we will be made whole again," said Hancock County administrator Tim Kellar.
Kellar estimates that Katrina instantly erased more than half the county's tax base, cut its population of 46,000 by nearly a quarter -- at least for the short term -- and left county staff with just one 1,200-square-foot office building that was safe for occupancy.
Already the federal government has poured more than $70 million in emergency aid for individual residents of Hancock County, and approved more than $10.5 million to meet the short-term needs of the governments of the county and its only two incorporated towns -- Bay St. Louis and Waveland. But all parties agree that this is merely a downpayment on a long-term reconstruction effort that will carry a price tag that no one can yet even estimate.
"(Recovery) will be measured in years, not months," said Eric Gentry, administrator for the Federal Emergency Management Agency in Hancock County.
Residents who have either remained in or returned to their homes have more immediate concerns – such as searching for belongings in the massive debris piles or cleaning the toxic muck left in their houses by retreating floodwaters.
Many also are battling with insurance companies, which are classifying the storm surge as "flooding" rather than a hurricane-caused phenomenon.
"My homeowners (insurer) has offered me $10,000 … that's only for the tree that fell out front and a few other little things," said Tate, the Bay St. Louis real estate agent. "They say they don't owe anything (on the damage to the house itself) because … it was rising water."
Only about one-quarter of the 21,000 homeowners policies issued in Hancock County included flood insurance, according to FEMA's Gentry.
Huge rebuilding task
When residents pause to contemplate the future, many express fears that the pressure on the economically devastated local governments will lead to approval of coastal developments that will destroy the charm of the towns and neighboring communities.
"The cities and the counties need the money more than ever now to rebuild … and it's going to be very appealing to put high-density housing on the beach," says Ellis Anderson, a Bay St. Louis resident who co-founded the Coastal Community Watch earlier this year to fight condominium developments proposed for the area before Katrina hit.
Anderson, who like many other Bay St. Louis and Waveland residents describes her hometown in terms usually reserved for Norman Rockwell paintings, said she intends to mount a grass-roots campaign to insist that officials make preserving the charm and small-town atmosphere of the arts colony a priority in considering redevelopment proposals.
Her efforts will be complicated by the extent of the damage inflicted by the storm.
Bay St. Louis, a town of 8,209 built on the bluffs where French explorer Jean Baptiste Le Moyne Bienveille hunted game in 1699, and Waveland, which had a pre-hurricane population of 6,674, were at the worst possible place at just the wrong moment when Katrina roared ashore early on Aug. 29. Her "eye" passed just to the west, putting the cities squarely in the northeast quadrant of the eye wall – the counterclockwise maelstrom where the winds are strongest and the storm surge most ferocious.
Though Katrina had weakened from a monstrous Category 5 storm before it made landfall on the Louisiana coast that morning, experts estimate that it was still packing winds of 125 mph or higher when it reached the Mississippi coast. But the big killer was a storm surge of at least 30 feet, with wind-whipped waves of seven feet on top of that.
Fortunately, most residents heeded authorities' warnings and fled before Katrina crashed ashore. But some, believing they had survived the worst Mother Nature could throw at them when they rode out Hurricane Camille in 1969, stayed put and hoped for the best.
"We kept putting out a lot of warnings (but) people had 'I Survived Camille Syndrome' … and wouldn't leave," said Brian "Hootie" Adam, director of the Hancock County Emergency Management Agency.
It was a decision that virtually all of them would regret – if they survived. At least 49 people in Hancock County perished in the storm and many others – no one is certain just how many – are still missing.
Brian Mollere, a Waveland resident who fought for his life – and that of his mother's Chihuahua, Rocky – after the torrent flattened the family-owned hardware store and her home above it, was one of the lucky ones.
"I was picked up by a 40-foot wave and pushed 800, 900 feet," he recalled. "It just wasn't my time to go." His mother, who had left to ride out the storm in Bay St. Louis, didn't survive.
Unspeakable devastation
When the waters receded several hours later, an unspeakable scene of devastation awaited local officials venturing out for their first look.
"We expected to see roof damage and parts of buildings maybe gone, but this was entire neighborhoods and entire blocks of streets … totally gone, nothing left," said Favre, who is serving his fifth term as Bay St. Louis mayor and was among those left homeless by the storm.
The picture hasn't brightened in subsequent weeks.
"As best we can tell right now, we've lost about half of our homes and businesses, maybe a little bit more … (and) probably 75 to 80 percent of the tax base," said Favre, a distant cousin of Green Bay Packers quarterback Brett Favre. "… Casino Magic (the biggest single contributor to the city budget) is gone for at least a year, if not longer."
Also devastated was the town's core: three blocks of Main Street that were home to the city's vibrant arts colony and the scene of the Second Saturday art walk, which drew visitors by the thousands every other weekend during spring and summer.
The bad news doesn't stop there: The Hancock Medical Center, the only hospital in the city, was badly damaged and is now offering limited services from a series of tents erected in its parking lot; the city's schools, which sustained major damage, remain closed, with a target date for reopening of Nov. 1; the Highway 90 bridge that connected Bay St. Louis with Pass Christian was destroyed and will take many months and approximately $150 million to replace; a 9 p.m. to 5 a.m. curfew intended to discourage looters remains in place; and residents with utilities are still being advised to boil water as public works crews struggle to repair a host of leaks in the water system.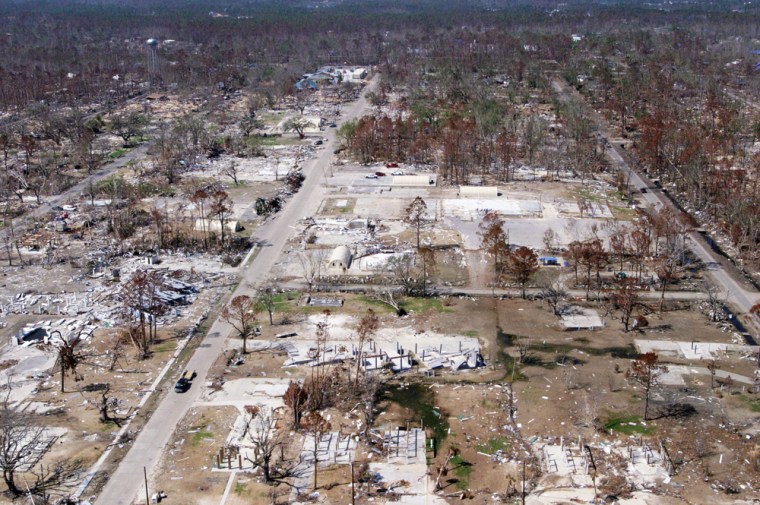 "Our 130-year-old City Hall was gone, every public building was gone except for that fire station and the police station, but both of them had multiple feet of water in them and … were condemned," said a visibly exhausted Mayor Tommy Longo, who is directing his city's recovery effort from a makeshift encampment and command center atop a water treatment plant. "So we literally had lost every resource that we had – 91 city vehicles. We got an animal control truck working that we shared for about a week. I had people chasing me with dogs everywhere, flagging me down."
The downtown area looks as if a bomb was dropped on it. All that remains of City Hall is a flag pole, a small piece of a mural depicting the town's history and a plaque expressing gratitude to those who helped the city rebuild after Hurricane Camille.
While most of Longo's attention in the weeks since has been devoted to clearing the streets using donated and leased heavy equipment, and restoring water, electricity and sewer service to as many residents as possible, he also has been able to get many city offices back up and running out of Quonset huts obtained from an Alaska company.
The mayor, who also lost his home and was forced to relocate his wife and five children to Maine, said the city is still assessing the extent of the damage, but that virtually every building gulf-side of the railroad tracks that bisect the city was destroyed, and many others on the other side were left uninhabitable.
The federal government is standing behind the embattled local governments so far. The initial $10.5 million allocated by FEMA went to cover payroll and overtime costs during the frenetic first weeks after Katrina hit. City and county officials are now preparing "project sheets" that, if they are approved, will enable them to permanently replace equipment and facilities destroyed by the storms, on the federal dime.
Gentry, the FEMA administrator, said that while the cost of the rebuilding will be steep, the agency is in Mississippi and other Katrina-ravaged areas for the long haul.
"We still have offices open in Florida from last year's hurricanes and those will be open for years to come," he said. "This will be a multiyear recovery and FEMA will be here throughout that process."
Less clear is to what degree FEMA will cover the local governments' ongoing expenses until they regain their financial footing.
"We're not sure. We don't have all the answers yet," said Kellar, the county administrator, when asked how long the emergency federal funding was expected to continue. "This is our first time to ever go through this and I hope it's our last."
Optimistic outlook
Despite the financial uncertainties facing them in the coming months and years, city and county officials are uniformly upbeat in assessing their long-term prospects.

"We have an opportunity that not many people get… to build a model community from scratch," said Longo. "… We have the history since 1887 to learn from and build from."
Jeffrey Reed, a Bay St. Louis city council member and minister of the non-denominational Powerhouse of the Deliverance Ministries, said he believes the city will come roaring back as long as the city gives residents a reason to believe.
"By keeping in contact with the people, keeping their spirits up and keeping hope alive in them, just by the fact that they're here, the city is going to come back," he said. "… If they've done something before, they can do it again."
Many of the citizens – at least those who never left or are returning to the cities – also remain optimistic despite the scenes of destruction that greet them each day.
"There's going to be a change, but… I'm hoping that it's going to be for the good, that it will be a small wonderful community with small shops and a lot of artists," said Tate, the Bay St. Louis real estate agent.
"It's like a cleansing," said Mollere, the Waveland man who survived a close encounter with the storm surge, describing the post-apocalypse landscape he sees from his tent and trailer encampment across the street from the flattened City Hall.
"It's like you look around, everything's gone. It's like you can paint a new picture now. The town can come back better than it ever was. ... It can be the perfect little city now."