/ Source: The Associated Press
The discarded refrigerators have dotted the wealthiest and poorest neighborhoods for weeks like fly-infested tombstones, some sealed with duct tape yet secreting foul odors.
They're more than an eyesore.
Authorities say the iceboxes pose health and environmental risks, and symbolize a monumental task: digging New Orleans and other parts of southeastern Louisiana out from the mountain of debris created by Hurricane Katrina.
Since the flooding receded, an armada of dump trucks has collected about 4.6 million cubic yards of waterlogged waste from the ruins, according to the U.S. Army Corps of Engineers. The corps, which is supervising the cleanup, estimates the total will exceed 17 million cubic yards — a calculation that doesn't include abandoned cars, boats or homes awaiting demolition.
"We're adding more and more trucks everyday," corps spokeswoman Mary Beth Hudson said. "It's a huge undertaking."
$3 billion contract
The corps has awarded contracts worth up to $3 billion to three firms that specialize in disaster recovery and debris removal projects. The resume of one, Phillips & Jordan Inc. of Knoxville, Tenn., includes the cleanup of ground zero at the World Trade Center.
The firms and their subcontractors have been separating the debris to ensure proper disposal. Trees and other vegetation will be converted to mulch or burned to prevent the spread of termites. Furniture, mattresses, carpeting and other non-hazardous household debris will go to scores of landfills in the region.
Another category officials call "white goods" — broken dishwashers, stoves, microwaves, computers and refrigerators — will be recycled.
Special trucks rigged with "knuckle boom" cranes have slowly begun plucking refrigerators off of sidewalks, front lawns and center dividers. Collections of magnets — cartoon parrots, tropical fish, a smiling apple — and graffiti — "Bring Back New Orleans" — cover their doors.
Fridges could take a year
Refrigerator retrieval could take more than a year to complete, a timetable many people find troubling.
"It's as slow as molasses," real estate broker Walter King, 56, said as he glared at two refrigerators sitting on the sidewalk in front of a 100-year-old Victorian house he's trying to sell in the Garden District.
"You had to get them out of the house, but now they're just sitting here," he said. "It stinks."
At a swampy, 200-acre landfill in the Gentilly neighborhood, a team of workers in hazmat jumpsuits and face masks has the grim task of popping open and cleaning row after row of refrigerators. Some use plastic snow shovels to remove messy stews of meat, frozen pizza, salad dressing, orange juice and other food that's been rotting for nearly two months.
The stench from the refrigerator graveyard attracts a constant swarm of dragonflies. The odor can make some people vomit before it finally dulls their senses.
"I'm a retired mortician, so it don't bother me much," Ron Fields, 54, of Mobile, Ala., said as he power-sprayed disinfectant into the empty refrigerators. "You stay upwind you're fine. You get downwind you have a problem."
Chemical search
Once the cleansing is complete, Environmental Protection Agency workers extract and contain ozone-depleting refrigerants. Cranes then lift the iceboxes into a giant compactor, which reduces them to recycling-ready cubes and stacks them three stories high.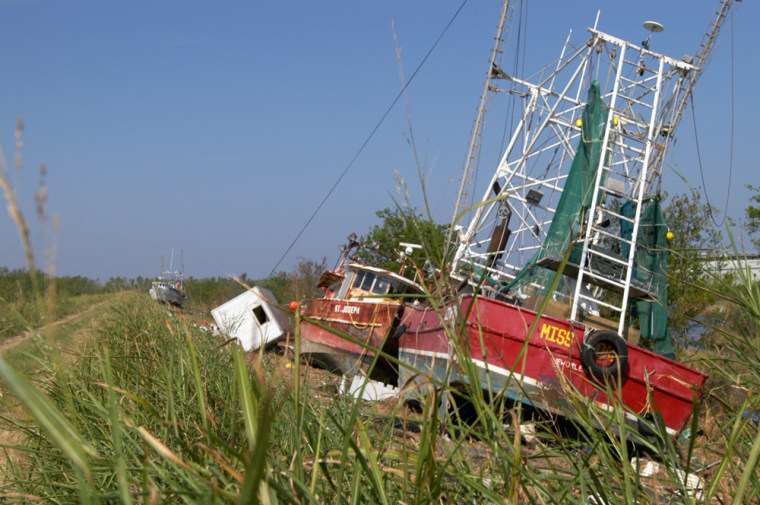 Engineers expect the Gentilly landfill to process up to 100,000 refrigerators. Another landfill, in Jefferson Parish, is ready to handle 250,000 more.
Refrigerators aside, state environmental officials believe some of the other debris can be used to protect and preserve the coast. Among the ideas: using tree limbs and timber from homes as sediment traps in the marsh.
The up to 50,000 boats littering the Gulf region also could be used for reefs, and become refuges for fish and other marine life. The reefs, officials say, can act as buffers to future hurricanes.
"We're exploring all sorts of options for waste," said Chuck Brown, assistant secretary at the Louisiana Department of Environmental Quality. "There's so much of it."