/ Source: The Associated Press
Tucked behind a grassy levee, 17 doors down in a line of trailers stretching back nearly half a mile from the road, Beverly Blount has found, if not a home, then at least a refuge.
"There's a saying that if God brings you to it, he'll bring you through it," says Blount, who left behind her home and her job as a lab technician to flee Hurricane Katrina. "I feel like God delivered. Dow provided, but God delivered."
Blount's trailer and 102 others in this instant neighborhood represent efforts by her employer, The Dow Chemical Co., to answer one of the most daunting ultimatums issued by the hurricane — a drastic shortage of housing for workers.
Without the trailers, Dow could not bring back nearly 200 homeless workers needed to restart a plant shuttered by Katrina. If the economy of New Orleans and the Gulf Coast are to be rebuilt or reinvented, thousands of companies may have to follow its lead.
Temporary solution
It will take years to solve the housing shortage in the region, so many large companies have resorted to temporary housing. But those results understate the problem. Small and mid-sized businesses — the heart of the region's economy — are faced with overwhelming demands for housing they are the least-equipped to solve.
"The problem is all the other folks who can't afford to make that investment" in housing, says Loren Scott, a former professor of economics at Louisiana State University whose consulting firm tracks the state's business climate. "That's where the rub is going to come. That's what going to limit New Orleans from coming back."
In fact, the shortage of housing for workers extends far beyond New Orleans, affecting every type of business from restaurants to refineries, shipyards to casinos.
Katrina destroyed or seriously damaged between 200,000 and 250,000 homes, federal officials say.
Signs, blue tarps are barometers
The overlapping crises in housing and labor are symbolized by the two hallmarks of the region raked by Katrina. The first are the "Help Wanted" signs sprouting from highway medians, hung in store windows and posted on marquees.
They are matched in number only by the royal blue plastic tarps, handed out by the federal government, that stretch across the splintered roofs of thousands of damaged homes. From the air, some tarp-heavy neighborhoods look like subdivisions full of swimming pools.
To help fill the housing gap, Louisiana labor officials say they are applying for federal grants that could be used to run regular buses two hours or more in each direction between greater New Orleans and areas north where some refugees have found housing.
But some employers have worked rapidly to find surprising solutions to the problem, albeit temporary ones.
Companies get creative
Executives at a refinery owned by ConocoPhillips Co. in Belle Chasse, La., secured a 565-foot training ship from the State University of New York to dock alongside the plant and house up to 700 homeless workers. Chevron Texaco has created a trailer city for about 300 of its 1,200 workers in Pascagoula, Miss., that its new residents have dubbed Camp Chevron.
Associated Terminals, whose floating cranes offload cargo from ships coming into the Mississippi, has bunks in a warehouse and in a former Veterans of Foreign Wars hall in Reserve, La. The company also put nine trailers in local campgrounds to house workers with families.
"That's the only reason we even came back," said Shawn LaCiura, whose husband is a supervisor for Associated. The couple and their two children, now living in one of the company's trailers, fled to a relative's home in Arkansas after their home was flooded with 12 feet of water.
Louisiana officials have also been working with a number of companies to dispatch trailers supplied by FEMA to businesses that need to house workers. So far, 2,461 trailers have been delivered, with requests for 2,578 more pending.
A 'life and death' situation
"This means life and death for most of these companies," said Dane Revette, an official with the Louisiana Department of Economic Development who's been coordinating the trailer placement program.
The destruction is putting pressure on people like Harold Herrmann, chief financial officer of Reilly Foods, a 102-year-old packaged foods company in New Orleans that employed about 300 people at two plants. Reilly Foods has scrambled to get at least one plant back online, but without housing, a key ingredient is missing.
"All the finest machines in the world can't make tea bags without operators," he says.
The crisis may force the company to become a real estate developer, or else go elsewhere, an option Herrmann prefers not to think about.
That is at least part of the answer for John Dane, owner of Trinity Yachts and U.S. Marine Inc., sister companies that build luxury vessels for the wealthy and water transport for the military. Its two yards in New Orleans, which employed more than 600 people, were wiped out by the hurricane, with some workers scattering as far as Houston.
100 trailers
So Dane has snapped up another yard in Gulfport, Miss., within driving distance of many of the Louisiana workers who still have homes. For those who don't, the companies have purchased 100 trailers, installing them in the parking lot of the replacement yard, where Dane expects production to begin as soon as next week.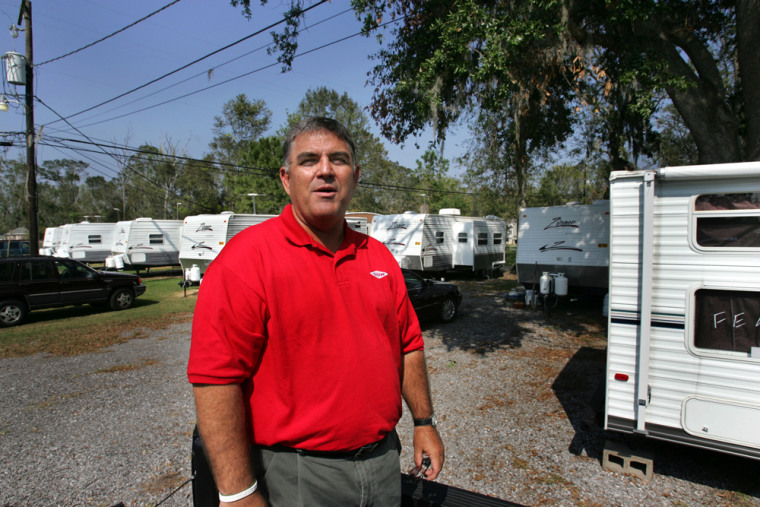 "We're now in the hospitality business, as well as factory development, as well as in the boat business, so there's definitely been a little bit of a change in plans," Dane says.
Dow has also been forced into unfamiliar territory. Katrina left homeless about 170 of the 1,100 workers at its Hahnville specialty chemicals plant. To bring them back, the company assigned Marty Owens — whose usual job is auctioning off the plant's surplus materials — to find a place for 150 trailers.
The company seized on two sites, the larger one a grassy field alongside a small industrial park where the company had planned to park tanker trucks. Owens found contractors to lay sewer and water pipes and electrical lines, grade the site and cover it with a bed of gravel.
'At least I still have my job'
The first workers began moving into the trailers, lined up by like dominoes, less than two weeks after the storm. They include Blount and her 14-year-old son, Jonathan, whose home in Marrero, across the Mississippi from New Orleans, took on two feet of water. Quarters in the white trailer with tan interior are tight. And Blount sometimes has trouble sleeping, with cars passing by on the gravel outside.
But the temporary housing and the job that comes with it has kept the family on its feet, she says.
"At least I still have my job," Blount says. "If I had to start all over after 24 years...what am I going to do?"