/ Source: The Associated Press
For generations, their lives have been defined by uphill and downhill; by sunrise and sunset; by the swollen udder of the water buffalo demanding to be milked or the lengthening hours of sunshine that mean it's time to plant the corn.
Now an already precarious life on the steep hillsides of these Himalayan foothills has become even more fragile.
The branch of the Abbasi family that lives here are like untold numbers of families across the Kashmir region and the other parts of northern Pakistan rocked by the 7.6-magnitude quake — they're homeless but they're not leaving their homes.
Instead, they're living in four donated tents a few feet from the tumbled-down walls of their rock-and-mud houses. But the foundations of their life remain — the terraces carved from the mountainside where they grow corn in spring and wheat in winter; the water buffalo, goats and chickens that give them milk, meat and eggs.
The Abbasis are Kashmiri subsistence farmers, poor in money and belongings but rich in family ties and the beauty of the green mountains rising around them and the icy Jhelum River thousands of feet below. A few have fled the rubble of their homes for cities in the south, but many in this village of 250 families are either too poor to leave or unwilling to uproot themselves.
In this country — a collection of scores of different ethnic groups with just as many different languages — where they live and how they live define them. "Gujars migrate place to place, but locals do not do this. Chitral people do this, Chitralis migrate, but not us," said Zafira Begun, talking with disdain about nomadic gypsies and a northern people. "How could we leave our houses? It's our houses — why should we leave this place?"
Rhythms of life
An afternoon, an evening and a morning spent with the extended Abbasi family of 24 — 10 of them under 15 — offered a glimpse into the rhythms of life and the questions left by the deadly Oct. 8 earthquake.
The day begins before dawn, with sehri — tea with creamy water buffalo milk and a bite to eat for the start of the daylong Ramadan fast. One of the women sweeps the dusty earth of leaves and trash with a short broom made of branches, sending up small clouds of dust that float off with the chill morning breeze.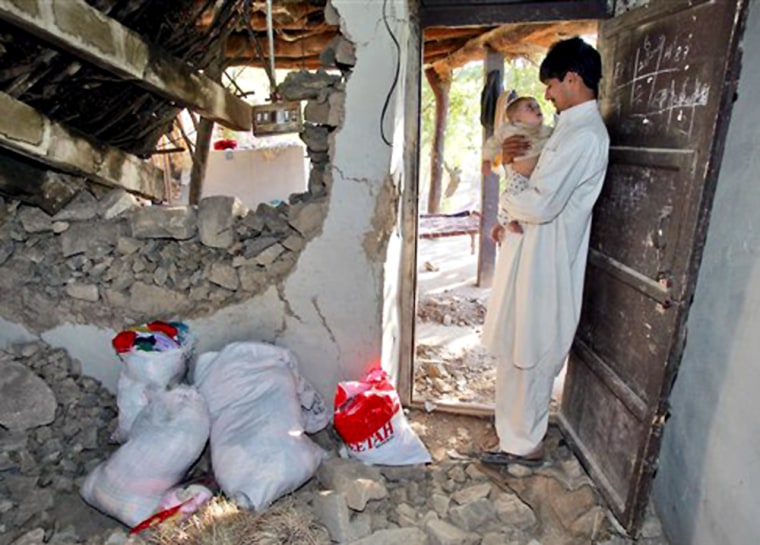 One of the adult cousins, Shahid, sleeps late wrapped in blankets on a charpoy — a traditional rope-mattress bed that sits outside many rural homes — just feet away from their livestock — two water buffaloes, six goats and chickens numbering a dozen or so.
The eldest man, Mohammed Azam Abbasi, in his 70s, lifts a hoe and chops up the stubbled roots of corn that the younger men had harvested in late summer.
The women take empty metal pots to a water supply 200 feet away and back, carrying the pots atop their heads. Later, women do all the work preparing the meal — milking the water buffalo, gutting and skinning the chicken, cooking the rice and stew and preparing the chutney. Only the killing of the chicken is done by a man. With their meager supplies, a meal of meat was likely only prepared because they were being visited by me, a photographer, our driver and translator.
It's not all ancient traditions, however. Modern life is a big part of their lives, too. Saba makes chutney with an electric blender and watches an old black-and-white television while she does, both appliances linked to a single power line that snakes up the mountain. Murtuza has a cell phone and all the boys gather around as he adds minutes. Trash litters their property, as there is no garbage can.
There are visits to and from neighbors, uphill and down, more time for talking than for work. The two babies — Iman, 5 months, and Noor, just over a year — are carried and passed from cousin to mother to aunt, tickled, fed, kissed and tossed in the air.
Young boys play with sticks, then turn to kicking an empty bucket. A 13-year-old girl, Sofia, studies in the dark of a tent— "English B" — even though classes are canceled because of the earthquake. She won't look at me, a Western man, and hides behind the primer, giggling. Her school and her classmates were unhurt by the quake, she answers after several questions.
The Abbasis here all survived, though tragedy struck all around them.
'Thanks to Allah'
A few homes down the hill, a 13-year-old cousin died in the quake. A few hundred feet above, where there's a denser concentration of homes and buildings, a school collapsed and took the lives of 22 boys. Across Pakistan, estimates count as many as 79,000 dead.
"We are sad about those people that died, but what we do is on the wishes of Allah," said Usman Abbasi, 27, father of Iman. "Thanks to Allah, many of the people survived."
The land doesn't provide enough for them here, or for their neighbors. Usman and the other men travel to cities near and far for work. He works as a truck driver and a bus conductor for weeks at a time in Rawalpindi several hours south. His cousin Shahid works as a computer technician in Peshawar, several hours to the west. The women stay home.
The Abbasis, a name shared by families all across the Kashmir side of the valley, came here after partition — the 1947 creation of Pakistan from India that sent Muslim families like theirs migrating to the newly created Islamic state and Hindu families going the other way, to the Indian side.
Kashmir's borders remain in dispute, the region having sparked three wars and killings that continue to this day. But the Abbasis don't wish to talk of politics.
Their worries are about the winter. The thin nylon and canvas tents keep out the wind and rain, but they don't replace a home with walls two feet thick and a simple but effective central heating system — a slow fire that burns below the wood and earth floors.
"They cannot do that with tents," said cousin Zulfiqar Abbasi. "One snow will change the whole situation."