/ Source: Caribbean Travel and Life
With its diverse array of cultural activities, natural sites and fully modern amenities, Puerto Rico excites the senses in many ways every day.
This destination devotes itself to vacation pleasures, offering virtually any type of getaway experience, from rain-forest hiking to casino gaming, from surfing to fourhanded eucalyptus-steam massages.
While Puerto Rico's Latino touches add intrigue and spice, traveling there offers comfort with American ease. A U.S. territory, this whatever-your-pleasure island flies the American flag and pampers with simplicities: It's a quick flight from several mainland gateways and offers many nonstop flights a day from the States. Puerto Rico uses the same dollars, quarters and nickels that we do. Hotels have familiar signs out front, rental cars from national firms offer an array of vehicles, and the telephone systems are tied to ours.
PLAYA Y MAR
Striking beaches and warm, clear sea are the Caribbean's core appeal. At 3,850 square miles, with hundreds of beaches ringing its 272 miles of coastline, Puerto Rico offers an astounding variety of experiences at the water's edge. Right in San Juan, the bustling capital, Condado Beach welcomes urban hotel guests with wide strands and an array of amenities. Step from your hotel to the water's edge, pull up a padded chaise longue, take in the view and do some people-watching. Here, you can sip a fruity cocktail, lunch on a hamburger and laze away hours on end without ever stepping back inside. A quick half-hour away, Luquillo Beach stuns with glass-clear blue water and coconut groves. For the ultimate escape-it-all experience, visit the Westin Rio Mar Beach Golf Resort and Spa, a 500-acre wonderland dominating an entire mile of beachfront property. With luxurious décor, two beachfront swimming pools and a full menu of tension-busting amenities, this Isle of Enchantment beckons relaxation-seekers. Two golf courses, a spa, a kids' club, a tennis center and 12 restaurants, lounges and entertainment venues make this a private world unto itself.
Offering stunning, inviting turquoise waters and surrounded by seaside Guánica's rich natural beauty, including a mystical dry forest, the 20-acre, exquisitely landscaped Copamarina Beach Resort enchants guests of its 100-plus guest rooms with personal service, a crescent-shaped white-sand beach and a warm, family-friendly attitude. The two pools (plus two kiddie pools) and two whirlpool tubs drag some sun-worshippers from the tranquil beach, although many ease away for the water sports, diving, snorkeling, tennis, volleyball and seaview meals at the Alexandra restaurant.
From chic to rustic, expensive to affordable, tourists looking for some sun and sand can find what they're looking for in the Caribbean.
In the Porta del Sol, chic Club Bon-Accord gives the term "beach vacation" an entirely new meaning. This fashionable boutique inn boasts only 10 rooms, each ultra-contemporary. A three-minute walk from Rincón Beach, Club Bon-Accord offers phenomenal service, including complimentary continental breakfast served in a pool garden, plus loads of extras such as free bicycle rentals and the use of tennis rackets, beach chairs, umbrellas and even coolers.
Be sure to visit Culebra and Vieques, two nearly undiscovered islands with quiet beaches and powdery white sand. Many resorts are tucked away into secluded locales, catering to visitors eager to melt tensions away beachside or poolside.
An island sanctuary, Martineau Bay Resort & Spa, on Vieques, welcomes to its plantation-style buildings those seeking tranquility. Watch the world from a rocking chair on the greathouse's wraparound terrace; wade into one of two infinity-edge pools, one with a swim-up bar; follow a 10-foot bluff to two intimate beaches; indulge in a massage in a 5,000-square-foot health and beauty spa; or play tennis on the resort's two courts.
EVENING ENDEAVORS
The setting sun signals the start of an entirely new set of diversions, from dining to dancing. Puerto Rico boasts a full spectrum of restaurant options. Visitors looking for the familiar can taxi over to any number of American chains. Fine dining options are diverse and delightful. Puerto Rican chefs take native ingredients and fuse them with international flavors and techniques, resulting in dramatic and delicious towering plates. Those seeking home-style Puerto Rican experiences will find an abundance of restaurants serving the soul-satisfying specialties of the land, cocina criolla, such as asopao, a hearty gumbo.
After a leisurely dinner, Puerto Rico is transformed into a nightspot as sophisticated and varied as any urban center. Salsa is a favorite, and you needn't look far to step into a venue featuring Puerto Rico's signature musical style. You'll find it in suave clubs and at small-town fêtes. Jazz, too, beckons to club-crawlers, and techno music keeps visitors on the dance floor until the wee hours of the morning. Other sounds for eager ears include bomba, plena and seis, all unique combos of Latin and African rhythms.
RELAXING, P.R. STYLE
For relaxation not centered around the beach and pool, consider signing up for treatments at any of the island's spas. Within calming environments, technicians will apply an array of tension-diffusing treatments.
Visitors looking for water-world thrills can enjoy windsurfing near Aguadilla or snorkeling and diving off several island spots. Anglers take off in search of billfish, sea and peacock bass. Kayaking, sailing and skydiving are options.
Puerto Rico's 23 golf courses are internationally respected. The Westin Rio Mar Beach Resort alone has two championship courses, one by Tom and George Fazio, the other by Greg Norman, and Paradisus Puerto Rico boasts two new 18-hole courses designed by Tom Kite. The Hyatt Dorado Beach boasts four Robert Trent Jones Sr. courses, all of them seaside and every one world-class.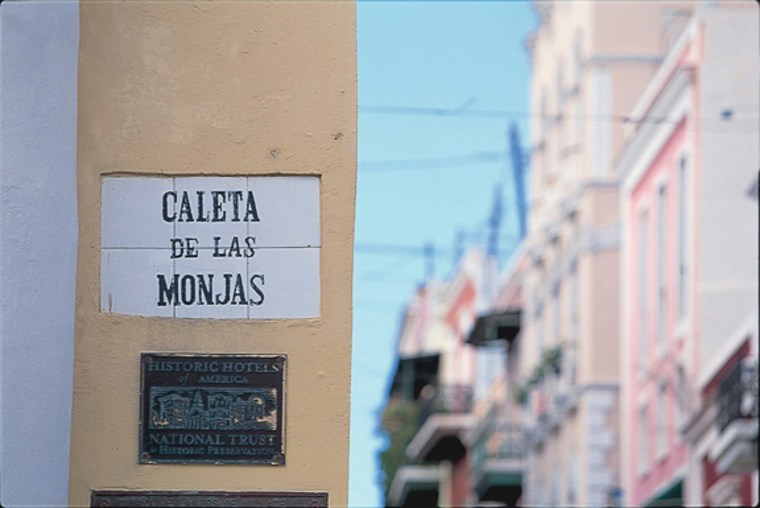 One hotel ably encompasses nearly every relaxation-oriented endeavor. The Hyatt Dorado Beach, located on 1,000 oceanfront acres that were once a grapefruit plantation, counts its four championship golf courses as only one of its destination-worthy attractions. This sprawling property draws visitors for its white-sand beaches, spa, 82-foot lap pool, 1,000-foot freshwater riverpool, five tennis courts and windsurfing school. Did we mention nine restaurants?
SITES FOR CURIOUS EYES
Considering the myriad places there are to explore, it may be a challenge to find time for sunbathing, spas, golf and shopping, but nearly all guests set aside a day to explore the rainforest. El Yunque is the only rainforest in the United States, and its tropical trails appeal to nature lovers of all types. Wildlife draws hikers to other island spots, too, such as the bioluminescent bays that glow at night; the Culebra Natural Wildlife Refuge; and the Río Camuy Cave Park, where you can ride a tram to see an underground river.
Taking to the road is easy and fun. Small towns offer travelers the opportunity to see cobblestone town squares, artists creating cuatro guitars, centuries old architecture and Amerindian stone monuments, and maybe a local festival.
Sightseeing is especially easy from The Lazy Parrot Inn, a friendly budget hotel located near quaint Rincón and a natural launching spot for island tours. Its fancifully decorated rooms are an ideal haven between jaunts to a nearby lighthouse, surfing beaches, snorkeling, whale-watching (in winter), kayaking, hiking in a national forest and river rafting.
The beach is especially nice at the intimate Rincón Beach Resort, an oceanfront boutique hotel offering elegantly appointed rooms and easy access to the tourist sites in Mayagüez and Aguadilla as well as golf, diving and windsurfing.
With only nine rooms, Rincón's new Casa Isleña Inn embraces guests with personalized service. Tranquil and elegant, this beachfront debutante has a private swimming pool. Wooden entry gates and Mexican tile create a relaxed, open feel enhanced by lush green gardens and richly colored décor. Lodgers often feel that, as the name suggests, Casa Isleña is their personal "island house."
Not all of Puerto Rico's splendors are nature-oriented. Old San Juan, a 500-year-old walled city filled with colonialera structures, hosts night tours, and the Aguadilla Skating Rink offers ice skating. Bacardi produces fine rums, and its factory is open for tours six days a week.
So-called "retail therapy" is the road to relaxation for many, and Puerto Rico's shops designer goods or handmade items such as religious wooden figurines, mundillo lace and papièr mâche masks.
LIVING LIKE A SANJUANERO
City stays offer easy entry to urban delights night and day, and the new Holiday Inn San Juan is a stylish way to combine San Juan pleasures with a beach vacation. Equipped with state-of-the-art information technology, this property caters to business and leisure travelers desiring a connection to life back home. In addition to Caribbean-themed rooms, a freeform pool, a doting staff and a beach steps away, the Holiday Inn San Juan makes doing business a tropical breeze. In addition to 15,000 square feet of meeting space, guests can enjoy a full range of business services, including a business center, high-speed Internet connections, cell-phone rentals, courier services and a private limousine.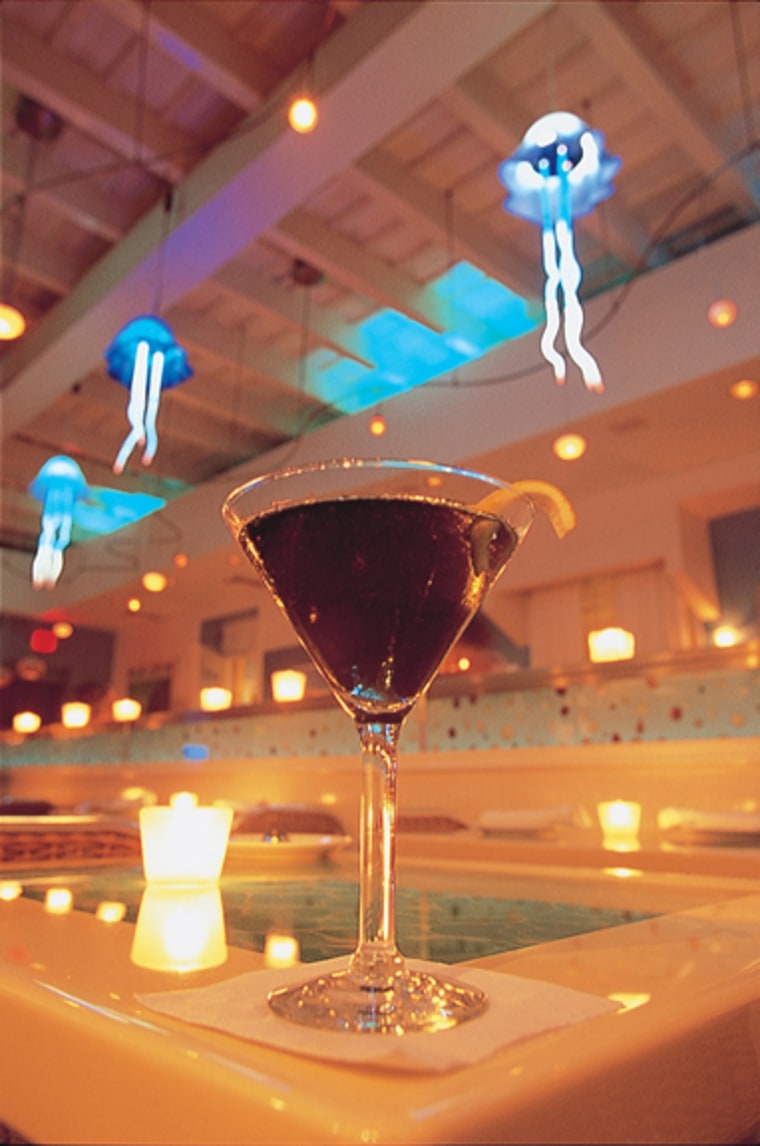 Start each day with a made-to-order breakfast, free of charge, at the Embassy Suites San Juan Hotel & Casino. Hearty eaters, carb-counters and waist-watchers can all awaken to a customized version of the most important meal of the day. In the evening the hotel's atrium is the venue for a nightly manager's reception, where cool beverages encourage mingling and relaxing. Embassy Suites offers spacious accommodations that include a bedroom, a living room and a kitchenette in every unit.
Puerto Rico's newest upscale hotel, the Sheraton Old San Juan, overlooks the cruise-ship docks in scenic San Juan Bay. Located steps from downtown's most exciting venues, the property lures guests to stay on property with a rooftop pool, a casino and a new high-energy restaurant, a steakhouse with a romantic Latin-American bent. Party rooms are available for those planning special events, and an outdoor swimming pool invites sun-lovers to enjoy the clear skies.
...AND GETTING BETTER
Meeting and wedding planners seeking a contemporary yet intimate venue should consider Paradisus Puerto Rico, a sparkling-new, all-inclusive, all-suite luxury resort on a mile-long stretch of Coco Beach. With 29,000 square feet of function space -- the largest meeting room accommodates 1,400 -- and the absolute newest audio-visual equipment and beachside, plus poolside and garden venues for parties, Paradisus is quickly gaining a reputation as a venue that guarantees strong attendance. Participants and their families eagerly arrive to enjoy the hotel's lagoon-style pool, six restaurants, three tennis courts, world-class 18-hole golf course and exciting casino.
Wherever they choose to stay, visitors to Puerto Rico are sure to emerge eager to see, hear, taste, smell and touch the island's many pleasures.
During your Puerto Rico vacation, sample the local cuisine, go shopping and explore the island with these establishments:
DINING

AGUA VIVA RESTAURANT
Hip and refreshing atmosphere, designed to feel as if you were dining next to the sea with its glowing blue and white décor.
787-722-0665
364 Fortaleza Street

Old San Juan
THE CARIBBEAN GRILL, THE RITZ CARLTON
All day dining indoors or al fresco overlooking the pool and gardens. Regional vegetables, fruits and spice give this cuisine its distinctive yet light taste. Caribbean market buffets offered during breakfast, brunch and lunch. An a la carte menu is also offered. Dinner selections include homemade pasta, fresh seafood, beef and game.
787-253-1700
6961 Ave of the Governor's
Isla Verde

AMADEUS CAFÉ
Caribbean ingredients with a nouvelle cuisine twist. Typical Old San Juan ambiance, cosmopolitan, with Caribbean lifestyle influence.
787-722-8635
106 Sebastian Street
Old San Juan
BRASAS RESTAURANT, RINCON BEACH RESORT
A unique Caribbean contemporary Grill, located at the beautiful Añasco beach on the West coast of Puerto Rico.
787-589-9000
Carr #115 Km 5.8
Añasco

LA CASONA
Ideal place for an exquisite dinner in a very intimate and welcoming atmosphere.
787-727-2717
609 San Jorge St.
Santurce
DRAGON FLY
Freshest seafood combined with the vibrant flavors of the Tropics.
787-977-3886
364 Fortaleza Street
Old San Juan
FANTASIA RESTAURANT, HOLIDAY INN
Exquisite California-Caribbean cuisine at affordable prices.
787-253-9000
Isla Verde
FOGATA, SHERATON HOTEL
Fogata has a warm, urban-tropical feel, with sizzling colors creating an indoor waterfront dining area.
787-289-1944
364 Fortaleza Street
Old San Juan

THE PARROT CLUB
Is designed with Island colors and an open kitchen. Reflects a warm and Latin-Caribbean feeling.
787-725-7370
363 Fortaleza Street

Old San Juan
PITO'S SEAFOOD CAFÉ & RESTAURANT
Located by the seashore on the southern coast of Puerto Rico. The menu includes fresh seafood, meats and poultry.
787-841-4977
Carr #2
Ponce
SHOPPING
PLAZA LAS AMERICAS, INC.
Plaza las Americas has more than 300 stores, including specialty shops and boutiques, 21 movie screens, more than 40 restaurants, banks, post office, and medical and dental offices.
787-767-5202
Conveniently located in Las Americas Expressway, Roosevelt Avenue Exit
San Juan
CAR RENTAL
HERTZ
The largest car rental company in the world with approximately 21 convenient locations throughout Puerto Rico. Hertz offers a wide variety of current-model cars for daily, weekly or monthly rentals. For reservations call your travel agent or Hertz at 1-800-654-3030. Or visit us online www.hertz.com.
is the magazine for anyone in search of the perfect tropical getaway. Each issue presents expert insider's advice on where to find the Caribbean's best beaches and attractions, its finest resorts and spas, liveliest beach bars and activities, and its friendliest people.