/ Source: The Associated Press
The United States has accepted a Japanese proposal for the relocation of a U.S. air station on the southern island of Okinawa, a U.S. official said Wednesday, resolving a dispute that had blocked progress on military realignment talks and caused friction between the two allies.
Without going into the details of the Japanese proposal, Deputy Undersecretary of Defense Richard Lawless said the plan will provide a "comprehensive, capable, and executable solution" of the dispute over the location of the air station.
Japan's defense chief Yoshinori Ono commended the agreement without elaborating.
"It was a very long way ... but we managed to willingly reach an agreement," he said.
The details of the agreement were not immediately clear, but Kyodo News agency earlier reported that the U.S. agreed to a Japanese proposal to move the Futenma air station to an existing U.S. base. Public broadcaster NHK and other media had similar reports.
Stumbling block
Wednesday's agreement could lift the main stumbling block to an agreement on the realignment of the 50,000 U.S. troops based in Japan. The dispute had raised tensions between the United States and its top ally in Asia.
Washington and Tokyo agreed nearly 10 years ago to move the Futenma air station to a less congested location on Okinawa as part of an overall plan to reduce the burden of the U.S. military presence on the tiny island.
The two sides, however, had clashed over where to relocate Futenma's functions. The United States had pushed for a new air station to be built on reclaimed land on Okinawa to take over the role of Futenma.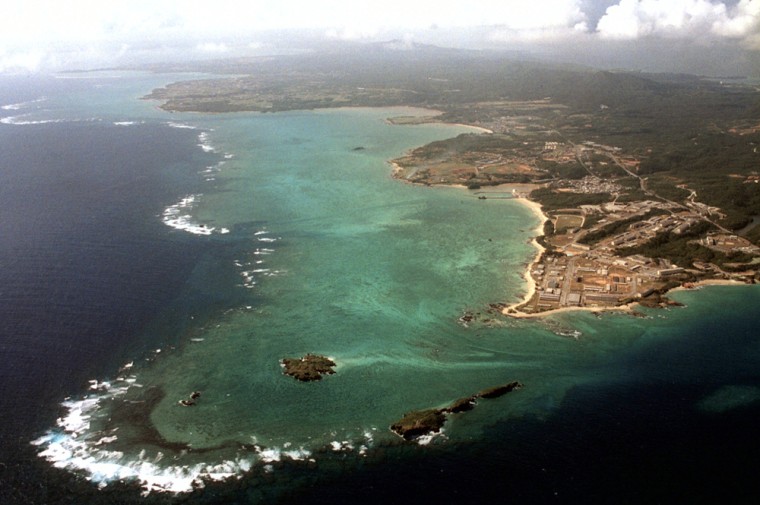 But Japanese environmentalists and others say the plan would wreck one of the area's last healthy coral reefs, and Japan has instead proposed combining the air station with an existing U.S. base on Okinawa, Camp Schwab.
NHK reported that the U.S. agreed to the Japanese plan, and that Schwab would be extended into the sea with landfill if more space was needed to accommodate the heliport functions now performed at Futenma.
Japanese and U.S. officials hoped to resolve the dispute in time for the announcement of an interim agreement on the military realignment at talks this weekend in Washington.
Kyodo News quoted Machimura as telling a committee in parliament that the talks would go ahead in Washington on Saturday, and that an interim agreement would be issued. The talks will involve the defense and foreign affairs chiefs of both countries.
Washington had expressed frustration with the slow pace of progress. Lawless, deputy undersecretary of defense for Asia and the Pacific, on Tuesday suggested Japanese officials were too concerned with "parochial issues" — a reference to local opposition to the plan to build an offshore air station.