Satellite radio use is growing and soon we'll have to deal with HD radio (digital versions of our local stations). But for now, despite decades of ownership by mega-companies and sound-alike bland programming, AM and FM are still what many of us rely on to get the latest news, traffic, sports scores and even entertainment.
Portable radios are easy to take along with you to every room in the house. For the most part they are terrific for AM and non-critical FM listening. But for great sounding music after approximately 100 years of broadcasting, it's still a table radio that provides the best quality for the price.
Since the 1960s, when you think about quality table radios you think about the man responsible to updating the original design to 21st century standards. The late Henry Kloss designed amazing-sounding table radios first for KLH (he was the K), then Advent, Cambridge SoundWorks and finally Tivoli. All modern-day table radios owe allegiance to Mr. Kloss for their heart and soul, if not their exact layout.
Tivoli makes a number of table radios, ranging from a simple AM/FM design to two-box stereo versions with optional woofers, interesting battery-powered portables and even an AM/FM/Sirius satellite radio design. All sound pretty amazing in their own right, but it's the basic AM/FM monophonic design that's still my favorite. The Tivoli Model One is compact, beautifully designed and expertly finished in a number of colors and types of wood.
The Tivoli is smaller in real life than the pictures make it look and it sounds bigger in real life than it has any right to sound. It sounds full and rich and can fool many audiophiles into thinking that you have an expensive hi-fi system buried somewhere in a cabinet. The other great thing about a Model One is the price: $119.99 in a number of different colors to match its surroundings. There's also a new Model One Platinum which sports a number of premium finishes for $169.99.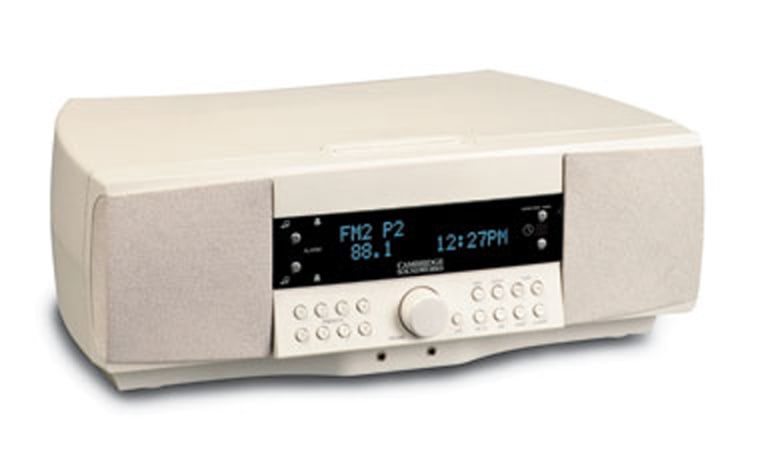 If your tastes are more modern, Cambridge SoundWorks sells an upgraded Kloss design called the SoundWorks Table Radio 730 for $199. (The 740 adds a CD player and sells for $349.)
Where Tivoli radios bring back memories of simple analog designs from the past, the Cambridge SoundWorks radios are totally modern: digital readouts of the time, stations and the songs being played and lots of cool buttons to press for station memories and other functions (especially in the version with a CD player.)
But the bottom line is the sound and these radios sound pretty darn good. While technically a stereo radio, the two channels are in the same box, so they're close together. Unless you're nearby, channel separation suffers. But the box also includes a clever bass enhancing woofer design. These radios can really fill a room.
It seems all the cool table radio designs come from the Eastern Massachusetts area where a lot of the great hi-fi companies were located: Tivoli (in Boston), Cambridge SoundWorks (in Andover) and Boston Acoustics (in Peabody).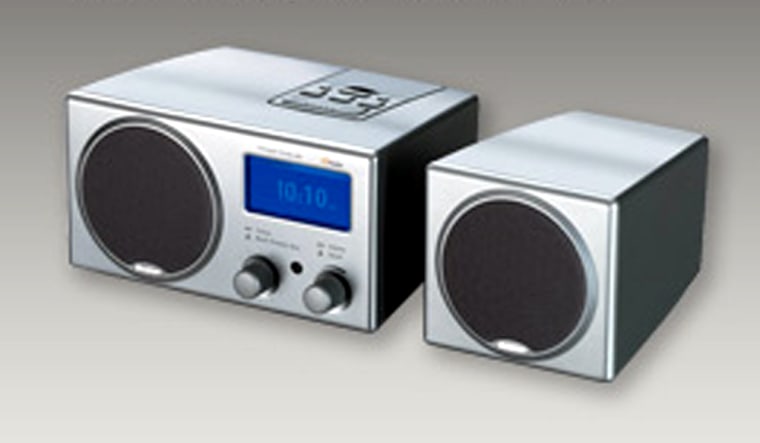 Boston Acoustics is touting their new Recepter HD radio. At first glance, it looks a lot like a cross between the company's $149 AM/FM Recepter and Tivoli's Model One, with the digital station readout being the big difference. At second glance, however, you notice there are more knobs and buttons on the top. That's because the Recepter HD is one of the first radios anywhere to offer HD Radio technology.
HD Radio is broadcast digitally — which means you'll need a new radio to listen to it — but instead of having to subscribe to a service like XM or Sirius, you can listen to your current favorite radio stations in a new digital form. That goes for both AM and FM radio stations.
I've been hearing about HD Radio for a few years, but I've yet to hear it for myself. I'm hoping it sounds better than the competing digital radio system I've heard in Britain.
The Recepter HD is due to be shipped in December. It will be priced at $499 plus there's a $20 rebate offer for any HD receiver from HD Radio.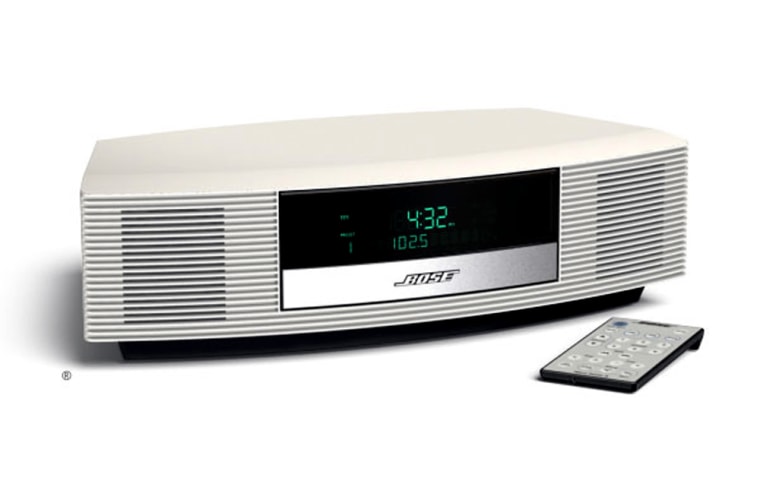 Just down the road in Framingham is another name that many people know: Bose, whose Wave radios have been popular for years. On the outside, the Wave II looks a lot like the CSW Table Radio discussed above, but on the inside they claim their proprietary waveguide speaker technology — combined with other proprietary technologies — makes all the difference in the world. 
The Bose AM/FM/CD Wave radio comes in either Graphite Gray or Platinum White and retails for $499. With the new, add-on multi-CD changer (for 3 additional CDs), the price jumps to $748.
Finally, for the ultimate kitchen radio/gadget, there's the Sony ICF-DVD57TV, which is meant to be installed under your kitchen counter.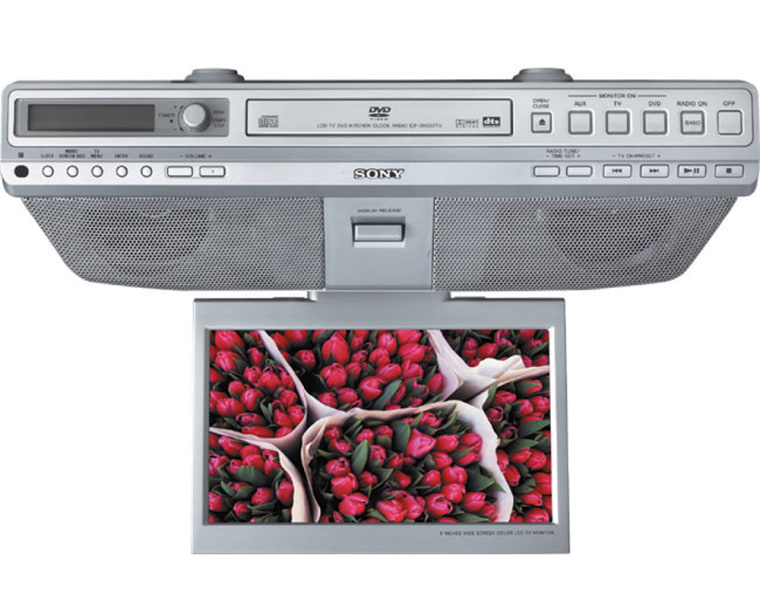 It combines a stereo radio (15 presets) with Mega-Bass enhancement, a CD/DVD player and a 9-inch wide-pop-down screen, color LCD panel. And oh yes, since it is a kitchen gadget, there's also a built-in cooking timer.
This incredible kitchen aid retails for $499.95. Just remember when you're cooking to pick up the ladle, not the remote control, to stir the pot.