/ Source: The Associated Press
A House committee on Wednesday approved a measure that would clear the way for oil and gas drilling in currently off-limits coastal waters and an Alaska wildlife refuge.
Supporters of the legislation argued that with natural gas and crude prices soaring and domestic supplies tight, it is time to end the 24-year federal ban that has blocked energy development along virtually all of the country's coastal waters outside the central and western Gulf of Mexico.
The provision, which will be wrapped into a massive budget package, would allow states that want drilling within 125 miles of their shores a waiver from the federal moratorium that has been in effect since 1981.
States choosing to allow drilling would get half of the royalties from lease sales. The ban would remain in effect along states that do not seek a waiver.
The measure, which also would open the Arctic National Wildlife Refuge in northeastern Alaska to oil companies, was approved 24-15 by the House Committee on Resources in a largely party-line vote.
Past attempts to weaken the offshore drilling ban and open the Arctic refuge, or ANWR, to oil development have been thwarted in the Senate as drilling supporters were unable to muster the 60 votes needed to overcome a filibuster.
However, the budget measure, which is designed to bring overall government spending levels in line with Congress' self-imposed budget ceiling, is not subject to filibuster. ANWR drilling was included because supporters said it would produce $2.4 billion in revenues from lease sales over five years. The measure calls for the first leases in the Alaska refuge's coastal plain to be put up for sale within 22 months.
"You cannot continue to oppose any new (energy) resource development in this country," argued Rep. Richard Pombo, R-Calif., the committee's chairman. He maintained states, like his own, that oppose offshore drilling will continue to be protected.
Supporters of the new drilling said Hurricanes Katrina and Rita demonstrated the need to develop domestic oil and gas resources outside the Gulf region.
But some lawmakers worried that their states' beaches and waters might be adversely affected by drilling approved by an adjacent state.
Rep. Frank Pallone, D-N.J., said a state like his — with a small coastal area — could see its beaches polluted from an oil spill in waters off a nearby state.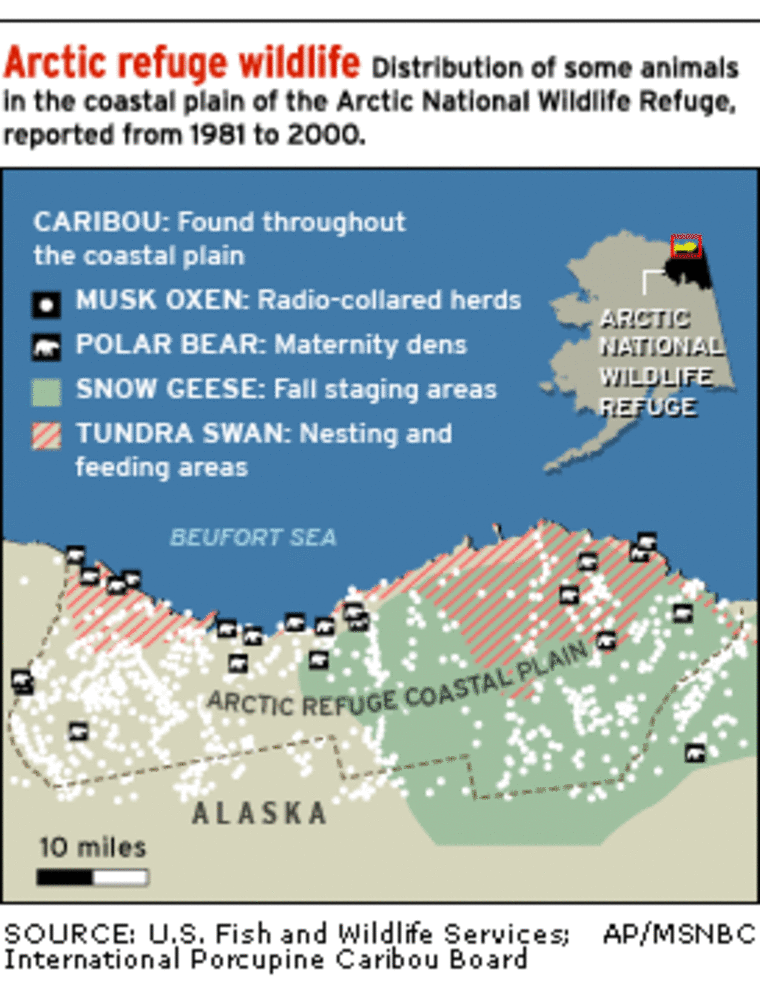 But Rep. John Peterson, R-Pa., called the waters of the Outer Continental Shelf "the safest place to produce energy," especially natural gas. "I never heard of natural gas fouling a beach anywhere," he said.
Pombo said the provision would continue to protect Florida by limiting the development of an area in the eastern Gulf of Mexico known as Lease 181, close to the Florida Panhandle.
The lease, which holds a huge potential for natural gas development, is not under the general moratorium, but the Interior Department has said it would not allow its development until 2007 under an agreement with Florida Gov. Jeb Bush.
The House provision would open the lease immediately, but bar development of about one-fourth of the area that falls within 125 miles of Florida's coast. That compromise has been endorsed by Gov. Bush, although some members of the Florida congressional delegation remain opposed to it.
The issue of offshore drilling has been a thorny one for Congress for more than two decades. While some states, like Florida and California, have vehemently opposed tinkering with the drilling ban, others viewed development of natural gas resources as a way to reap new revenues.
Last week, the Senate also took steps to include ANWR drilling in the budget document, although it did not include language that would alter the offshore drilling moratorium. That issue will have to be worked out in negotiations between the two chambers.