/ Source: The Associated Press
The government accused a Moroccan of being involved in a triple car bombing in September that killed 60 people in a Shiite town in central Iraq and offered a reward for his arrest, while roadside bombs and shootings Tuesday killed eight people.
The U.S. military, meanwhile, said a soldier was killed by a roadside bomb in central Iraq, raising to at least 93 the number of American service members who died in October, the fourth deadliest month for the troops in the Iraq war.
The government identified the Moroccan suspect as Muhsen Khayber, also known as Abdul Rahim, and said he was allegedly involved in coordinated suicide bombings in Casablanca on May 16, 2003, that killed 32 people. The claim could not be independently confirmed.
Moroccan authorities blamed the Casablanca attack on al-Qaida, and launched a crackdown on fundamentalist suspects, arresting more than 5,000 people at the time.
The Iraqi government's statement, which did not specify the reward, said Khayber moved to neighboring Syria in early 2004 and helped form cells of foreign terrorists there who agreed to fight in Iraq.
On Sept. 29, three suicide attackers exploded near-simultaneous car bombs in the heart of a bustling, mainly Shiite town of Balad, 50 miles north of Baghdad. In addition to the deaths, at least 70 people were injured.
Foreigners blamed for recent suicide bombings
Iraqi officials did not cite any evidence to link Khayber to the Balad attacks but have long maintained that foreign Islamic extremists play a major role in the wave of suicide bombings that have killed hundreds of Iraqis in recent months.
The leader of al-Qaida in Iraq, Abu Musab al-Zarqawi, has purportedly called for attacks on Shiites, whom he considers heretics.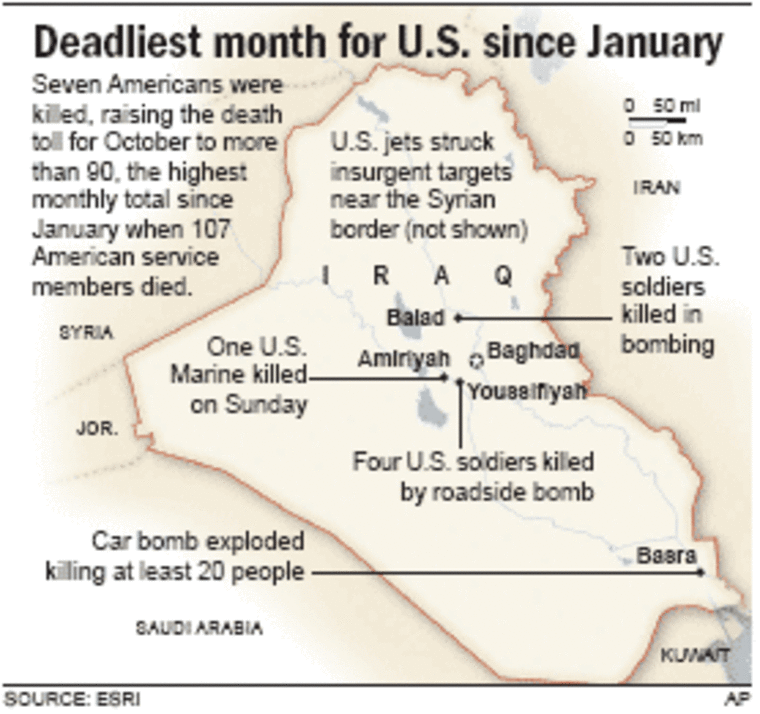 But Spanish authorities believe Khayber was part of a network linked to Ansar al-Islam, an Islamic extremist group based in northern Iraq, which recruited foreign fighters to go to Iraq to battle the U.S.-led coalition.
Arab media reported that Khayber was arrested in Syria in May 2004 and handed over to the Moroccans. Efforts to reach Moroccan authorities to confirm whether Khayber was in custody were unsuccessful.
However, a Moroccan analyst who attended school with Khayber, Abdellah Rami, said he doubted that he was in custody because he still sends money home to his two wives in the Moroccan city of Larache, where he was born in 1970.
"Khayber used to support the killings of Shiites in Pakistan or the killing of Christians, even before Sept. 11," Rami said. "He became very animated in the discussions, very fanatic."
U.S. forces recently have identified several suspected al-Qaida militants it has killed or captured in Iraq, often using their aliases.
Victims of IEDs
The U.S. soldier was killed Monday when a bomb exploded near his foot patrol in Haswah, 31 miles south of Baghdad, the military said. The soldier was the seventh American service member killed Monday in three separate attacks in Iraq.
All were victims of homemade bombs, which the military refers to as "improvised explosive devices," or IEDs.
The deaths raised to at least 2,026 the number of members of the U.S. military who have died since the beginning of the war in 2003, according to an Associated Press count.
The U.S. military death toll for October is at least 93, the highest monthly total since January, when 106 American service members died — more than 30 of them in a helicopter crash that was ruled an accident.
Only in two other months since the war began has the U.S. military seen a higher toll: in November 2004, when 137 Americans died, and in April 2004, when 135 died.
Four roadside bombs exploded Tuesday — three in Baghdad and one south of the capital — killing two Iraqis and wounding four others, and drive-by shootings killed two police officers and an Iraqi physician, officials said.
Suspected insurgents opened fire on six Iraqi contractors after they left the U.S. air base in Taji where they were working about 12 miles north of Baghdad, killing four of them and seriously wounding the other two, said police Maj. Felah al-Mohammedawi. Militants often threaten to kill any Iraqi civilians who work with U.S. or Iraqi forces.
In Kirkuk, 180 miles north of Baghdad, a suicide attacker detonated explosives hidden beneath his clothes while lunging at a police patrol stuck in traffic, wounding the city's police commander and his driver, police said.
Court martial for soldier charged with killing superiors
In Kuwait, a U.S. military investigating officer recommended a court-martial for a National Guard soldier charged with killing two of his superiors in Iraq this summer and raised the possibility of a death sentence.
Col. Patrick Reinert said he found "reasonable cause" to believe that Staff Sgt. Alberto B. Martinez of Troy, N.Y., used an anti-personnel mine and three grenades to kill a captain and a lieutenant in a "personal vendetta."
It was believed to be first case of a U.S. soldier in Iraq accused of killing his superiors. Martinez's defense counsel had argued there was no real evidence against their client.
Military commanders have warned that Sunni-led insurgents will step up their attacks before the Dec. 15 election, when Iraqis will choose their first full-term parliament since the collapse of Saddam Hussein's regime in 2003.
More troops in Iraq
To guard against such attacks, the military has raised the number of American troops in Iraq to 157,000 — among the highest levels of the Iraq conflict.
On Tuesday, the U.S. command described its efforts in the Iraqi capital to combat the threat from IEDs, which have emerged as the deadliest weapon in the insurgent arsenal. The statement, summarizing combat operations around Baghdad during a five-day period, said U.S. forces had found several powerful roadside bombs hidden in two vehicles Saturday.
On Friday, soldiers caught three suspected insurgents planting a bomb on the side of a street and defused it. On Thursday, soldiers chased three Iraqi men into a nearby home after a bombing and found bomb-making materials, the military said.
'The enemy is learning from us'
"We're getting more intelligence that's allowing us to stop more of these things, find more of them. So we're learning from them and the enemy is learning from us, and it's going to be that way for as long as there is an insurgency," said Pentagon spokesman Lawrence Di Rita.
Bombs have taken a heavy toll on Iraqis as well.
On Monday, a powerful roadside bomb exploded among civilians in Basra, Iraq's second-largest city and the major metropolis of the Shiite-dominated south, which has witnessed less violence than Sunni areas. Police said 20 were killed and 71 wounded. The attack occurred along a busy street packed with shops and restaurants as people were enjoying an evening out after the daily fast during the Islamic holy month of Ramadan.
To mark Eid al-Fitr, the holiday that concludes Ramadan, 500 detainees were released Tuesday from Abu Ghraib, the notorious U.S.-run prison on the outskirts of Baghdad.
Meanwhile, an Internet message posted Tuesday in the name of al-Qaida in Iraq said two kidnapped Moroccans were to stand trial in an Islamic court. The authenticity of the statement could not be verified, but it was posted on an Islamic Web site known for publishing the group's material.
Al-Qaida in Iraq has claimed responsibility for executing many hostages, including diplomats from Egypt and Algeria.