/ Source: The Associated Press
Ella Baker. Septima Poinsette Clark. Fannie Lou Hamer.
They and others risked their lives and worked tirelessly, demanding a social revolution — but history has often overlooked them. They were the women of the civil rights movement.
Though historians now acknowledge that women, particularly African-Americans, were pivotal in the critical battles for racial equality, Rosa Parks' death highlights the fact that she was one of the very few female civil rights figures who are widely known. Most women in the movement played background roles, either by choice or due to bias, since being a women of color meant facing both racism and sexism.
"In some ways it reflects the realities of the 1950s: There were relatively few women in public leadership roles," said Julian Bond, a civil rights historian at the University of Virginia and chair of the NAACP. "So that small subset that becomes prominent in civil rights would tend to be men. But that doesn't excuse the way some women have just been written out of history."
For many, the wives of the movement's prominent male leaders, including Coretta Scott King, Betty Shabazz and Myrlie Evers Williams, were among the most visible women in the struggle.
Visible, but unsung
But scan historical images of the most dramatic moments of the civil rights movement — protesters blasted by fire hoses and dogs lunging at blacks — and women and girls are everywhere.
There is a 1964 image of Mississippi beautician Vera Piggy styling hair and educating her customers on voter registration. And there's a 1963 photo of students at Florida A&M University, a historically black college, in which hundreds of people, mostly women, answer court charges for protesting segregated movie theaters. Six of the so-called Little Rock Nine, black teenagers whose lives were threatened when they integrated the Arkansas city's high schools in 1957, were young women.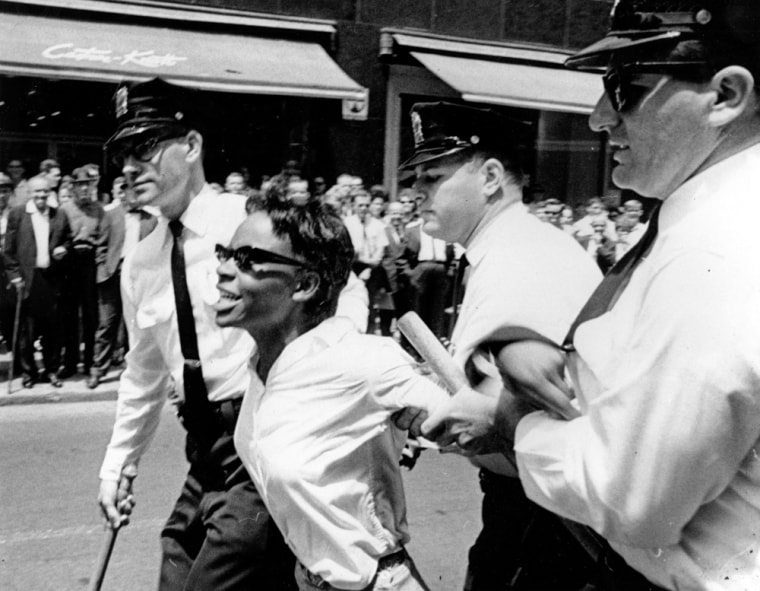 In 1955, Parks refused to give up her bus seat to a white man in Montgomery, Ala., sparking a mass boycott by thousands, mainly black women domestic workers who had long filled the buses' back seats. Immediately, black women activists who had for years urged city officials to integrate the buses rallied to her cause, said Lynne Olson, author of "Freedom's Daughters: The Unsung Heroines of the Civil Rights Movement from 1830 to 1970."
The women arranged car pools and sold cakes and pies to raise money for alternate transportation. The boycott lasted more than a year until the Supreme Court upheld a lower court's ruling in favor of four black Montgomery women who had — months before Parks — refused to comply with bus segregation.
Men took the helm
Though women had spearheaded that campaign and many others, when their efforts began to bear fruit prominent men often took the helm, Olson said.
"After the bus boycott got going and (Martin Luther) King got involved, they wouldn't even let Rosa Parks speak at the first mass meeting," she said. "She asked to speak, and one of the ministers said he thought she had done enough."
Olson added that Parks is often depicted as a deferential woman who defied segregation laws at the urging of movement leaders, but in fact she had for years quietly pushed for racial justice — and she had carefully planned the actions that led to her arrest.
"She was not just a symbol," Olson said. "She was an agent."
In 1963, tens of thousands of women who joined the March on Washington witnessed a tribute to prominent women, songs by several women, and brief remarks by the entertainer Josephine Baker, but no woman made a speech.
Countless women in the movement could have spoken:
Ella Baker was a charismatic labor organizer and longtime leader in the Southern Christian Leadership Conference. She believed the movement should not place too much emphasis on leaders.
Septima Poinsette Clark, often called the "queen mother" of civil rights, was an educator and National Association for the Advancement of Colored People activist decades before the nation's attention turned to racial equality.
Fannie Lou Hamer, a Mississippi sharecropper, was beaten and jailed in 1962 for trying to register to vote. She co-founded the Mississippi Freedom Democratic Party and gave a fiery speech at the 1964 Democratic National Convention.
Vivian Malone Jones defied segregationist Alabama Gov. George C. Wallace to enroll in the University of Alabama in 1963 and later worked in the civil rights division of the U.S. Justice Department.
Still unknown
But most women in the movement were not well-known — then or now, said Katherine J. Kennedy, director of Boston University's Howard Thurman Center, which organizes human rights programs on campus.
Most were "volunteers — women in the churches who cooked the meals and made sure all the preparations were made, the ones who cleaned up after the rallies and got ready for the next one," Kennedy said. "Most women who are sincerely interested in making a difference are not looking for the publicity for it. ... Making a true difference doesn't always come with fanfare."
Even today, Bond said most NAACP members and most local branch presidents are women.
"There's a Chinese saying, 'Women hold up half the world,"' Bond said. "In the case of the civil rights movement it's probably three-quarters of the world."