As a matter of fact, Andy Tomko did know what he was letting himself in for, thank you very much.
It's always the first question people ask when they see someone being more or less made fun of on "The Daily Show With Jon Stewart": Didn't they know it's a joke?
Well, yes, usually.
"Mind you, I had seen 'The Daily Show' before, and I realized that it's tongue-in-cheek and that if you do choose to participate, you're taking a risk of looking extremely foolish," said Tomko, a motivational speaker from East Grand Rapids, Mich., who talks to young people about transcending bullying.
But "I felt strongly enough about my stance on bullying, and I was willing to take that risk of looking foolish in the hopes of getting my perspective out that bullying is a harmful thing," he said.
"The Daily Show" flew Tomko to New York and sat him down with "correspondent" Samantha Bee, who did her best to bait him into, well, acting like a bully. He parried and kept his cool. This was in June.
The response to his appearance since then has mainly been positive, but oddly muted. Other than "some e-mails congratulating me for having the chutzpah to go on and voice my opinion," nothing happened.
"Surprisingly, it brought me absolutely no work," he said this week. "It's a national television show, quite popular. I thought that I would certainly get more marketing value out of it than I did."
Suffering for her art
Andy Tomko was one of the lucky ones. Most times, a "Daily Show" report gets its laughs and moves on. But sometimes, there are consequences when an ordinary person is plucked from relative obscurity and turned into a piñata on national TV.
Consider the case of Susan Buzzi, a former arts administrator in Fort Lauderdale, Fla. The Broward County Art Guild fired her after she appeared in a field report by Ed Helms, who made the trip down from New York to lampoon an exhibit Buzzi put together on politically controversial art.
Buzzi's part in the piece was small — Helms ended up casting it as a rhetorical battle between two rival artists. Mainly, she's shown walking away from him in frustration. Still, a week after the piece aired in July, the Art Guild's board voted in secret session to dismiss her as executive director.
The board gave no explanation for its action, but Buzzi told The Miami Herald at the time that board members told her they were unhappy with the report. An artist featured in the report said the board's action gave the appearance of censorship.
Buzzi — who couldn't be tracked down for comment this week — is probably the most obviously damaged victim of the "Daily Show" effect. She did, after all, lose her job and now works as a commercial photographer.
More often, the hit is to the reputation of whoever's being spoofed. One national news outlet (OK, it was us) even abandoned a report it was preparing on an evangelical Christian group that wants to take over South Carolina, after a "Daily Show" report turned the organization, for a while, at least, into an object of ridicule.
Like Tomko, the folks at Christian Exodus knew what they were getting into, and they gave Helms (again) a run for his money.
Steve Albani, vice president of Comedy Central, which airs the program, acknowledged that it's a bigger problem than ever to find subjects who haven't heard of the show and aren't in on the joke. Unfortunately, everyday folks like you aren't highly trained comedic technicians, so the show has to labor harder and longer to work around the sometimes painful attempts by its subjects to play along.
Subverting the message
That means "Daily Show" correspondents are more likely these days to have to subvert someone's message than maybe they did a few years ago, when nobody saw it coming and reports could be delivered deadpan.
That's what happened to Andy Tomko. Unable to get him to rise to her bait, Bee called him a chicken. She actually got out of her chair and flapped her arms like a chicken. She clucked like a chicken, too.
"Samantha Bee ... was extremely proficient at what she did," Tomko said. "In her craft as an actress, she exceeded at it. She was very, very good."
Stephen Colbert was very, very good, too, said Rick James. Make that RICK JAMES, bee-YOTCH!
Let us explain.
Rick James ran this year for the City Council in Hattiesburg, Miss. This was shortly after another Comedy Central program, "Chappelle's Show," rode a wave of popularity on host Dave Chappelle's lampoon of the '80s funkmeister Rick James. The result was a cult revival for the outlandish singer and a disco-pounding headache for the candidate.
James, the candidate, was having trouble getting traction, because fans of "Chappelle's Show" kept stealing his campaign signs. (For the sake of convenience, let us stipulate that from here on we're talking only about Rick James, the candidate. Rick James, the singer, died last year.)
So James' wife, Diane, called Comedy Central to ask whether Chappelle might replace the signs, seeing as how his show was indirectly responsible.
No response. But somewhere along the way, the New York Post got wind of her request and put her in its Page Six gossip column. That brought Stephen Colbert and "The Daily Show" to town.
Signs of the times
Rick James, a Democrat, was a serious candidate with a serious platform. He said that although Hattiesburg was rife with corruption, the front-line government workers who would know how to clean things up couldn't do anything about it because the federal Hatch Act barred them from running for office. (Like himself — he had to take a leave of absence from the state Mental Health Commission to run.)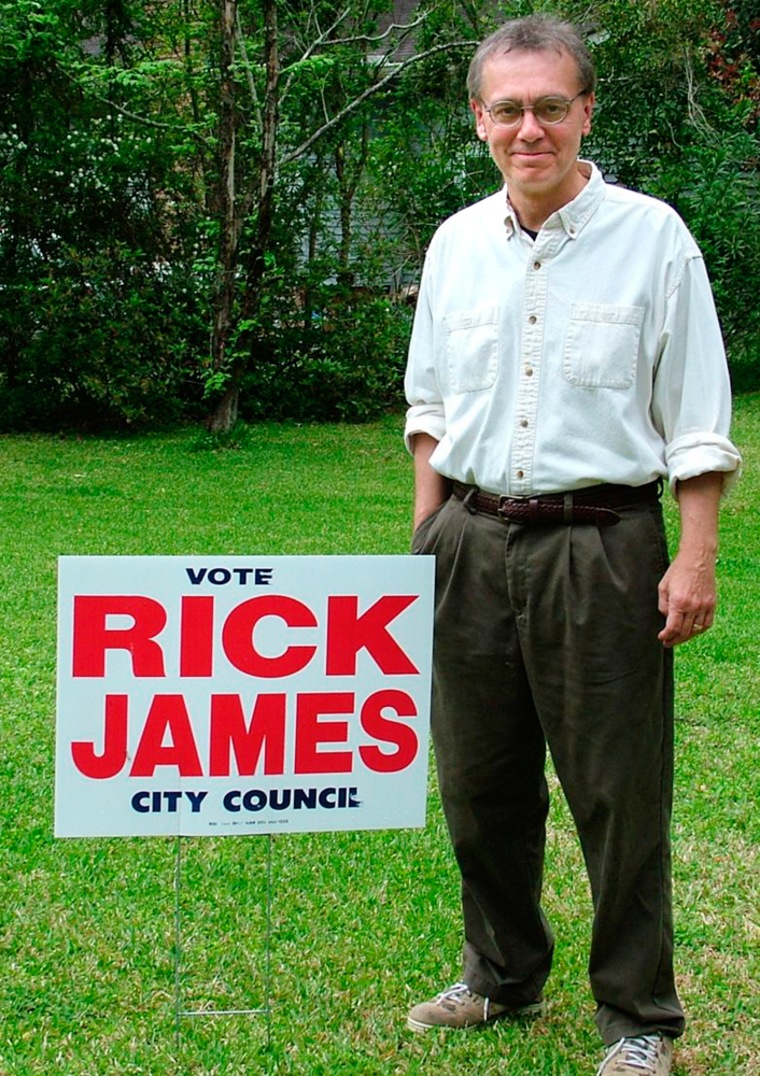 He came off pretty good in the piece — self-aware, funny and relaxed. You would think that would be a boon for a struggling local candidate. You would be wrong.
"It did not really help my campaign," he said this week. In fact, "it really hurt me for a local race."
"The association with Comedy Central kind of turned it into a comedy campaign. People were thinking in terms of the media, the national celebrity, the comedy, the Rick James funk business and everything, and that took away from the issues, which were very serious," he said.
Worse, he said, was that the story — which was jumped on by the Associated Press, CNN and MTV — only fed the thieves' hunger for his signs. As an under financed candidate in a local race, he couldn't afford that.
"I had so many signs stolen [that] I really didn't have the presence on the street," James said. "A local race, it has nothing to do with TV. I couldn't afford billboards, which I really needed because nobody could steal your billboard. Although, if I had had billboards, I don't have any doubts somebody would have tried to steal that."
The end result, he said, was that "the same old person got into office."
Radio silence
James said he never heard back from "The Daily Show" after he lost. Albani, the Comedy Central vice president, said the show was, like the name says, a daily show, and it had to move on quickly without looking back.
Knowing what he knows now, James said, "if I had to do it all over again, I would have run as a Republican."
Why? "The attention would have helped me, because white Republicans watch Comedy Central."
(James was joking here. He said he couldn't countenance the Republican Party.)
Andy Tomko, however, said he'd leap at the chance to do it again, even knowing how badly the show would trivialize his message.
"I was a commodity, and they used it, and no longer having any use for it, I was set aside," he acknowledged.
But "I think 'The Daily Show' serves a purpose, and that purpose is tongue-in-cheek news awareness. It brings a lot of issues to the forefront," he said. "They are, in my opinion, certainly serving the public well."