/ Source: The Associated Press
Ford Motor Co. says it will soon offer wireless mobile offices in its F-series pickups, an option aimed at building contractors and others who do business on the road.
Pricing isn't finalized, but it would cost around $3,000 for a wireless-equipped computer, printer and global positioning system, Ford spokesman Alan Hall said. Add-ons like a digital camera and credit card scanner also would be available.
A Ford F-250 Super Duty truck equipped with a mobile office was being shown Tuesday at the Specialty Equipment Market Association show in Las Vegas. The annual show isn't open to the public, but it dazzles an estimated 100,000 automotive insiders with souped-up vehicles and the latest aftermarket trends and components.
Ford expects to offer the mobile office as a dealer-installed accessory in 2006. The system uses a flat Stargate Mobile computer, powered by the truck's battery and mounted on a stand between the driver's seat and passenger seat.
The computer has a touch-screen option — eliminating the need for a keyboard or mouse — and is designed to be removed from the stand and taken to a work site. It stays connected to the Internet via a broadband wireless cellular card.
"It's super rugged. You can drop it in the dirt, pick it up, brush it off and you're good to go," said Patty Dilger, director of North American automotive and industrial equipment for Microsoft Corp., which worked with Ford to develop the mobile office and provides the Windows XP Professional operating system.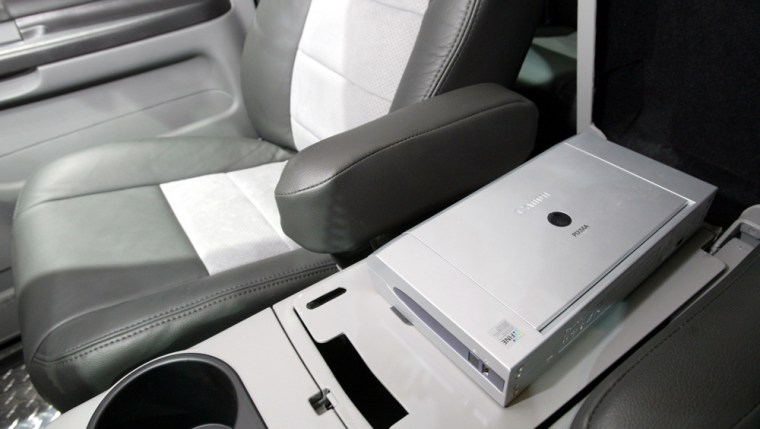 (MSNBC is a Microsoft-NBC joint venture.)
Dilger said this is the first time that operating system has been available as a dealer-installed option in a vehicle. Microsoft has an operating system called Windows Automotive 5.0 in about 18 vehicle models, but it's mainly used for vehicle communication systems such as real-time traffic updates.
The computer in the Ford pickups will be equipped with office software, including Excel spreadsheets and PowerPoint, and also can play music or be used for navigation. Around 60 percent of F-series buyers use their trucks for business, Hall said.