What's in a color? In the automotive industry, quite a lot it would seem.
Automobile pioneer Henry Ford, for example, may have revolutionized the business of building cars, but these days he wouldn't get very far if he told his customers they can buy his storied Model T car in any color, as long as it's black.
Ford's famous quotation reflected the reality of the early Twentieth Century, when manufacturing processes were limited. Straightforward colors have dominated the automotive palette for decades since then, with car owners settling for ordinary greens, reds and blues and other standard colors to preserve the resale value of their vehicles.
Today, however, thanks in part to new car paint technologies, automotive designers are becoming more adventurous, devising bolder and more dramatic shades for their cars.
Think liquid-metal, smoky lilac, shades of blue and green with a glass-sparkle effect, dark browns with glistening textural effects, dark cranberry, wine or silvery beige.
"There is a desire to reinvigorate the automotive palette with color," said Lorene Boettcher, manager of global design and color marketing at coatings and chemicals company PPG Industries' automotive division, which recently compiled a survey of the most popular American car colors on the road and a range of 130 colors it thinks big car companies like General Motors and DaimlerChrysler will offer consumers by 2009.
"We're looking to take color to the next level," Boettcher continued. "Color preference has been in neutral mode for so long that we're now starting to see a push for more colors to emerge and for technology to put a new twist on classic shades."
While bright colors pervade most of our everyday lives, many of us still drive cars with undaring colors. Silver is the worldwide favorite right now, making up 37 percent of vehicles produced. White is second at 14.4 percent. Blue and black are right behind, at 12.7 percent and 11 percent respectively. Red, green, beige and other shades each command less than 10 percent of the market.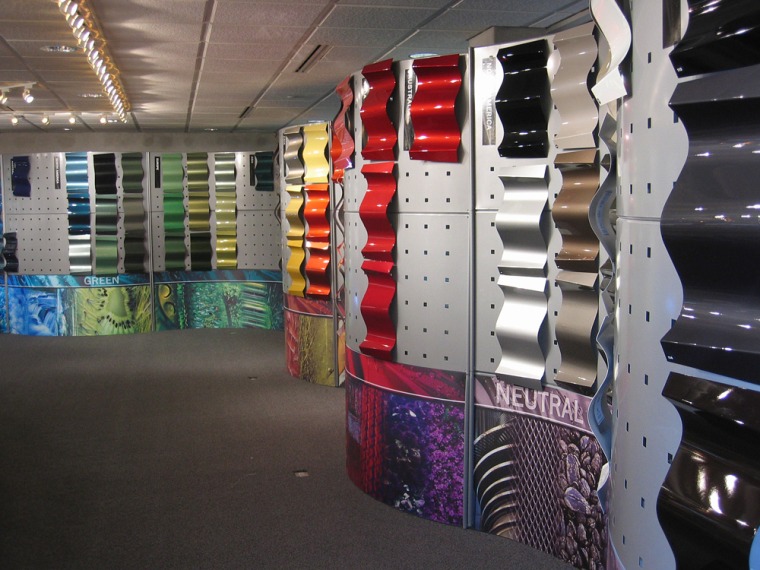 And each region has its color quirks.
North America likes paints that are more conservative, but have sparkly flecks, although the colors are brighter than they were a decade ago, Boettcher said. Emerging Asian markets like bright, hopeful colors, including red and gold. In Europe, the palette is larger, less sparkly and funkier. Because cars there are smaller, European automakers experiment with colors like pink and kelly green. Blacks tinted with red and green also are growing in popularity.
In the United States, new painting processes are likely to encourage car manufacturers to push for more dramatic colors, especially in the luxury car segment. Blue is expected to make a comeback, as more striking shades such as watery blue-greens are introduced. Yellows and oranges will become warmer, teal green will be replaced by youthful blue-green shades and brown will make a comeback.
Silver will remain popular for several more years, Boettcher said, and PPG is trying to enhance it by experimenting with blends like silvery green and technology that makes paint look like liquid metal.
"We want to give silver more of a liquid metal look, or a chrome-like appearance," said Boettcher, noting that the effect is achieved by adding small flakes of metal to the car paint. "And we'll provide some new sophisticated shades of neutral not in the market today, such as silver that has a blue-green tint, or smokier shades of various colors. And we're using the new aluminum car bodies our suppliers have made for us that allow us to achieve silky flowing looks as well as provide the high-tech opulence we are after."
Driving the changes in car color are trends in fashion, consumer products, architecture, interior design and even electronics. A blue Apple iMac, a red kitchen appliance or a new pair of sneakers can influence a car's look said Boettcher.
"We track the color popularity in these industries to see what's appealing to customers; what's a fad and what has staying power, because we're picking what will work in our industry up to five years from now," she said.
"We are all looking at each others' industries for inspiration and ideas, but not necessarily copying each other," Boettcher said, noting that what works well in one industry may not necessarily do well in another. "We have to be selective about colors in automotives because consumer products have shorter life cycle and we have to interpret the brightness of a color and make sure it is custom tailored to our own industry and brand."
Boettcher adds that she also monitors color trends in India, Australia, South America and South East Asia. "South Korea, especially — they are large producers of consumer electronics," she said. "Each region has its own way of developing a color, and whether its climate, color, references to nature that makes them come up with a new one, it's always cool to see new color in Australia and say, 'Wow, let's use that in the U.S.'"
Consumer products — from iPods to cell phones and even fashion wear from companies like Puma — are having have a large influence on car color and design at General Motors says Chris Kolter, creative designer in the color and trim studio of GM's North America Design center in Warren, Mich.
"There's also a lot going on with color right now," Kolter said. "For a long time we have had a silver and gray atmosphere, but now we are seeing the reintroduction of colors in fashion and other areas, and once we think consumers are comfortable with colors again the next thing we'll see is multiple combination of colors working together as a package — two tone car colors, for example. The hard part is the added labor at the assembly plant — that's the current challenge, and we're working on better ways to do that."
Another challenge, said Kolter, is meeting consumers' desire to modify their cars and personalize them — a trend that is driving significant growth in the $31 billion U.S. market for car body cladding and other automotive parts and accessories. "Two-toning car exteriors is one of things customers are doing," he said. "The Chevy SSR truck is one of the cars they are using to do that, and we're looking to offer that in other products."
Color popularity can reflect the spirit of an era notes Jack Nerad, editorial director and automotive market analyst at Kelley Blue Book, a vehicle information resource. Green was popular in then 1990s, reflecting a more eco-friendly disposition on the part of consumers he says. And the 1950s spawned very colorful cars in coral pinks and baby blues.
The recent trend toward more subdued colors like silver, white and blue shows car consumers have not wanted to stand out — they are more comfortable with less strident shades of color is the trend, he said.
"People who guide color would like to see a move toward richer tones, but I don't think the public is ready for a redder red, or an orange, or a very dark metallic blue," Nerad said. "It seems that we are not changing our preferences all that quickly, so when you consider the wild colors of the 1950s, when it comes to car colors we have come full circle from the Ford Model T."