/ Source: The Associated Press
A church packed with 4,000 mourners celebrated the life of Rosa Parks Wednesday in an impassioned, song-filled funeral, with a crowd of notables giving thanks for the humble woman whose dignity and defiance helped transform a nation.
An American flag was unfolded onto the civil rights pioneer's wooden coffin at the end of the service, which lasted more than seven hours.
"The woman we honored today held no public office, she wasn't a wealthy woman, didn't appear in the society pages," said Sen. Barack Obama, D-Ill. "And yet when the history of this country is written, it is this small, quiet woman whose name will be remembered long after the names of senators and presidents have been forgotten."
The funeral, which stretched well past its three-hour scheduled time, followed a week of remembrances during which Parks' coffin was brought from Detroit, where she died Oct. 24; to Montgomery, Ala., where she sparked the civil rights movement 50 years ago by refusing to give her bus seat to a white man; to Washington, where she became the first woman to lie in honor in the Capitol Rotunda.
Those in the audience held hands and sang the civil rights anthem "We Shall Overcome" as family members filed past her casket before it was closed.
"Mother Parks, take your rest. You have certainly earned it," said Bishop Charles Ellis III of Greater Grace Temple, who led the service.
A civil rights warrior
Speakers described Parks, who died at 92, as both a warrior and a woman of peace who never stopped working toward a future of racial equality.
"The world knows of Rosa Parks because of a single, simple act of dignity and courage that struck a lethal blow to the foundations of legal bigotry," said former President Clinton, who presented Parks with the Presidential Medal of Freedom in 1996.
Philip Robert Cousin, a senior bishop of the AME Church, eulogized that Parks was "a diamond that had been polished in the hands of God. ... She formed the rock on which we now stand."
Detroit Mayor Kwame Kilpatrick, not yet born when Parks took her famous stand, was one of many who attributed their success to the doors Parks opened.
"Thank you for sacrificing for us," he said. "Thank you for praying when we were too cool and too cute to pray for ourselves. ... Thank you for allowing us to step on your mighty shoulders."
Singers, politicians, civil rights leaders in attendance
Singers included Aretha Franklin and mezzo-soprano Brenda Jackson, who sang a soaring version of the Lord's Prayer.
Members of Congress and national civil rights leaders filled the pews. Los Angeles Mayor Antonio Villaraigosa spoke, as did former presidential candidate John Kerry, Ford Motor Co. Chairman and CEO Bill Ford and U.S. Sen. Hillary Clinton, D-N.Y.
The Rev. Jesse Jackson called for a White House conference on civil rights, and likened Parks to an eagle.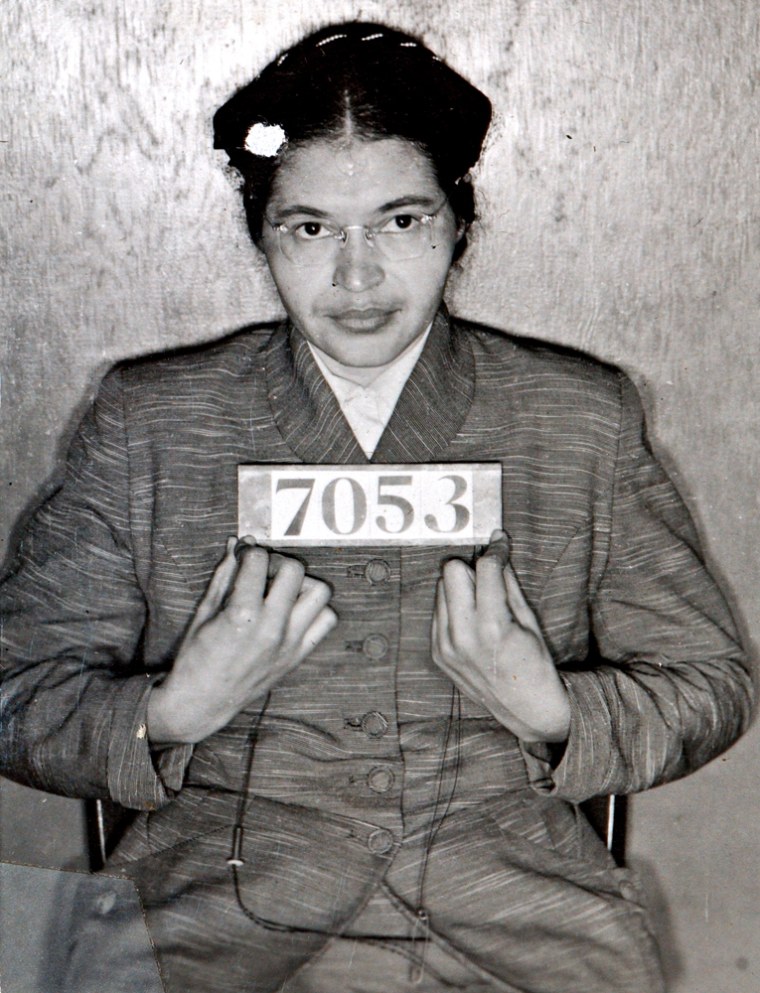 "You allowed the rebirth of hope," he said. "You gave us confident protection. You showed us how to fly."
Long before the funeral, the line to get one of the 2,000 available public seats at the church extended for blocks.
Tammi Swanigan waited for hours without getting a seat, but the 28-year-old Detroit resident wasn't complaining.
"I think just being here, it was really nice to see all the people come out to pay their respects," she said.
Parks was a 42-year-old tailor's assistant at a Montgomery department store in December 1955 when she was arrested for refusing to give up her seat to a white man on a city bus. Her act triggered a 381-day boycott of the bus system led by the Rev. Martin Luther King Jr.
Parks and her husband, Raymond, moved to Detroit in 1957, after they lost their jobs and faced harassment and death threats in Montgomery. She is to be entombed in a mausoleum, along with the bodies of her husband and mother.
After the funeral, Parks' casket was put on an antique, gold-trimmed, horse-drawn carriage for the seven-mile procession to the cemetery. Her body was to be entombed in a mausoleum along with those of her husband and mother.