PARIS — The riots that have have raged in France for 11 days have laid bare long-simmering problems related to the burgeoning immigrant population from many former French colonies in North Africa and sub-Saharan Africa.
Many of those immigrants and their French-born children have never been fully integrated into French society and have suffered from racial discrimination, high unemployment and poor housing.
The unrest spread to 274 towns across the country on Sunday night into Monday, according to French police, and claimed its first fatality when a man injured several days ago succumbed to his wounds.
NBC News' Don Teague tells how the government and ordinary French people are reacting to the crisis.  
The violent riots that began in the suburbs of Paris and have spread to the rest of the country — and even into the heart of Paris, in the historic Marais district — have mostly been conducted by the children of North African and sub-Saharan immigrants. How do the riots reflect the bigger issues and problems of integrating immigrants in France that have been going on for years?
Well, that's exactly the problem. Despite the fact that these youths were born in this country and are French citizens — they vote and pay taxes — they are not considered to be fully French, in the eyes of many other French citizens.
What the rioters have pointed out is that there are very few immigrants in government positions, and that there are very few immigrants are given the same job opportunities that are available to other French people.
For example, I interviewed a young man two days ago who has a good job, but despite the fact that he can afford to rent in apartment in Paris, cannot. When he tried to do so, "vacancies" suddenly became "no vacancies" and landlords wouldn't rent to him.  

So he lives in one of these suburban housing projects, which is similar to what we would think of as a welfare project in the U.S., despite the fact that he has a decent job and a car.  He is just not allowed, in his view, to fully become a part of French society.

With the violence starting to really hit home — now that it is coming into Paris and other cities around France rather than a few suburbs — how much are regular French people starting to discuss the underlying issues that are causing the riots?
Well, of course, they've been following the riots closely. The government itself has pledged to make changes to be more inclusive and come up with a plan by the end of the month to help address the concerns of the immigrant families.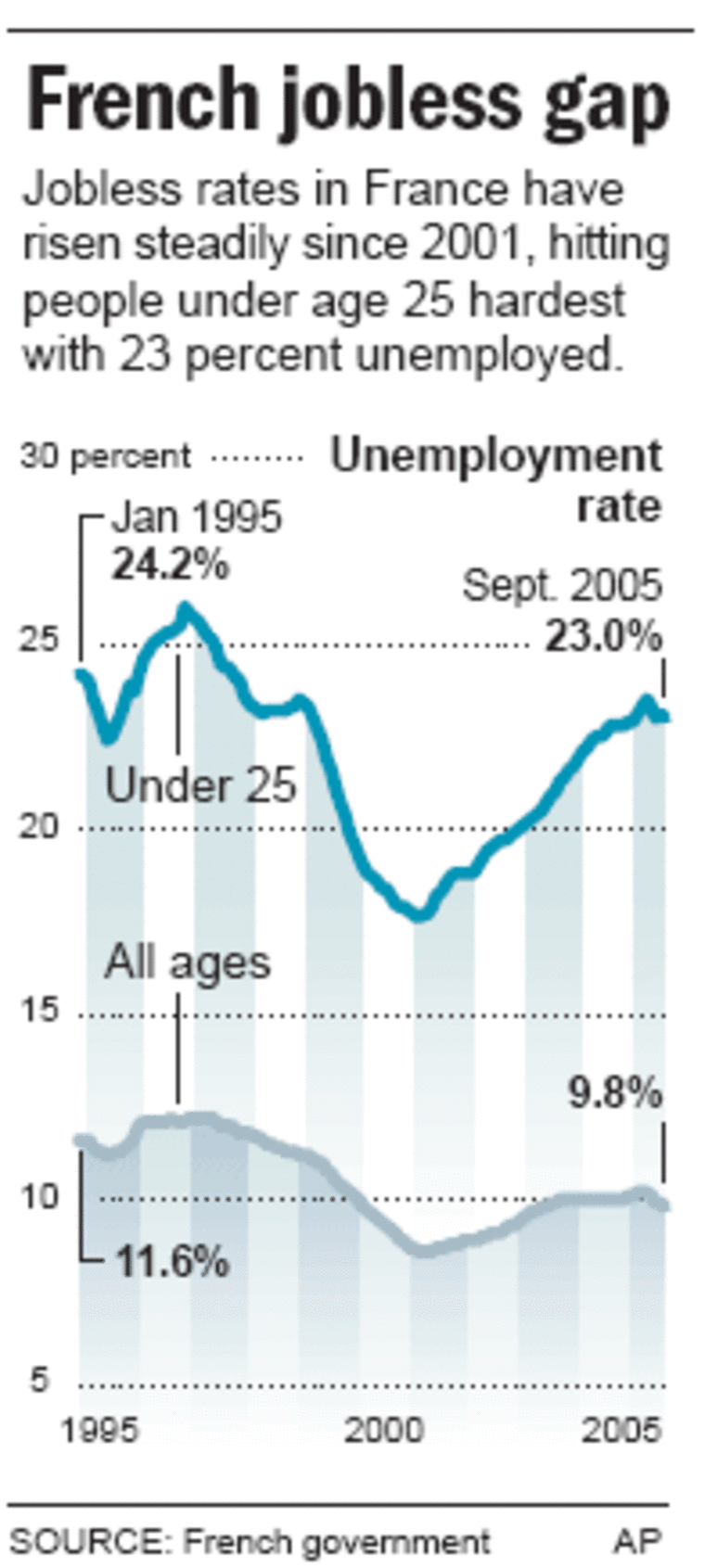 Your typical French person on the streets is talking about these issues, but in some ways they are talking about things from a position of fear now. Especially in Paris, now that these issues have hit the city center, if they tried to ignore it before, they can't ignore it any longer.

We spoke with shopkeepers last night who are concerned that the unrest may drive tourists away. On the other hand, we also spoke to some American tourists who said that they are not going to cut their trips short, but they are going to start being much more careful about where they go and what they do.  

The government has said that they are going to address the underlying problems of discrimination and high unemployment. Any idea what they might do?
They have released no concrete plans yet, but they have pledged to release a plan by the end of this month that will address many of the concerns that the immigrants and second-generation immigrants are facing.
No one is denying that major problems exist, especially the unemployment problem, which is measurable and very high.  President Chirac has acknowledged that unemployment is a huge problem and that it even runs as high as 40 percent in some suburban neighborhoods, four times the national average.  

Chirac also reportedly acknowledged in private conversations with the Latvian President Vaira Vike-Freiberga on Monday that France has failed to fully integrate the French-born children of Arab and black African immigrants who have been taking part in the violence.
The first death as a result of the violence was reported on Monday. With last night being the eleventh consecutive night of violence, is there any end in sight to the rioting?
It still has the feeling of a situation that's snowballing. According to French police, attacks were reported in 274 towns overnight Sunday into Monday. That's in France alone, but we know that other European nations such as Germany and Belgium reported unrest as well.  

That said, there is a feeling that whatever public support the rioters may have among their communities, now that lives are being lost, that public support could go away.   

Among the immigrant community, there is a certain faction that seems to be saying that the violence is OK because it has raised important issues and that this is the only way to get their voices heard.  

But at the same time, in the last week we've seen leaders within the communities in the housing projects, family members and Muslim clerics begging for an end to this violence.

There were silent protests last week by parents' groups in two of the Paris suburbs begging their own children publicly to stop doing what they are doing.  So, there is not universal support for these riots within these immigrant communities.   

But unfortunately, youth, exuberance and hot tempers seem to be winning the day.

I don't think that anyone expects this to end tonight or anytime in the immediate future, at least not coming to an abrupt end.  

The violence trickled up to this level, in the same way that it is now spreading out across the country.  But there are not enough police officers to clamp down on every inch of the country and to stop the rioting.
Also, these aren't massive riots with thousands of people protesting in one specific location. These are small roving bands of youth who four, five or six at a time go into an area and strike with Molotov cocktails and move out quickly.

In most cases they have purposefully avoided confrontations with the police, which makes them hard to catch and hard to stop.