Democrats won two big governorships Tuesday, with Tim Kaine defeating Republican Jerry Kilgore in Virginia and Sen. Jon Corzine easily beating businessman Doug Forrester in New Jersey.
Kaine, Virginia's lieutenant governor, had fashioned his campaign around the theme of continuing the state's economic growth, which he said was fostered by incumbent Democratic Gov. Mark Warner, a man with 2008 presidential ambitions.
The victory was buoyant news for Warner, who campaigned far and wide across the state for the 47-year-old Kaine.
Standing side-by-side with Warner at his victory celebration in Richmond Tuesday night, the governor-elect alluded to Warner's presidential ambitions. "I'm looking forward to standing next to you at your next victory party."
Kaine defeated Kilgore by more than 5 percentage points.
Maverick Republican Russ Potts, who ran as an independent, may have hurt Kilgore by attracting less conservative GOP voters. Potts garnered two percent of the vote.
In the New Jersey race pitting millionaire versus millionaire, Democrat Corzine pummeled Republican Forrester, winning by 10 percentage points. The campaign was the costliest in the state's history -- with the candidates spending a combined $70 million. It was also one of the nastiest campaigns, as the candidates traded barbs and attack ads.
Meanwhile, California Gov. Arnold Schwarzenegger failed in his push to rein in the Democrat-controlled Assembly. All four of his ballot measures flopped: Capping spending, removing legislators' redistricting powers, requiring public-employee unions to get members' permission before their dues can be used for political purposes and making teachers work five years instead of two to pass probation.
Elsewhere, Texas voters overwhelmingly approved a constitutional ban on gay marriage, Maine voted to preserve the state's new gay-rights law, and GOP Mayor Michael Bloomberg easily clinched a second term in heavily Democratic New York.
Divining a trend?
Strategists for both parties pondered what the Virginia results mean for Democrats as they attempt to become more competitive in southern states.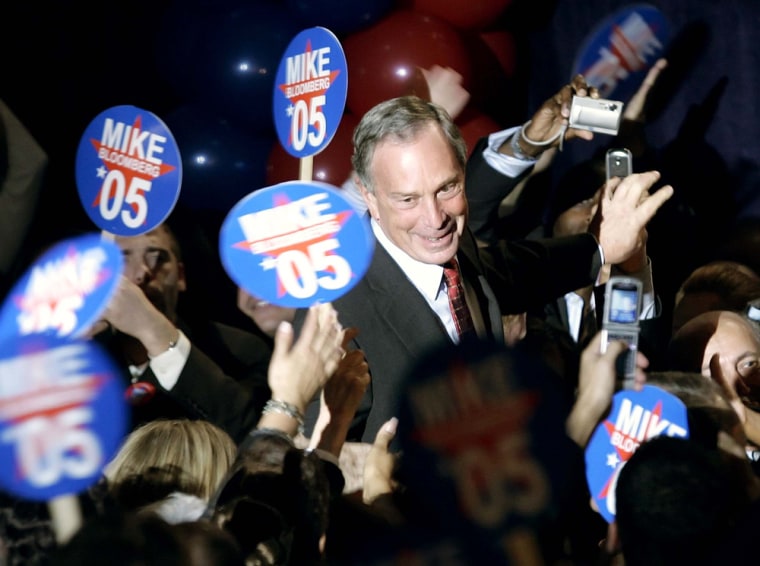 In the Washington, D.C. suburb of Fairfax County, where Republican strategist Rep. Tom Davis said Kilgore had to get at least 46 percent of the vote to have a chance to win statewide, Kilgore only was able to get 38 percent of the vote.
In fast-growing, Loudon County, next to Fairfax, President Bush won 56 percent of the vote last November — but Kilgore only drew 46 percent on Tuesday.
Kilgore, who hails from the far southwest part of the state near the Tennessee border, performed about 10 percentage points worse than Bush did in rural Bedford County in southern Virginia.
Davis told a local Washington D.C. television station that in order to have performed better in northern Virginia, Kilgore ought to have put less emphasis on the death penalty as an issue and talked more about his plan to relieve the suburban counties' horrific traffic congestion.
While no Democratic presidential candidate has carried Virginia since Lyndon Johnson did it 40 years ago, Virginia has elected four Democratic governors in the past 25 years: Chuck Robb, Gerald Baliles, Doug Wilder and Warner. Now Kaine has joined that list.
Setback for Bush
The Kilgore defeat is viewed as a setback for Bush. The president stopped in Richmond Monday night on his way back from his Latin American trip to campaign for Kilgore at an election-eve rally.
Republican strategist Patrick Davis said races for governor are run and won on local and state issues. "This was a referendum on the Warner-Kaine administration," Davis said. "I don't think I would read anything beyond Virginia into this."
As for Bush's last-minute trip to try to help Kilgore, Davis said, "It says he's loyal, helping his party to expand its leaders. It was very generous for him to try to gin up support in the base. It was a political gamble and it didn't pay off."
The GOP strategist added, "The tenor of the race had gotten into the mud. When that happens, it turns off suburban voters, and specifically suburban women."
Democratic strategist Steve Elmendorf said, "these results are very bad news for George Bush. John Kerry won Fairfax County by seven points; Kaine won it by 20 points. This is a sign of things to come."
Elmendorf said conventional wisdom held that a Democratic candidate would have trouble if he was against the death penalty. But Kaine, he said, "took on his vulnerability directly. He showed how his faith and values brought him to his position" against the death penalty.
Kaine's win called into question the power of capital punishment as an issue to move voters, even in a state that ranks second only to Texas in the number of convicts put to death since 1976.
During the campaign, Kilgore, a former attorney general, said Kaine could not be trusted to carry out the death penalty "when he has spent his entire life and career opposing the death penalty.... What he says in his ads is that he'll follow the law. Following the law in Virginia allows the governor for any reason or for no reason at all to commute the sentence of anyone on death row."
Kaine denounced Kilgore's ads as inaccurate and said in his own ads, "I'll enforce death sentences handed down by Virginia juries because that's the law." But he also said he did not think the death penalty was necessary in order to have a safe society.
The campaign also called into question the power of illegal immigration as an election issue. Kilgore had sharply criticized Kaine for not joining him in condemning a center for day laborers, some of them illegal immigrants, being set up in the northern Virginia town of Herndon.
Personal battle in New Jersey
The Corzine-Forrester race turned personal and harsh in tone, with a television ad aired late in the campaign which quoted Corzine's ex-wife who told the New York Times that "when I saw the campaign ad where Andrea Forrester said, 'Doug never let his family down and he won't let New Jersey down,' all I could think was that Jon did let his family down, and he'll probably let New Jersey down, too."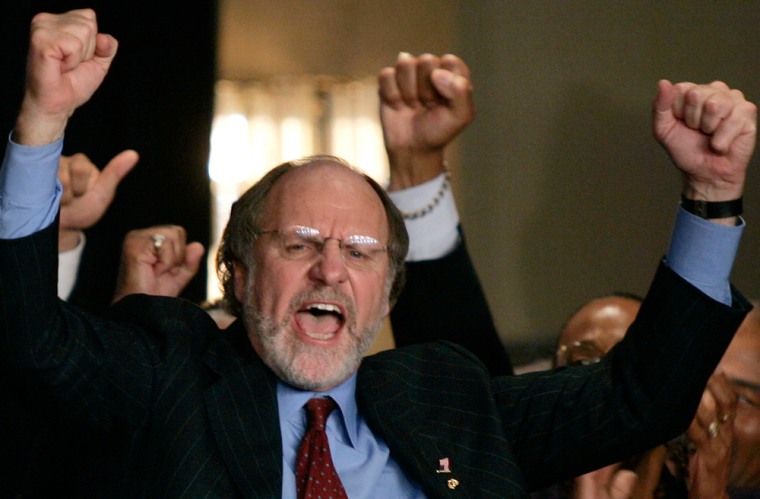 The two rivals traded charges over who would do more to lift the property tax burden in New Jersey, one of the highest in the country. In his ads, Forrester claimed that Corzine had cast 133 votes in the Senate for higher taxes, while Corzine said in his ads that he had cast 70 votes for lower taxes.
The independent non-partisan group Factcheck.org reported that "both lists are padded with multiple votes on the same tax measure, and most of the votes Forrester says are for higher taxes' actually would not have resulted in any tax increase at all."
In races elsewhere that will have national resonance:
Mayor Kwame Kilpatrick won re-election in Detroit, while the FBI announced an investigation into the handling of absentee ballots, including claims of ballots cast in the names of dead people.
San Diego surf-shop owner Donna Frye, a maverick Democratic councilwoman who nearly won the mayor's race in a write-in bid last year, lost to Republican Jerry Sanders, a former police chief backed by the city's business establishment.
In Washington state, voters approved a measure expanding the state's ban on indoor smoking to include bars, restaurants and non-tribal casinos.