• |
Closer to the truth? (Stone Phillips, Dateline anchor)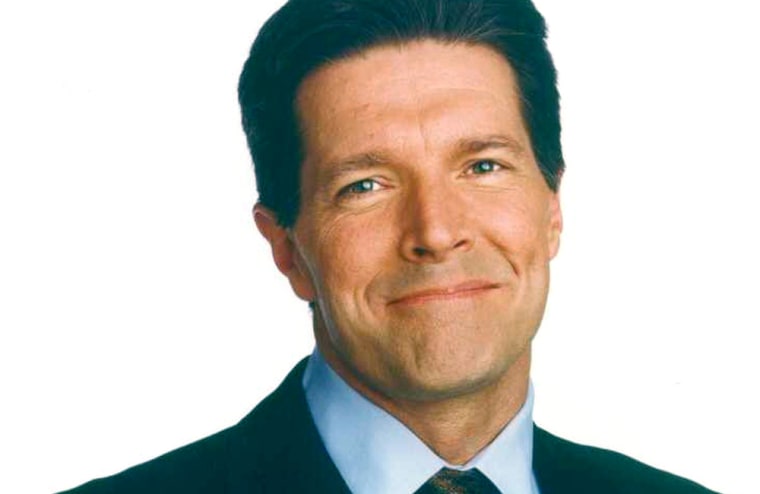 As we head into the holiday season, we hope tonight's report on the birth of Jesus helped enrich your understanding and appreciation of the Christmas story.
Some two billion Christians worldwide will celebrate the holiday this year. While most Americans believe December 25th is the actual birth date of Jesus, most biblical scholars believe his birth probably took place in the spring. A recent poll finds that more than two-thirds of Americans accept the entire Nativity story, as historically accurate.
With this report, we're not trying to challenge or change anyone's beliefs. We just wanted to take one more look at this revered and much-beloved story to learn more about the theology and the history behind it.
The birth of Jesus changed the world. But over the past two centuries, the telling of the story has also changed. We turned to experts of history, theology and religious studies. The aim is to shed a new, fuller light on the birth of a child believers call the "Light of the World."
.
Send us an e-mail at Dateline@MSNBC.com and let us know what you thought of the report.
The daunting task of reporting on the birth of Jesus (Keith Morrison, Dateline Correspondent)
BETHLEHEM, WEST BANK — There is a high point not far from the Israeli town of Tiberius, overlooking the northern end of the Sea of Galilee, called Arbel Mountain. Stand on the peak and look down and there you can see on one short stretch of coastline, the geography of Jesus. Magdala, Capernaum, the Mount of Beatitudes, Tabra (loaves and fishes), and on and on... The places Jesus walked and taught are gathered there in an area that looks from our hilltop vantage smaller than your average American suburb.
We are here to report on the current discussion about Jesus' birth story, a continuing debate to be sure, and one we'll not come close to settling.  But standing here, looking down, I am completely in awe.  It's so small!  Lovely but somehow indifferent to the centuries of turmoil and debate over the meaning of what happened here.
My father was a minister, several uncles too, and I thought about it for a time, so it's a story I've been keen to report. But as producer Justin Balding and I discovered, as we read everything we could get our hands on and interviewed some of the top scholars in the field, there is little agreement on the "historicity" of the story of Jesus' birth.  What makes it especially difficult, of course, is that the story — the history of it, and the meaning — are issues of faith as much as academic enquiry.  Most Americans, according to polls, believe in the literal truth of the virgin birth and many of the other miracles contained in the famous story. Our first concern was to look for what can be known of the history while respecting everyone's personal beliefs.  We have beliefs too (which shall remain personal and private) and we wouldn't want some reporter suggesting we abandon them.
That said, the questions are simply irresistible.  Where was Jesus born, Bethlehem or Nazareth?  Were there "wise men?"  How many?  Were they kings?  Did Herod slaughter the boy-children of Bethlehem? Did the Holy Family flee to Egypt, as Matthew reports?  Legions of scholars have done their best to sort it out. We spoke on camera to six: John Dominic Crossan, Professor Emeritus of Religious Studies, DePaul University and a prolific author of books about the historical Jesus; Ben Witherington, author and Professor of New Testament Interpretation at Asbury Theological Seminary;  Craig Evans, Professor of New Testament, Acadia Divinity College; Scott Hahn,  Professor of Scripture, Franciscan University; A.J. Levine, Jewish scholar and teacher of the New Testament at Vanderbilt University, and Lesley Hazleton, author of a "flesh and blood" biography of Mary.  Their views are instructive, fascinating and frequently conflicting.  One of the most difficult parts of our assignment was the need to leave out so much of their compelling commentary.
As I write this, I'm sitting just a few miles from the centre of the Nativity story, the Church of the Nativity in Bethlehem's Manger Square; an utterly amazing structure, the earliest parts of which date back to the Emperor Justinian, who ordered it re-built in the sixth century.  The grotto under the church is said to be the very spot where Jesus was born, a spot identified, history says, by the mother of the first Christian Emperor, Constantine.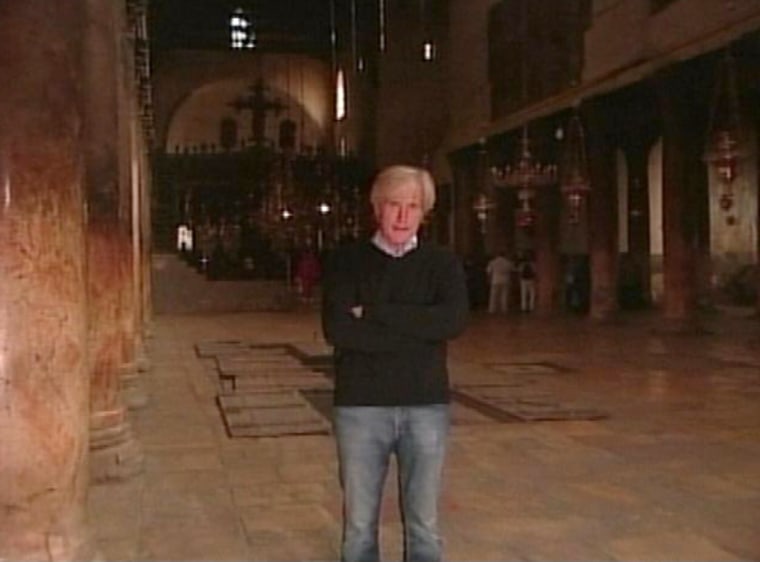 Today, as we taped segments inside the church, the remarkably open and friendly staff were as helpful as they could be.  And yet, three different sects, Roman Catholic, Armenian and Greek Orthodox, which share administration of the place, revealed how difficult relations can be among the various denominations.  One of the groups (which one will go unmentioned) complained that the others were rather hard to get along with.  And...why were we shooting in the other sect's portion of the church, but plugging our lights into the complaining sect's electricity?
In a special edition of 'Dateline NBC,' Keith Morrison asks, "What if everything you thought you knew wasn't the whole story?" In an attempt to answer this profound question, Morrison takes viewers on a remarkable journey -- back in time -- to unravel the mystery. "The Birth of Jesus" hour airs Dateline Friday, 8 p.m./7 C.
Pop quiz
Click here to take to test . 35 percent of the quiz takers are getting 81-100 percent of the answers correct.
We're already receiving some e-mails
It's a highly personal and sensitive subject to report, and the 'Dateline' inbox is already receiving a few e-mails about what viewers hope the hour will— and won't— be. Below are a few:
I was raised Catholic but like to think of myself as scientist (open-minded). Needless to say I have drifted far away from organized religion but I cannot forget or change some habits that were formed by that upbringing. I am appalled by the use of religion around the world to justify mass murder and am frightened whenever it gains political power.  In thinking of Jesus, regardless of how or where He was born I am left with two thoughts.  One is that Jesus was a pacifist, he would sooner die than to have entered combat with anyone for any reason.  My second thought is my recollection which I think goes something like, "There is but one commandment and that is to love thy neighbor as thyself".  I believe if all Christians truly patterned His life and listened to His teachings instead of twisting religion into a political tool that the world would be a much better place. --Martin Porubcan, Hebron, Wis.
I am really perplexed over whether the event actually occurred and what hard evidence there is for it. I think beliefs have to be set aside to get at the real truth. Faith can re-inserted in the end after the facts and evidence are analyzed and/or debated.--Richard Dwyer, Charlotte, N.C.
It is part of the history of life, the Birth of Jesus. but, don't get lost in the details, the more important event, is of course, the death and the Re-Birth of Jesus Christ. --Name withheld
I always enjoy information on the subject. It never sways me one way or the other, I just like hearing different views. I am a Christian and always will be. --Sherri Lee Schultz, Columbia, Missouri
I am not so much concerned with the facts about how Jesus was born but with the fact that He WAS born. Without that birth we would not have a savior and I thank God that he did send his only son to earth to save us all. --Claudia Weekes, Benton Harbor, Mich.
It matters little what scholars opine. The REALITY of the birth, death and resurrection of Jesus Christ is experienced in the hearts and lives of all who have been transformed by His visit to this planet. I'm so glad He came. --Vickie J. Richey, Manassas, Va.
Jesus is both intensely personal and at the same time one of the most public figures in world history. Is it possible that by connecting with the human we come closer to the divine? --D. Michael Hostetler
My comments are pretty simple, folks. While I do enjoy the seemingly endless conversation surrounding this blessed event, I do like to remind everyone that some things are clearly taken by faith alone. We can debate until He comes again, but we will likely convince no of the argument. HE was, He is, He is to come! Thank you! --Gus Stefanow, Enon, Ohio
I hope this is not going to be a typical modernistic "debunking" story, but rather a true presentation of the religious beliefs of Christians and the facts upon which they are based, relative to the Incarnation. --Father Paul L. Berschied, Independence, Ky.
Many refute the Biblical story. Many will not enter the kingdom of heaven due to disbelief and lack of faith in the Son of God, and why He came to live among men in the flesh. The New Covenant has been a whole new complete understanding, and for many they can not accept it. History has been distorted, from man made conception and many have been lead astray. I just hope your special presentation will not cause many to stumble too badly. For then as Christ said, Woe unto them that cause them to be led astray and cause one of these little ones to fall away... --Brother Chuck, Georgia
It's enough crazy stuff going on in the world with out people beginning to question the Lord. People should be trying to get their souls right, and praying that they make it into heaven and not hell, instead of questioning God. My God continue to Bless you and your show. --Name withheld
E-mail Dateline@MSNBC.com