MEMPHIS, Tenn. — Five former Memphis police officers were indicted Thursday on murder charges in the death of Tyre Nichols, whose beating after a traffic stop was captured on video that "sickened" a top Tennessee law enforcement official.
Police had said that Nichols was supposedly stopped for reckless driving, but Memphis Police Chief C.J. Davis said early Friday morning an investigation and review of available camera footage had found "no proof" of that.
Follow along for live coverage
The officers involved — Tadarrius Bean, Demetrius Haley, Emmitt Martin III, Desmond Mills Jr. and Justin Smith — were fired after, Davis said, they violated department policies during the Jan. 7 stop that led to Nichols' death.
All five former officers were charged with second-degree murder, two counts of official misconduct, two counts of aggravated kidnapping, one count of official oppression and one count of aggravated assault, prosecutors announced.
More coverage of the death of Tyre Nichols
"The actions of all of them resulted in the death of Tyre Nichols, and they are all responsible," Shelby County District Attorney Steve Mulroy told reporters.
Second-degree murder, the most serious of the charges, "is a knowing killing," Mulroy said.
Two of the officers, Mills and Smith, posted $250,000 bond and were released late Thursday. Haley, Martin and Bean remained in custody Thursday night, jail records showed. But as of early Friday, morning, jail records showed that only Haley remained behind bars.
Video to be released Friday
Video of the encounter will be released after 6 p.m. local time Friday, officials said. Memphis police chief Cerelyn "C.J." Davis said Thursday that she expected citizens to be outraged by what she called the "heinous, reckless and inhumane" conduct captured in the video. She said she expected people to protest and called on them to remain peaceful.
It wasn't clear if the department was taking precautionary measures ahead of possible demonstrations. A spokesperson did not immediately respond to a request for comment Thursday.
FBI Director Christopher Wray on Friday spoke on the video of Nichols' arrest during a separate news conference, saying that "I've seen the video myself and I will tell you I was appalled."
In anticipation of the video release, Memphis-Shelby County Schools announced it is canceling after-school activities Friday meanwhile Southwest Tennessee Community College said it will move to virtual classes Friday.
Law enforcement officials in other cities said they were preparing for protests or monitoring events. In Washington D.C., the police department said in a statement that it had "fully activated" all sworn personnel and promised to take "swift law enforcement action should anyone break the law."
In Minneapolis, a department spokesman said its office of community safety will "maintain its mission of protecting the safety of this community while respecting the constitutional rights of all citizens," while in San Francisco, authorities said they were preparing to respond to developments linked to Nichols' death.
In Atlanta, the police department said it was "prepared to support peaceful protests." Officers were expected to conduct themselves in a "compassionate, competent, and constitutional manner," the department said in a statement. "These officers failed Tyre, their communities and their profession." 
'This could have been me'
At a candlelight vigil attended by more than 300 in Memphis' Tobey Park on Thursday night, Nichols' mother, RowVaughn Wells, called the video "horrific" and echoed the police chief, saying: "I want each and every one of you to protest in peace. I don't want us burning up our cities, tearing up the streets, because that's not what my son stood for."
At one point, the crowd began shouting "Justice for Tyre" and pleaded for accountability and police reform. 
"Here we are again and I'm tired of saying it. Over and over and over again people are violently murdered in the city of Memphis and I'm tired of it," said community organizer Amber Sherman. "We aren't going to take it anymore. We want answers."
The vigil also included moments of silence and prayer, drum playing and — in honor of the subculture Nichols was devoted to — skateboarding.
"Skateboarders have to support each other no matter what," said Ron Marion, 29. "We're the same age. This could have been me."
Once over, Wells, bundled down in a gray coat and matching skull cap, walked about 100 feet across a skateboard park. There, people twisted their boards in the air, jumped over concrete and a few fell right in front of her. She smiled and left a short time later.
Police chief says investigation has found 'no proof' of reckless driving
Davis said on CNN This Morning early Friday that Nichols had supposedly been stopped for reckless driving, but an investigation and review of available camera footage found "no proof" that was the case.
"We have not been able to substantiate the reckless driving. That was why he was supposedly stopped in the very beginning," she continued. "It doesn't mean that something didn't happen. But there's no proof. The cameras didn't pick up."
Davis said after seeing video footage of the incident, "I was outraged. It was incomprehensible to me, it was unconscionable … I don't think I've witnessed anything of that nature in my entire career."
She said the video will show "acts that defy humanity," "a disregard for life" and "a level of physical interaction that is above and beyond what is required in law enforcement."
"I'm sure that, you know, as I said before, individuals watching will feel what the family felt. And if you don't then you're not a human being," Davis continued.
Nichols' mother says officers 'beat him to a pulp'
Nichols' mother Wells opened up on her heartbreak in an interview aired Friday morning on CNN, saying in the incident, police came to her door saying her son was arrested for DUI, was pepper sprayed and hit with a stun gun.
"They then asked me, 'Was he on any type of drugs or anything of that nature' because they were saying that it was so difficult to put the handcuffs on him and he had this amount of energy — superhuman energy — and what they were describing was not my son," she explained. "So I was very confused."
She said by the time she got to the hospital and saw Nichols, "He was already gone."
"They had beat him to a pulp. He had bruises all over him, his head was swollen like a watermelon, his neck was busting because of the swelling, they broke his neck, my son's nose looked like an "S", she said.
Attorney Ben Crump said Nichols' last words in the video footage were three "gut-wrenching screams for his mom."
'This shouldn't have happened,' official says
The Tennessee Bureau of Investigation led the probe, and Director David Rausch said the video will be clear-cut.
"Simply put: This shouldn't have happened," he said. "I've been policing for more than 30 years. I've devoted my life to this profession, and I'm aggrieved. Frankly, I'm shocked. I'm sickened by what I saw." 
Rausch added: "Let me be clear: What happened here does not at all reflect proper policing. This was wrong. This was criminal." 
Defense attorney Blake Ballin, who is representing Mills, criticized Rausch for his strong language describing the video. "To say things like that when you have a tinderbox that we're all concerned about," he said.
Ballin and William Massey, Martin's attorney, said they've yet to see the police video.
Already bracing for what it could show, Ballin urged the public not to jump to any conclusions immediately after it is released.
"I would just caution the public to reserve judgment," Ballin said. "Know that there's always more to the story."
"No one out there that night intended for Tyre Nichols to die," Massey told reporters. "No one, no one. That's shocking to the officer."
Nichols' family welcomed the indictments.
Charges against the officers give "us hope as we continue to push for justice for Tyre," Ben Crump and Antonio Romanucci, the attorneys for the family, said in a statement.
"This young man lost his life in a particularly disgusting manner that points to the desperate need for change and reform to ensure this violence stops occurring during low-threat procedures, like in this case, a traffic stop," they said.
"This tragedy meets the absolute definition of a needless and unnecessary death."
Early findings in an autopsy conducted by a forensic pathologist for Nichols' family show he was severely beaten before he died, the attorneys said this week. The Shelby County medical examiner's office hasn't released an official cause of death.
Few details released
Nichols, 29, died Jan. 10, days after the confrontation that landed him in the hospital.
Nichols had been pulled over in the Memphis' Hickory Hill neighborhood for alleged reckless driving, officials said.
After an "initial altercation" when "pepper spray was deployed," Nichols ran, Mulroy, the district attorney, told reporters Thursday.
"There was another altercation at a nearby location where serious injuries were experienced by Mr. Nichols," Mulroy continued. "After some period of time of waiting around afterward, he was taken away by an ambulance."  
Mulroy declined to go into greater detail about the deadly confrontation.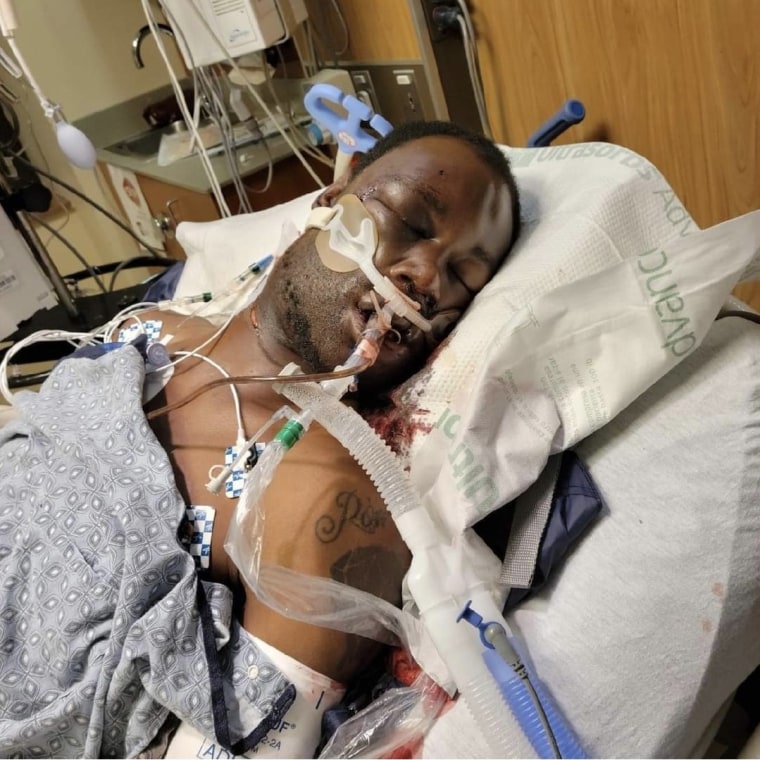 A photo provided by his stepfather showed a hospitalized Nichols with blood on his face and what appeared to be a swollen eye.
Nichols' family and their attorneys, Crump and Romanucci, have viewed the body camera video.
Romanucci described it as an "unadulterated, unabashed, nonstop beating" for three minutes, saying the officers treated Nichols like a "human piñata.
Crump compared the video to "the Rodney King video," referring to the 1991 bystander video of Los Angeles police officers beating a Black man.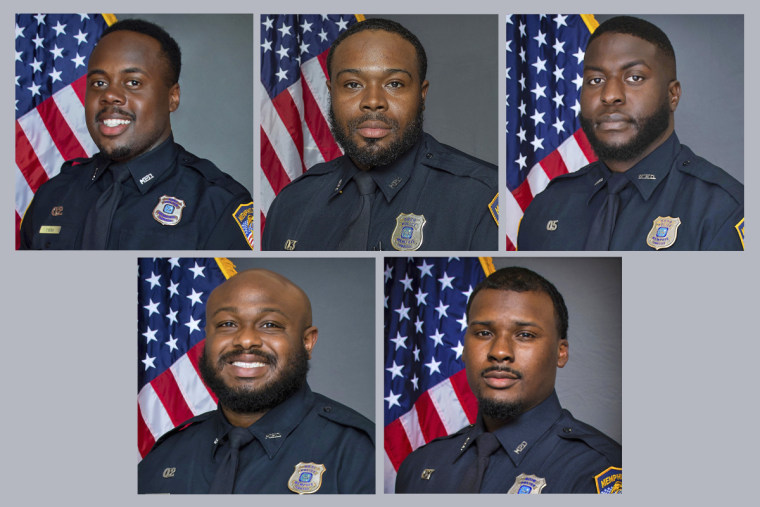 Representatives of the Memphis Police Association, which represents rank-and-file officers, could not be immediately reached for comment Thursday.
NAACP President Derrick Johnson said he hopes that when the video is made public, it will push lawmakers to take decisive action to reform police.
"Tell us what you're going to do to honor Tyre Nichols," Johnson said in a statement Thursday. "Tell us what you're going to do to show his family, his loving son, and this entire nation, that his life was not lost in vain. We can name all the victims of police violence, but we can't name a single law you have passed to address it."
In a statement, the Rev. Al Sharpton, the host of MSNBC's "PoliticsNation," said police video was designed to make sure officers follow the law.
"There is no point to putting a body camera on a cop if you aren't going to hold them accountable when the footage shows them relentlessly beating a man to death," Sharpton said.
"Firings are not enough. Indictments and arrests are not convictions. As we've done in the past — with George Floyd, Ahmaud Arbery and others — we will stand by this family until justice is done. A conviction sends a message to the nation that cops cannot hide behind their badge after committing a heinous action like this."
Deon J. Hampton reported from Memphis, David K. Li and Juliette Arcodia from New York and Tim Stelloh from California.