LA PAMPA, Peru – Deep in the Amazon rainforest, a half-dozen Peruvian military vehicles are rumbling along a dirt path that cuts through dense jungle.
Roughly 90 minutes into the journey, the rows of trees come to a sudden end. The soldiers jump out of the vehicles as their leader, Gen. Paul Bianchi, surveys the landscape.
The forest has given way to a barren wasteland. The lush canopy is gone. In its place are polluted ponds and vast stretches of parched sand.
The only things rising from the ground here are strips of wood not much wider than baseball bats – the carcasses of dead trees.
"This is an example of how unscrupulous people turn this beautiful paradise into a desert-like area," the general says.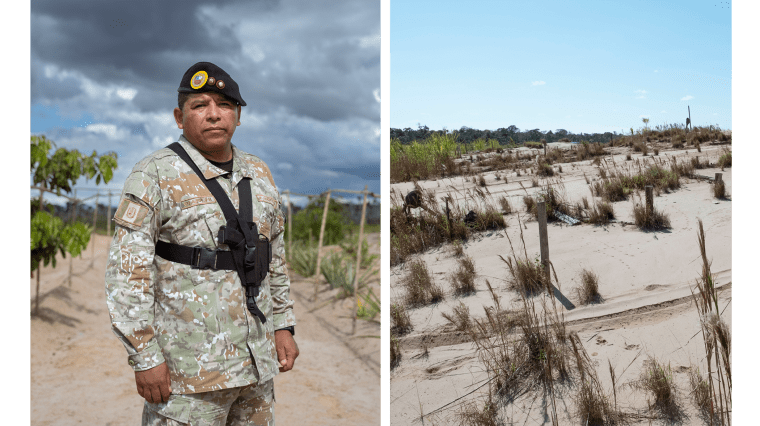 This section of the Peruvian Amazon, known as La Pampa, is now under the control of Bianchi's soldiers.
It's a place that few outsiders have visited. A place where just a few years ago, even the local police dared not enter.
NBC is the first news network to access the area with the special forces since the pandemic.
To understand what happened here, you must go back almost 15 years when illegal miners arrived in droves, along with the mafias that direct and profit off them. What lured them to this remote jungle was the treasure that lies just beneath the soil: tiny flecks of pure gold.
As the mining operations expanded, so did the ecological devastation. The miners chopped down huge swaths of rainforest in what was once one of the most biodiverse places on the planet. The toxic chemical they use to separate gold from the sediment – mercury – wreaked havoc on the land. Acre by acre, pristine vegetation was replaced by clay-colored sand and pools of contaminated water that poisoned fish and permeated the soil.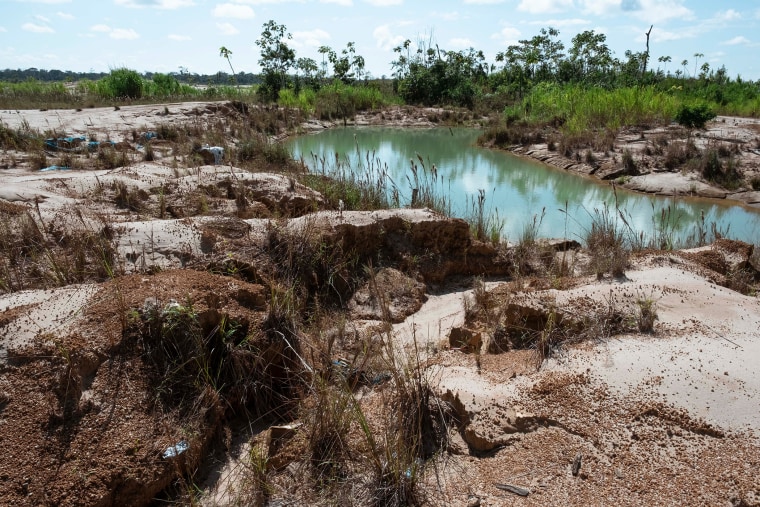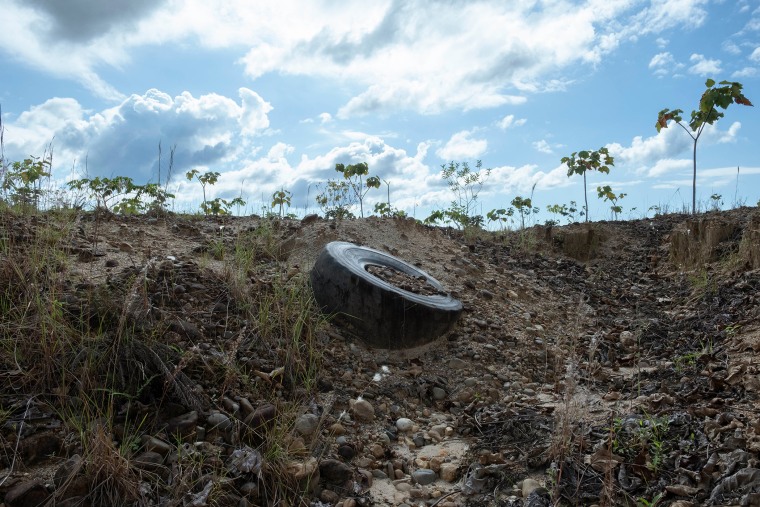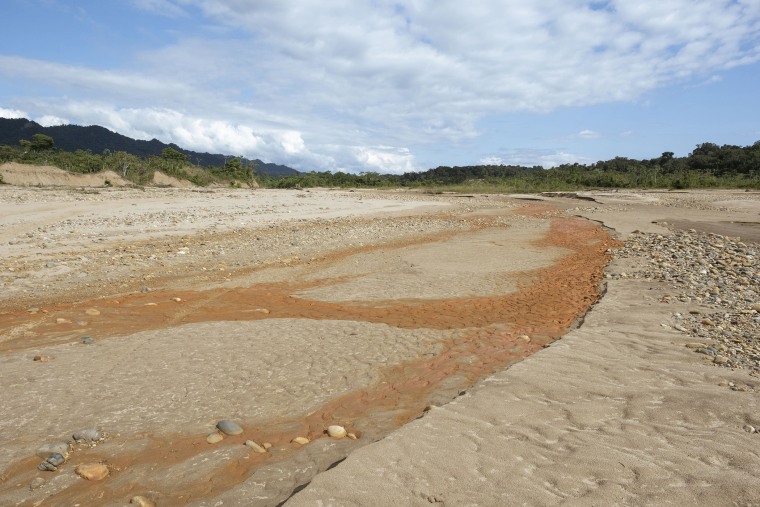 More than 370,000 acres of old-growth forest – an area 25% larger than Los Angeles – have been destroyed by illegal gold mining, according to the latest estimates, and dozens of environmental activists have been killed by the criminal groups that oversee it.
In time the area also gave rise to an illicit shantytown replete with bars, brothels and trafficked young girls. More than 25,000 people were believed to be living here in 2019.
In February of that year, the Peruvian authorities launched a massive effort to eradicate illegal mining in this part of southeastern Peru for good.
More than 2,000 soldiers and 1,500 police officers moved in as part of Operation Mercury, blowing up mining equipment and using tear gas to drive out the miners and others living there.
The mission was seen as a success, but the story of La Pampa is still being written.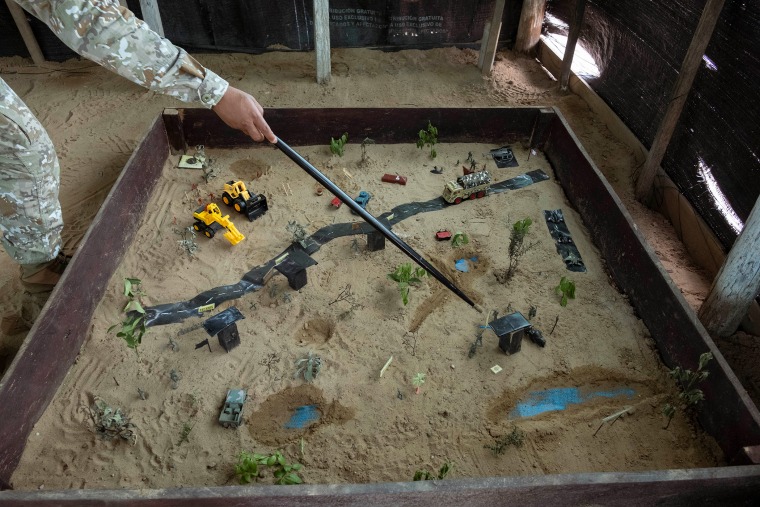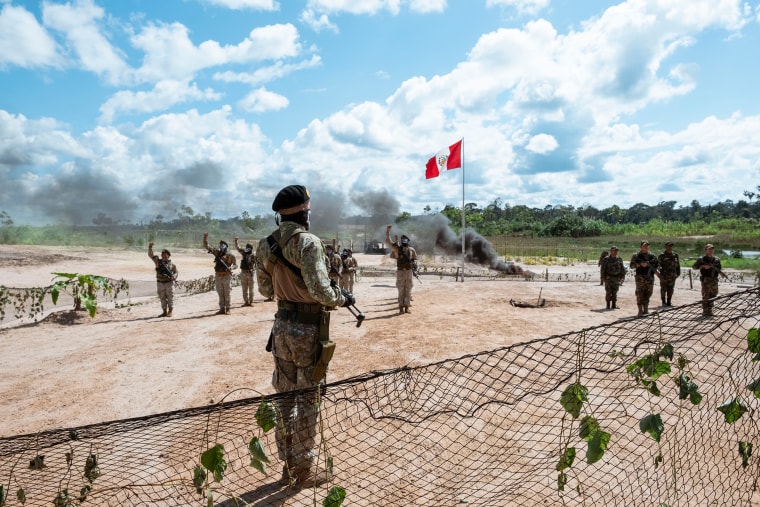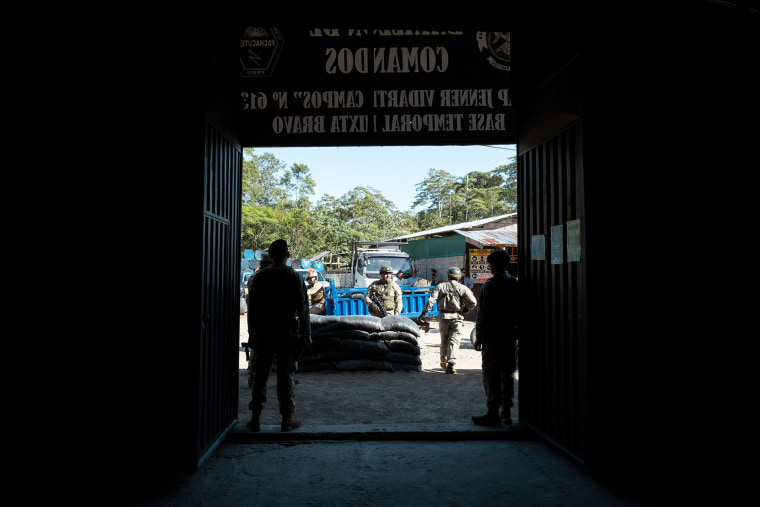 The pandemic crippled Peru's economy and forced the authorities to focus elsewhere. At the same time, the price of gold soared to record highs, ramping up the stakes for the international criminal syndicates that use gold to launder money from drugs and other illicit activities.
The miners are now moving into parts of the rainforest far away from the military bases in La Pampa.
"They are very sophisticated in their operations," Lisa Kenna, the U.S. ambassador to Peru, said of the criminal networks involved in the illegal mining. "The security presence in these areas is so minimal, it's really hard to have a measurable impact on the extent of the criminal activity."
U.S. military and government officials told NBC News that these criminal organizations originating in countries that include not only Peru but Venezuela, Ecuador and Brazil have more people, hold more territory and possess about five times as much money as the collective militaries in the region. One group, the Brazil-based Red Command, is now believed to be trafficking gold as well as guns in Madre de Dios, the section of Peru that encompasses La Pampa.
The criminal organizations, which bring in roughly $300 billion a year from illegal activity, have been known to use private jets to shuttle contraband, lighting them on fire afterward to cover their tracks, a senior military official told NBC News.
The organizations have become so powerful that the U.S. military is now involved in providing real-time monitoring assistance as well as financial support to efforts to stop the illicit operations, the officials said.
After it's pulled from the soil, the gold begins a journey that will see it passed between different criminal groups and often through neighboring countries before it enters the international market. Most of it reaches Switzerland, which refines around 70% of the world's gold.
Along the way, it's melted down into bars and often mixed with gold that's been extracted legally, making it impossible to trace, officials say.
Some portion of the illegal gold from Peru arrives in the U.S., largely in the suitcases of smugglers traveling by plane, law enforcement officials said. It's then sold to refineries in and around Miami that have a history of looking the other way, according to Paul Salamon, a Department of Homeland Security country attache for Peru.
"The proceeds from the illegally mined gold are then introduced into the legitimate banking system," Salamon said. "It can then be used to pay out the narcotics trafficking organizations and can be used to supply more equipment for the illegally mined gold."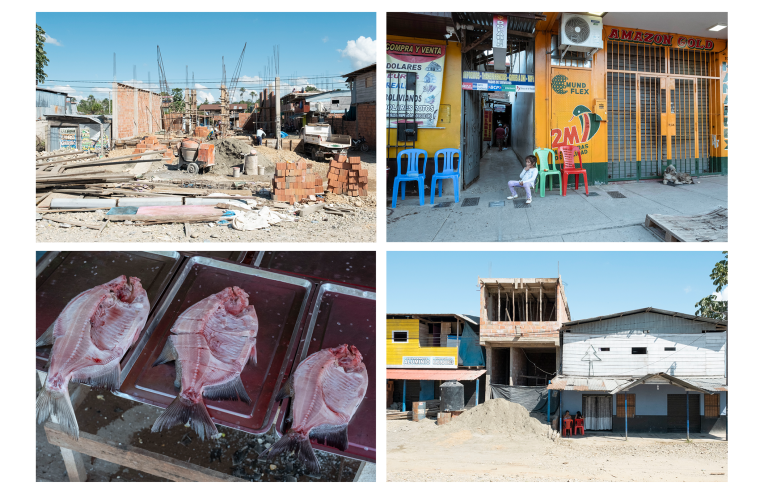 Mining for gold is legal in Peru – even with mercury – but mining in unauthorized areas like natural reserves and Indigenous lands is against the law.
Peru is the number one producer of gold in Latin America, and the U.S. is the second-largest recipient after Switzerland, according to Peruvian government figures.
In 2020, approximately 125,000 pounds of unaccounted-for gold – the equivalent of about 10 adult elephants – was moved out of the country, according to the Department Against Transnational Organized Crime at the Organization of American States.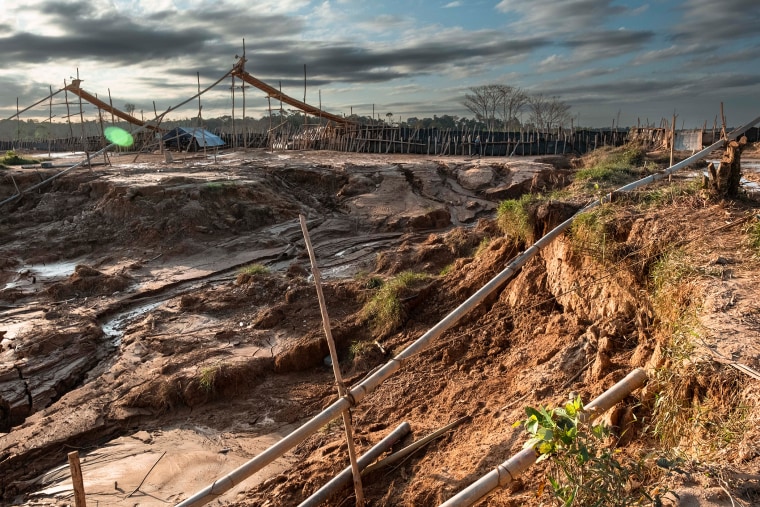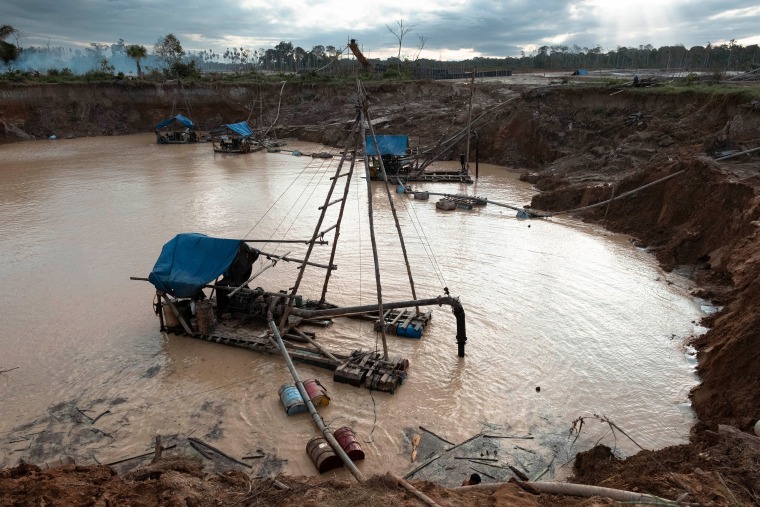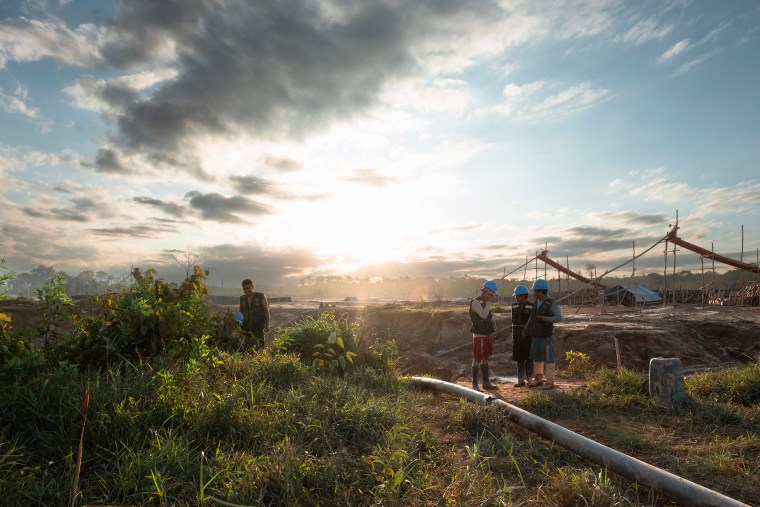 The miners themselves are typically desperate laborers who flock to the La Pampa area from poor parts of the country where their job prospects are dismal.
"They're not becoming rich," said a U.S. federal law enforcement officer with deep experience in the region who is not authorized to speak publicly.
"The same way the coca farmer is not making the millions, it's someone along the illicit chain, two or three spots higher, who are the ones making the real money. But it's very hard to pinpoint who those people are."
The fate of La Pampa lies in the hands of the various people now working to protect it.
The researchers who are studying how to best restore the forest and who are teaching Peruvian schoolkids how to conserve it.
The environmental defenders fighting against the illegal mining operations at grave risk to themselves and their families.
The man who has spent the past two decades rescuing young girls trafficked for sex and young boys forced to toil in brutal working conditions.
The woman who is building an ecolodge in the hope it will allow her Indigenous community's future generations to support themselves without mining.
And there is Gen. Bianchi, whose soldiers now grow fruit at forest encampments when they're not searching for illegal miners to evict and mining equipment to blow up.
Defending the land
Demetrio Pacheco has long felt like a marked man.
A well-known environmental defender, he has no shortage of enemies in this volatile corner of Peru where killings of conservationists are relatively common and prosecutions relatively rare.
But living under constant threat still did not prepare Pacheco for what happened on Sept. 10, 2020.
He was walking in a section of the forest that he and his family protect when he came upon the body of his 34-year-old son, Roberto, who had been shot twice and left for dead.
"It was a very sad and fateful moment," Pacheco said. "To have him so robust, so happy, and to find him lying there on the road."
Peru is considered one of the most dangerous countries in the world for people who fight against the destruction of the environment. At least 14 environmental defenders have been killed since 2020 alone, according to the Peruvian Society of Environmental Law.
In the wake of Roberto Pacheco's killing, the authorities arrested three men after a special task force was put on the case. But a judge ordered the suspects' release ahead of trial, and the men are now missing. Whether they will ever face justice remains an open question.
"The authorities here never wanted to investigate," said Victor Zambrano, a renowned conservationist who works closely with the elder Pacheco.
Zambrano was born in this section of the Amazon and became enamored by its beauty at a young age. He left the area to serve in the military but returned in 1987 to a place that was almost unrecognizable.
"They destroyed everything to plant grass for livestock," Zambrano said.
He took it upon himself to reforest his family's land. Over four decades, he says he has single-handedly planted more than 30,000 trees in an 85-acre reserve he renamed in honor of his youngest daughter.
Zambrano has also partnered with local Indigenous groups to fight against illegal gold mining in the buffer zone of the Tambopata National Reserve, which is home to more species of butterflies, birds and mammals than almost anywhere else in the world. In recent years, these remote swaths of the Amazon have been infiltrated by criminal mining groups who were cleared out of other areas by the military.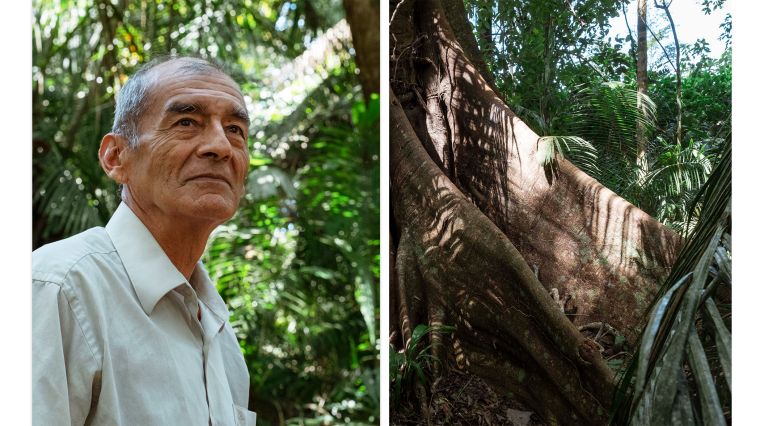 "We are the obstacle for their illegal purposes," Zambrano said. "And that is why we receive death threats."
In early July, the Ministry of Environment opened an office in Puerto Maldonado aimed at protecting conservationists like Zambrano and Pacheco, but their work remains highly dangerous.
By now, the two men are used to explaining why they carry on protecting the Amazon given the grave risks to their lives and that of their families.
"It would seem that Mother Nature had designed us this way," Pacheco said.
Even with the death of his son, Pacheco said he couldn't fathom walking away from the forest given everything he has put into protecting it.
Zambrano agrees. He describes their commitment to the environment in philosophical terms.
"Love is demonstrated in different ways," he said. "There is love towards a woman, there is love towards a cause. That is ours. Love towards nature, towards the environment we live in. We don't want this to disappear. We use all means to achieve this goal."
"You may call us insane, crazy, you may call us whatever you want," he added. "But this is our conviction."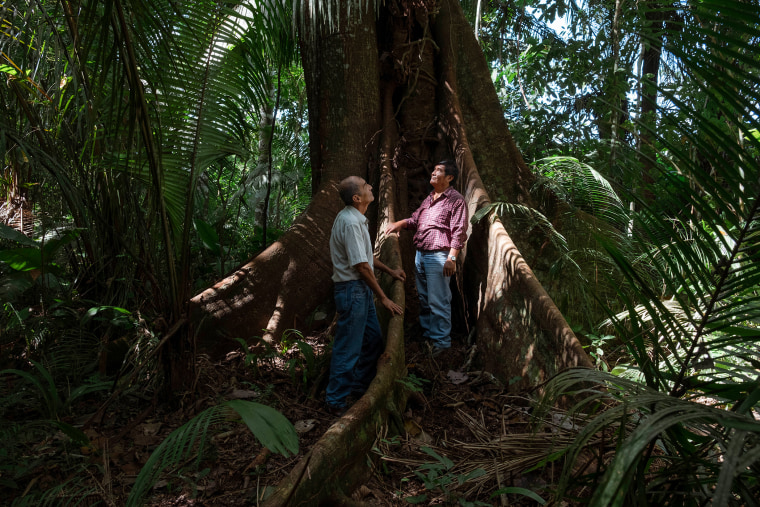 One afternoon in March, Zambrano, 75, was returning home from a trip to Puerto Maldonado, the capital city of Madre de Dios.
It was about 1 p.m. when he pulled up to his front gate, got out of his car and took out his keys. Unbeknownst to Zambrano, a motorcycle had been tailing him with two men aboard.
Zambrano said he didn't hear the motorcycle come to a stop, and he didn't see the man on the back of the bike pull out two guns and point them in his direction.
But he did hear the sound of a woman screaming as he was opening up his gate. It was his neighbor. She saw the motorcycle, the two men and the guns. Her scream caused the gunman to freeze, Zambrano said.
The men sped off. Zambrano would live to see another day.
He was still badly shaken when the police showed up about 45 minutes later. He said they urged him to travel back to Puerto Maldonado to file an official report.
But Zambrano didn't see the point.
"What does it matter to have a piece of paper that confirms this happened when that paper is not going to stop a bullet," he said.
The attempt on his life came five days after a fellow environmental defender, Juan Julia Fernandez Hanco, was assassinated on his brother's doorstep.
"This is the price that we pay," Zambrano said. "My life's boundaries are defined already. Whatever happens, happens."
Healing the forest
The scientists were delighted.
A 45-minute trek into the forest led them to a patch of young trees. There were mahogany trees and cashew trees and trees that produce a red pigment that locals use for lipstick.
"It all began five years ago," said Miles Silman, a conservation biologist at Wake Forest University. "This was wide open bare rocks."
Bare rocks left behind by miners. Their quest for gold devastated this section of the Amazon.
But it's now a symbol of hope.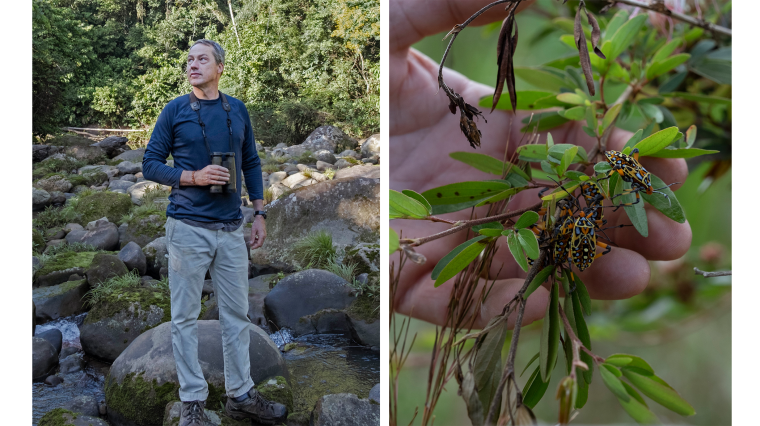 Silman is part of an international team studying how to restore forestland wiped out by mining. Since 2017, the team has set up 25 plots filled with more than 40,000 tree and plant species – the largest reforestation project in Latin America – to see which are best suited to, in Silman's words, heal the forest.
On this Wednesday afternoon, Silman beamed as he surveyed the progress of one of the plots.
"All of these things were little tiny seedlings that we were trying to figure out how to make and grow," he said. "Some of them went on to make it and others didn't. And the neat thing is you'll learn from all of it."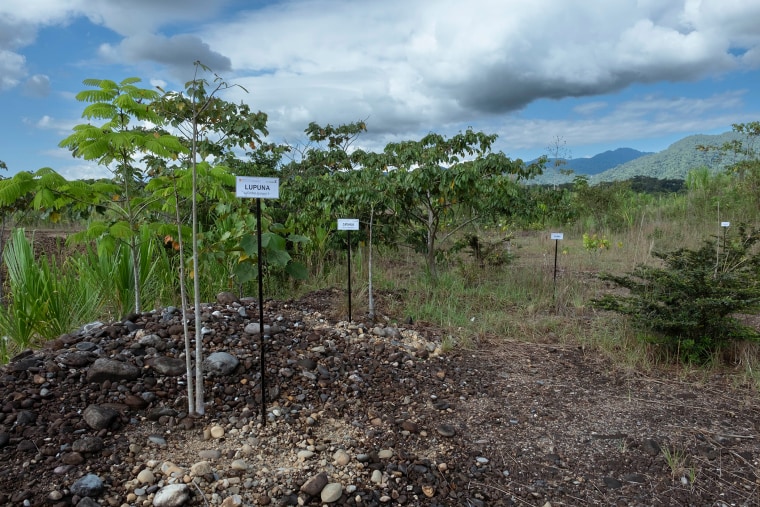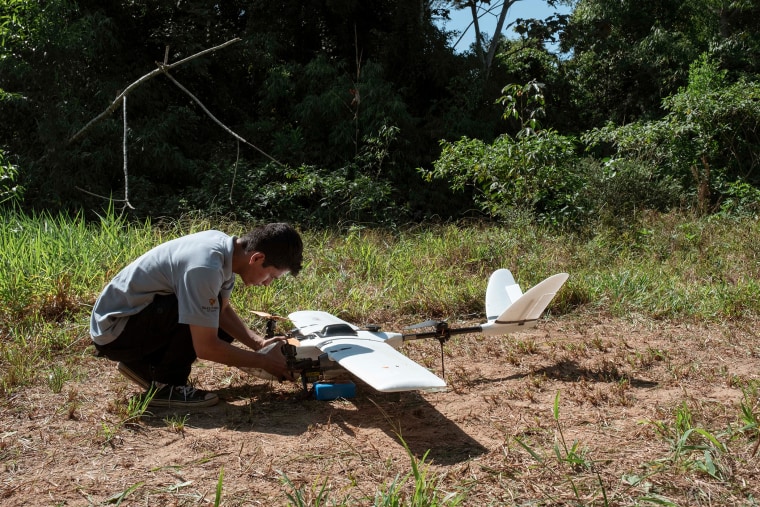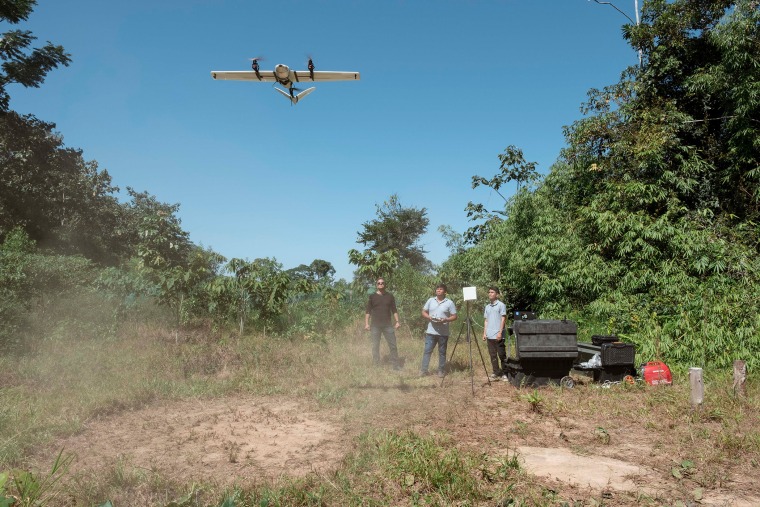 One of Silman's partners, Luis Fernandez, joined him on this journey into the jungle. While Silman studies how to return life to devastated forestland, Fernandez researches how mercury destroys it.
The miners who invade this part of the Amazon often use rudimentary devices to clear out trees, pump out the silt and flush it down a slide. They then add mercury, which binds the gold flecks mixed in with the silt. To collect one ounce of gold, the miners must sift through nearly 30 tons of silt.
In the final step of the process, they burn off the mercury to produce tiny chunks of gold.
"It's poisonous to humans, to wildlife," said Fernandez, executive director of the Wake Forest University-led Center for Amazonian Scientific Innovation (CINCIA), which was established to combat environmental destruction and improve human health in partnership with the Peruvian government and the U.S. Agency for International Development. "And it doesn't break down. It lasts for centuries."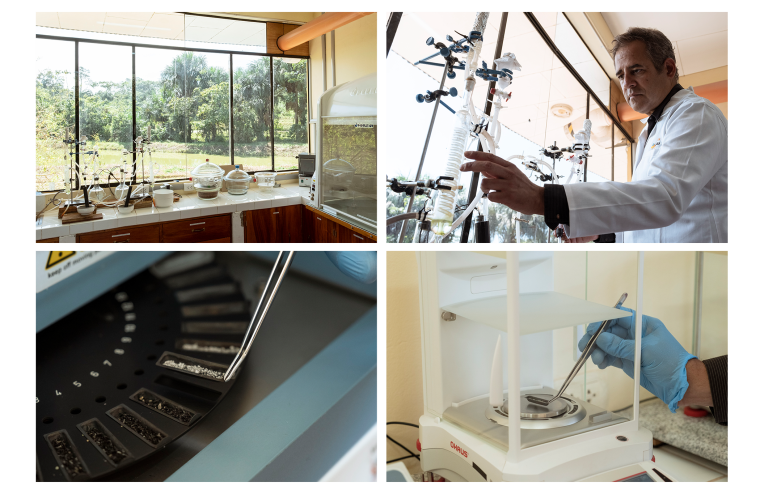 The result is the large patches of sand and pools of contaminated water that cover the landscape in and around La Pampa, which is roughly 30 miles as the crow flies from the area where Silman's team planted trees. Mercury also flows into the waterways and poisons the fish and other wildlife, endangering the locals who eat them.
"The real power or the real danger of mercury is that it magnifies as it goes from one animal that eats the other, times 10, every step until it gets to you," Fernandez said.
Research published this month by Silman and Fernandez found that 98% of the members of one Indigenous group, which lives about 180 miles upstream from the mines and relies on fish as a main food source, had mercury in their system at levels that have been associated with decreased IQ scores.
Unlike some of its neighboring countries, Peru has cracked down on the use of mercury. It banned imports of the toxic chemical in 2015 and ratified an international agreement a year later, the Minamata Convention on Mercury, with the aim to reduce and ultimately end its use altogether. But mercury nonetheless flows into the mining zone with relative ease.
Two days after he checked in on the young trees, Fernandez met a group of schoolkids in the forest to show them how to measure mercury levels in a stream. The teenage students also collected insects, which will be studied by a team of CINCIA researchers based in Peru.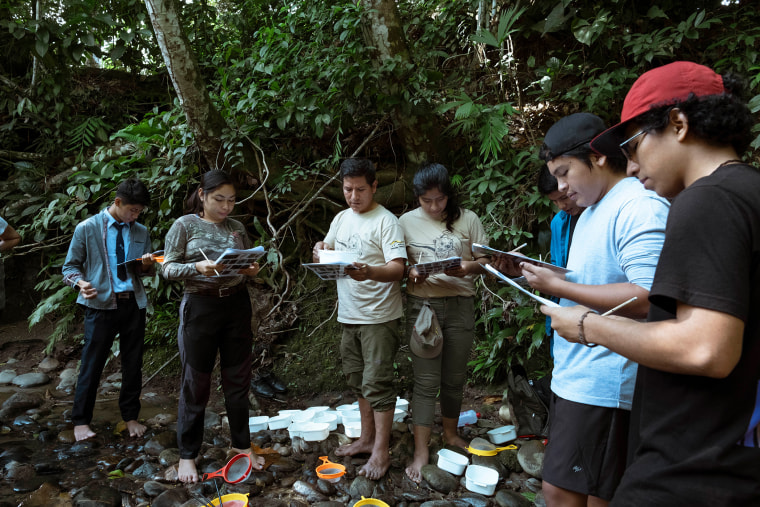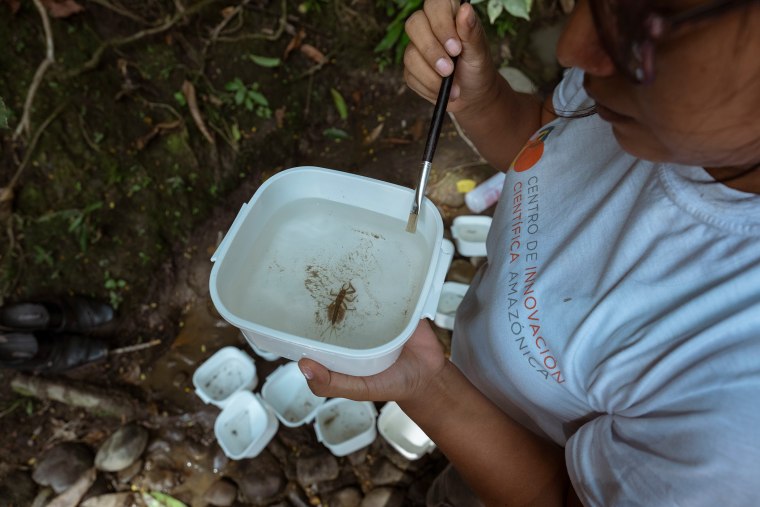 "It's really important to get the kids involved because these kids are the ones that are going to have to deal with this problem in the future," Fernandez said.
Fernandez and Silman hope their work will inspire a new generation of Peruvian scientists who will dedicate their lives to saving the environment.
"We need to be moving things forward because the problems are growing faster than the solutions," Fernandez said. "And in this case, the solutions are the kids."
Rescuing children
Oscar Guadalupe didn't come to southeastern Peru 25 years ago intending to stay.
A teacher from Lima, he traveled to the jungle town of Mazuko to run a training program for local educators. But not long after he arrived, he witnessed something that convinced him he couldn't leave.
There were children sleeping in the town square. The kids, he came to learn, had been lured to work at the illegal mines in the forest but were kicked out and had nowhere to go.
"These children had not eaten for some time," Guadalupe recalled.
He went to the police but got nowhere. "The officers were more interested in the theft of precious wood than the children who were being exploited," he said.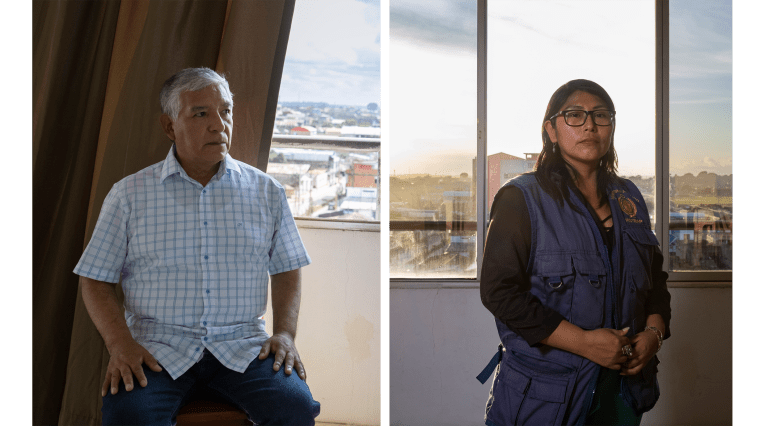 So the married teacher with two young kids of his own decided to tackle the problem himself.
He began traveling deep into the forest, often alone, to check out the mining camps with his own eyes and see if children were being used as labor. What he found shocked him: scores of kids working in intense heat for pitiful wages.
Guadalupe set up his own shelter in town. And he started reaching out to village elders, boat drivers and anyone else who might come into contact with trafficked children, imploring them to get in touch with him whenever they came across an underage laborer.
"The kids were from poor families in the Andes mountains, and they were being very mistreated," Guadalupe said.
He often visited the mines on his own and confronted the workers who were harboring children. He said he carried no weapons and faced constant threats of violence.
"In the forest, a bullet can come from anywhere," he said.
It was not uncommon for the miners or their associates to demand money in exchange for the release of kids, but Guadalupe said he always refused and instead threatened to tell the authorities. "If we paid once, we'd have to pay forever," he said.
The situation escalated in 2008 when the financial crisis caused a surge in gold prices. The mining operations multiplied rapidly, drawing more men to the area. Places known as prosti-bars began cropping up, offering alcohol, women and sometimes young girls.
The opening of the Interoceanic Highway in 2011 connecting Peru and Brazil vastly expanded access to the area and made it much easier for the traffickers to bring in girls. Most of them came from impoverished villages on the promise of restaurant work.
"In the case of girls and teenagers, they take them away from their families, and they always come from very far away," Guadalupe said.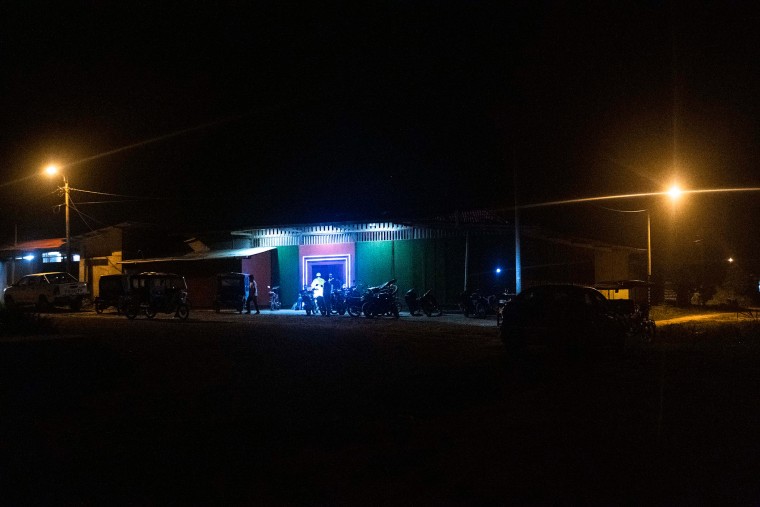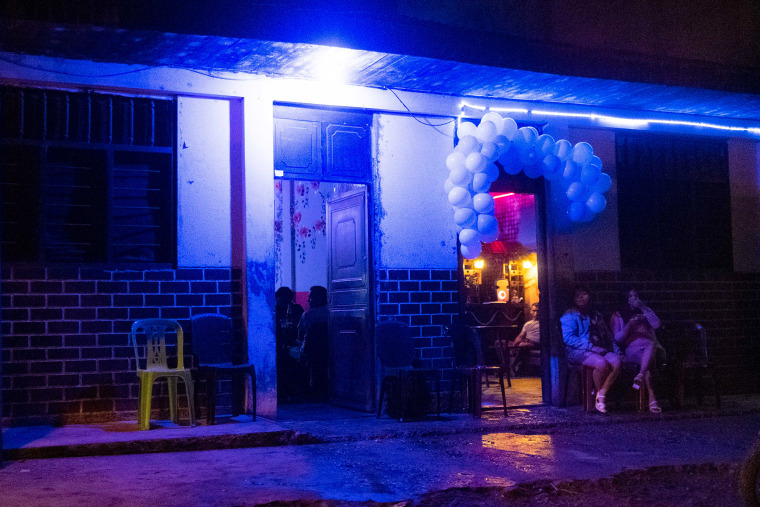 One woman said she was 16 when she agreed to work at a bar in the area in August 2021 on the promise of making more money in a week than most make in a month. She said she had no idea that the job would involve sexually catering to men. She was ultimately paid $50 for sex, but also had to endure physical and psychological abuse from her boss and the boss's children.
"The entire time I worked there was absolute hell," said the woman, who managed to escape in March after police raided the illicit establishment. "I would not want even one more woman to go through the same thing."
Diana Valencia, a prosecutor in Madre de Dios focused on human trafficking, said her office brought charges against 90 people in the first six months of this year.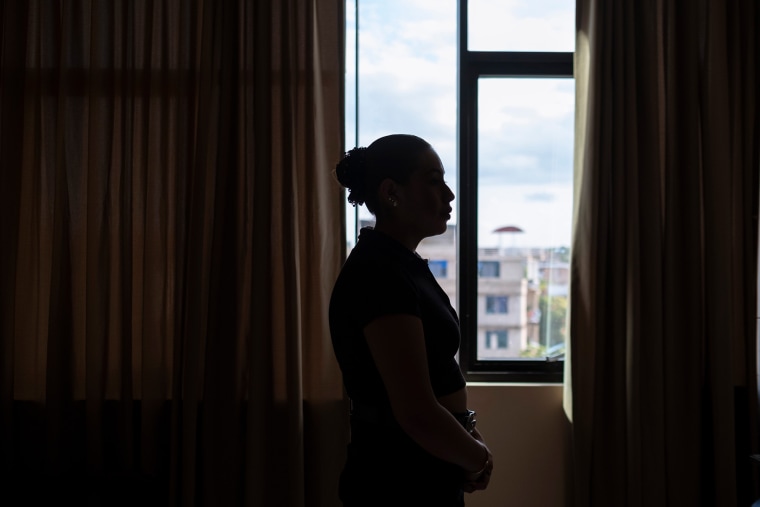 U.S. authorities and the Peruvian national police are now assisting local law enforcement in the region. In February, a U.S.-assisted operation led to the arrest of three trafficking suspects and the rescue of multiple victims.
"Many of the victims are threatened," Valencia said. "When they get to the place, they are deprived of their liberty, their ID is retained, so that they can't leave."
Guadalupe eventually stopped traveling to the camps himself because of the various dangers and instead focused on expanding his network of collaborators. The local police started raiding the prosti-bars and bringing the young girls they rescued to Guadalupe's shelter, where they would be provided with clothes, food, education and a bed.
The shelter also welcomed poor kids who moved to Mazuko to attend school but had no family in the area. Those rescued from the mines would join in on the lessons, Guadalupe said, providing a mental escape from the horrors they had endured.
In all, Guadalupe said more than 1,000 children had passed through his shelter until he closed it in 2019 due in large part to the coronavirus pandemic. The local government had by then set up its own facility to house children trafficked to the mines.
Guadalupe said the youngest boy he cared for was 8; the youngest girl was 9. Some of the children stayed for a couple of days, others for a couple of years.
Some of them went on to become college students and parents themselves. One is now studying medicine in college in order to become a doctor.
"I don't think that I have done a great job," Guadalupe said. "I just did what I had to do."
He now travels the country educating people on the dangers of child trafficking. But there are some stories he cannot tell without breaking down.
The first girl he rescued was a 13-year-old who spoke no Spanish, only an Indigenous language. When Guadalupe found her, she was sick with an infection after being sexually abused by miners.
Guadalupe brought her to a local clinic but they weren't able to pursue her attackers because she didn't know their names. At the time he still didn't know that the men who abuse girls like her rarely face justice because the mines are so remote and catching them in the act is difficult.
Even two decades later, he said he's still haunted by what that young girl went through and the lack of accountability for her abusers.
"When we remember it, we feel we haven't done anything," he said with tears in his eyes.
Charting a new path
A narrow dirt road snakes along the border of the Tambopata National Reserve, curling around a ridge and cutting into a section of forest before it opens up to an unexpected site: a collection of wooden cabins with modern designs and well-manicured lawns.
This is the Kotzimba EcoLodge, a development project that carries the hopes and dreams of a small community of Indigenous people.
The Harakbut people living in the area have long relied on gold mining using mercury to make a living. But the leader of the community, Yasmina Loriaco, is now seeking to steer her people in a new direction to preserve the environment.
"We are working to dedicate ourselves to tourism," Loriaco said.
The community began building the eco lodge four years ago using proceeds from the kind of mining work they hope future generations will no longer have to rely on. The eightprivate cabins and large community space are nearly finished, but they still lack electricity and running water.
The community has already invested more than $1 million in the project, Loriaco said.
"There is a lot of work done by women, children and adults," she added. "We all work."
The eco lodge, which is under construction, marks a striking turn for her Indigenous community. But its members have also drawn criticism for funding the project with money made from mining with mercury.
Loriaco strongly denies there is any hypocrisy. She does acknowledge, however, that mining done by members of her community has scarred the landscape.
But in recent years, her people have been working with the CINCIA scientists to reforest the land.
"We've always been conservationists," Loriaco said. "Our grandparents and our descendants have always wanted to preserve our community."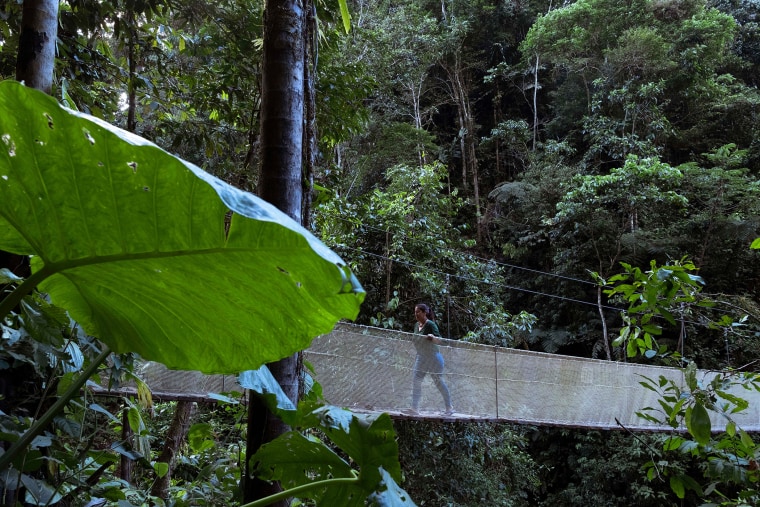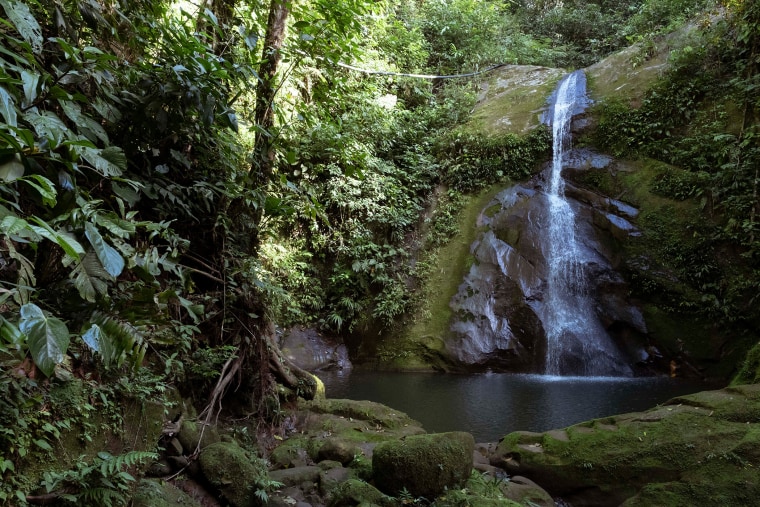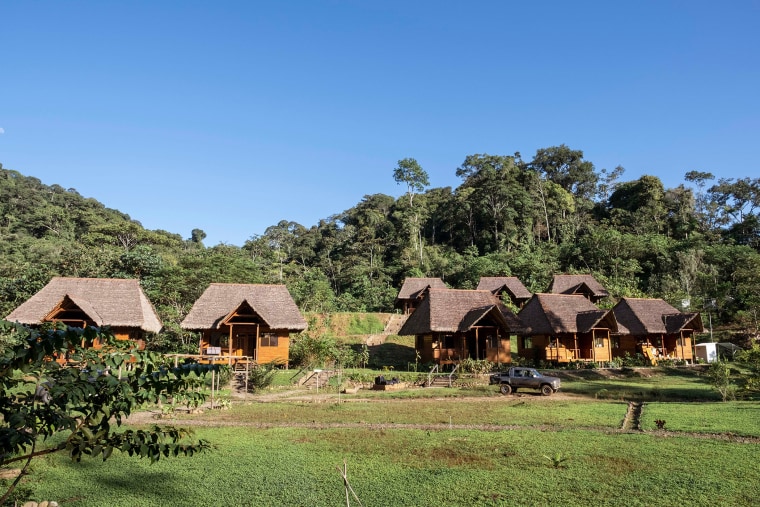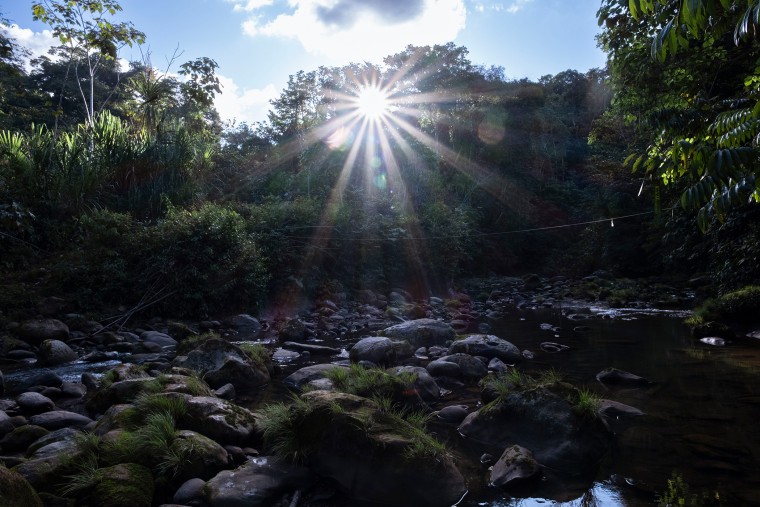 The Peruvian soldiers based near La Pampa have been doing their own part to restore the land.
At their most remote jungle outpost, they have turned a patch of dirt into a thriving fruit and vegetable garden.
There are mango trees, orange trees and papaya as well as plants and bushes that produce lemon, pineapple, sweet potato and watermelon.
"It's highly symbolic to see that where there was so much destruction we can have hope, being able to grow a pineapple, a papaya, a watermelon," Gen. Paul Bianchi said.
One of his soldiers sliced into a pineapple and held up a sliver in the shape of a half moon.
Its flesh glistened in the sunlight.
Its color? Gold.
Photo Editor
Marc J. Franklin
Photo Director
Zara Katz
Art Director
Chelsea Stahl
This article was developed in partnership with the Pulitzer Center's Rainforest Investigations Network