Two Ukrainian pilots are in the U.S. undergoing an assessment to determine how long it could take to train them to fly attack aircraft, including F-16 fighter jets, according to two congressional officials and a senior U.S. official.
The Ukrainians' skills are being evaluated on simulators at a U.S. military base in Tucson, Arizona, the officials said, and they may soon be joined by more of their fellow pilots. 
U.S. authorities have approved bringing up to 10 more Ukrainian pilots to the U.S. for further assessment as early as this month, the officials said.
Their arrival marks the first time Ukrainian pilots have traveled to the U.S. to have their skills evaluated by American military trainers. Officials said the effort has twin goals: to improve the pilots' skills and to evaluate how long a proper training program could take.
"The program is about assessing their abilities as pilots so we can better advise them on how to use capabilities they have and we have given them," an administration official said. 
Two administration officials stressed that it wasn't a training program and said that the Ukrainians would not be flying any aircraft during their time here.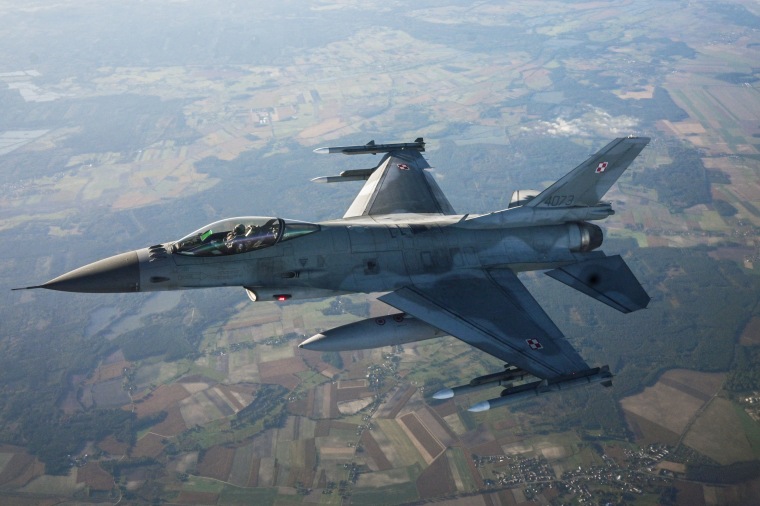 These officials said the pilots would be using a simulator that can mimic flying various types of aircraft, and they emphasized that there had been no updates on the U.S. decision to provide F-16s to Ukraine beyond what the Pentagon's top policy official said to Congress last week. 
The official, Colin Kahl, told the House Armed Services Committee that the U.S. had not made the decision to provide F-16s and neither had U.S. allies and partners.  
He also said the U.S. had "not started training on F-16s" and that the delivery time line for F-16s is "essentially the same" as the training time line, about 18 months.  
"So you don't actually save yourself time by starting the training early in our assessment," said Kahl, who is the under secretary of defense for policy. "And since we haven't made the decision to provide F-16s and neither have our allies and partners, it doesn't make sense to start to train them on a system they may never get." 
Other U.S. defense officials have said the training could be shortened to six to nine months, depending on the pilots previous training and knowledge of fighter aircraft.  
Ukrainian officials have told the U.S. and other allies that they had fewer than 20 pilots ready to travel to the U.S. to train on F-16s but have about 30 who could be trained soon, according to American and Western officials.  
Asked about the assessment of two Ukrainian pilots, a defense official described it as "familiarization event."  
"It is a routine activity as part of our military-to-military dialogue with Ukraine," the official said.
"The 'familiarization event' is essentially a discussion between the Air Force personnel and an observation of how the U.S. Air Force operates. This event allows us to better help Ukrainian pilots become more effective pilots and better advise them on how to develop their own capabilities." 
The defense official added that there were no immediate plans to increase the number of pilots beyond the two currently in Tucson but said "we're not closing the door on future opportunities."
Ukrainian President Volodymyr Zelenskyy has repeatedly asked the U.S. for F-16s, but President Joe Biden has resisted the requests so far. In an interview with ABC News last month, Biden said Ukraine did not need F-16s at this time, basing that assessment on the U.S. military's advice. 
"I'm ruling it out for now," Biden said when asked if he would ever send F-16s to Ukraine.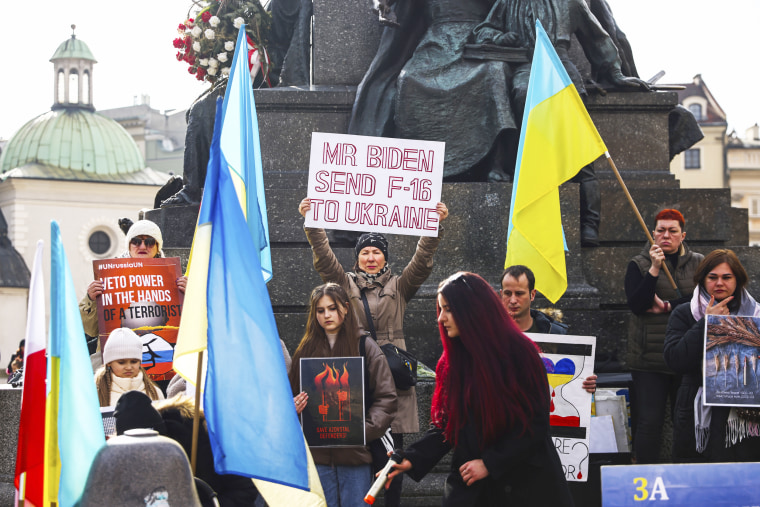 Biden also told reporters last week that he had discussed F-16s with Zelenskyy during his visit to Kyiv on Feb. 20 but would not disclose the details of that discussion.  
In his appearance before the House Armed Services Committee, Kahl said that Ukrainian officials had asked the U.S. for as many as 128 aircraft — a mix of F-15s, F-16s and F-18s.  
Kahl said the U.S. Air Force estimated that Ukraine would ultimately need between 50 and 80 F-16s to replace its current air force. If the U.S. provides newly built aircraft, it would take three to six years to deliver them to Ukraine, with a slightly shorter time line of 18 to 24 months if the U.S. sent refurbished older model F-16s. 
The cost to send the F-16s would be as much as $11 billion, depending on the model and number delivered.
"That would consume a huge portion of the remaining security assistance that we have for this fiscal year," Kahl said. 
On Sunday, Rep. Michael McCaul, a Texas Republican, said U.S. military officials told him they supported providing F-16s to Ukraine. 
"I was at the Munich Security Conference, met with a lot of the high-ranking military officials, including our supreme allied commander," McCaul said on ABC News' "This Week."
"They're all in favor of us putting not only F-16s in but longer-range artillery, to take out the Iranian drones in Crimea." 
But with the long timeline for delivery and training of F-16s, the huge price tag and the large Russian air force already gathering aircraft across the border from Ukraine, some US military leaders recommend focusing on weapons and equipment that Ukraine could use immediately, such as air defense systems. 
"Even in our most earnest effort it will take months to get Ukrainians flying F-16s. They are beating the Russian air force with air defenses, why would we change tactics now?" a U.S. defense official said.
The Russian air force had roughly 500 aircraft, the official said, which dwarfs the Ukrainian force. 
"It's just not the way to fight the Russian air force," the official added. "Even if we spend all the money and send every aircraft we can, it's just a drop in the bucket compared to the Russian air force."