Alan Bean, the NASA astronaut and fourth man to walk on the moon, died Saturday at Houston Methodist Hospital in Houston, Texas. He was 86.
Bean had fallen ill while traveling in Fort Wayne, Indiana, two weeks ago, his family said.
"Alan was the strongest and kindest man I ever knew. He was the love of my life and I miss him dearly," Alan Bean's wife of 40 years, Leslie Bean, said in the obituary released by the family. "A native Texan, Alan died peacefully in Houston surrounded by those who loved him."
Bean was commissioned in the U.S. Navy in 1955 and became a Navy test pilot, NASA said in a statement. He then joined NASA's astronaut corps in 1963 and six years later piloted the Apollo 12 mission's lunar module at age 37 — NASA's second trip to the moon's surface. He would become the fourth man to walk on the moon and spent more than 10 hours on the lunar surface.
"As all great explorers are, Alan was a boundary pusher," said NASA Administrator Jim Bridenstine. "Rather than accepting the limits of technology, science, and even imagination, he sought to advance those lines — in all his life's endeavors."
"We will remember him fondly as the great explorer who reached out to embrace the universe," Bridenstine added.
Later, in 1973, Bean commanded Skylab Mission II and shattered a world record after he spent 59 days onboard, traveling 24.4 million miles. NASA credits him with breaking 11 world records in space and astronautics.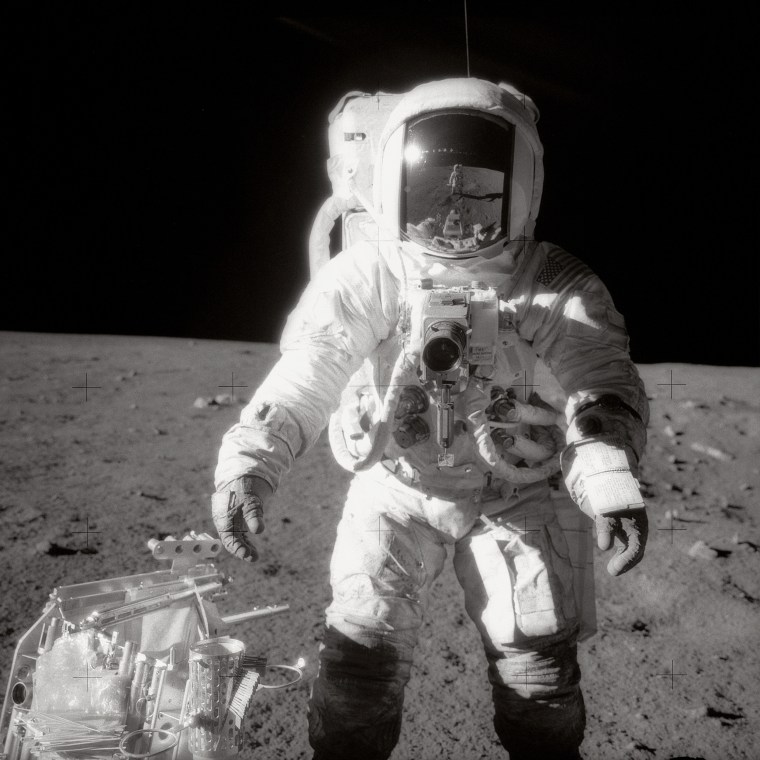 "What was truly extraordinary was his deep caring for others and his willingness to inspire and teach by sharing his personal journey so openly," astronaut Mike Massimino, who twice flew on space missions to fix the Hubble Space Telescope, said in the family obituary. "Anyone who had the opportunity to know Alan was a better person for it, and we were better astronauts by following his example. I am so grateful he was my mentor and friend, and I will miss him terribly."
Upon retiring, Bean is remembered for pursuing his love of painting. Much of his work depicted his experience as an astronaut and his time in space. His art was often textured with spacesuit boot prints and painted with acrylics that were mixed with small pieces of his moon-dusted mission patches.
"I'm the only one who can paint the moon," the International Space Hall of Fame recalled Bean saying, "because I'm the only one who knows whether that's right or not."
Bean is survived by his wife, a sister and a two adult children from a previous marriage.