/ Source: Inside Science News Service
(Inside Science) — Wearable technology may soon be at your fingertips — literally. Researchers have developed a pressure sensor that can be 3-D printed directly on your hand. The device, sensitive enough to feel a beating pulse, is made from soft, stretchy silicone that conforms to the curves of your fingertip.
It's a step toward a more seamless integration of human and machine, said Michael McAlpine, a materials scientist at the University of Minnesota in Minneapolis. His team didn't print the device on a real hand yet — just an artificial one. "But," he said, "it sets the stage for future work in 3-D printing electronic devices directly on the body."
Someday, that could mean technology evocative of the cyborgs and bionic humans of science fiction. In the nearer term, 3-D printed gadgets on and in the body could aid medical treatment, health monitoring, and surgery.
RELATED: Tiny 'Organ Chips' Promise Big Boost to Drug Testing
This 3-D printing approach, detailed earlier this month in the journal Advanced Materials, could produce gadgets without the cleanrooms and fancy equipment needed to make most devices today, McAlpine said. And as 3-D printers become cheaper and smaller, they might even become the Swiss army knives of the future.
"You can print electronics directly on the body out in the field, using something you carry around in your backpack," he said. "Using only raw materials, you can make basically any type of device — that's a complete paradigm shift that hasn't been implemented before."
For example, instead of waiting for supplies via an airdrop, a soldier on the battlefield could print out a chemical sensor to detect explosives, or a medical tool to tend to a wounded comrade. Printing it directly on the body would be more convenient than having to carry multiple devices around.
Conventional 3-D printing uses liquid plastic — too hot when malleable and too stiff after cooling to work with the body. In recent years, though, researchers have also explored using other kinds of "ink" to 3-D print everything from batteries to biological tissues.
What's unique about the new tactile sensor, McAlpine said, is the combination of soft, stretchable silicone-based ink that firms up at room temperature, and the ability to print on the complex, curved surface of an artificial hand.
First, a scan maps out the hand's contours for the printer. Then, in just a few minutes, multiple nozzles squeeze out different gel-like silicone inks to build the device, which consists primarily of a coil sandwiched by two flat layers 4 millimeters wide. After waiting overnight to set, the sensor is ready to go.
RELATED: Tiny Device is a 'Game Changer' for People Facing Blindness
The two layers at the top and bottom are electrodes, made from silicone that contains lots of tiny silver particles to allow electricity to flow. The coil, however, contains fewer silver particles. Only when you compress the coil, squeezing those silver particles together, does it conduct electricity. By measuring the electrical current, the device can gauge how hard you're pressing on the coil.
While the sensor itself is relatively simple, serving mainly as a demonstration of the 3-D printing technique, the researchers showed it's good enough to feel a real human pulse.
But a more sophisticated version could be printed onto the ends of surgical tools to give a surgeon a virtual sense of touch during an operation, McAlpine said. Such a system would be helpful in laparoscopic surgery, for example, a minimally invasive procedure in which the surgeon operates through small incisions in the body, aided only by a video camera inserted into the patient.
In the more distant future, a tactile sensor might give you an enhanced sense of touch. Hooked to a neural feedback system, it might also return some feeling to, say, a burn victim. Or, a sensor on a robot could give it the ability to feel.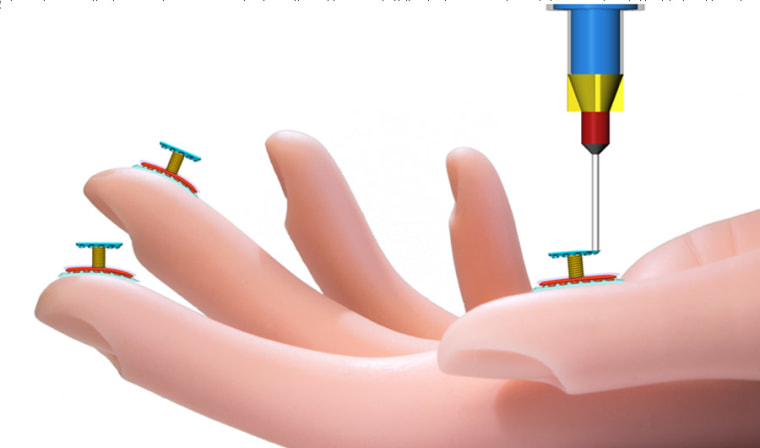 But human-machine fusions and bionic abilities aside, simply 3-D printing on curved surfaces can be an important technology, said James Pikul, a mechanical engineer at the University of Pennsylvania in Philadelphia. "The human thing is cool," he said. "But I think the ability to print functional things on curved surfaces — possibly even moving curved surfaces — allows you to integrate 3-D printing with other technologies that are prolific in our world."
For example, to customize or add functionality to an already existing or mass-produced object such as a drone, you can just 3-D print whatever gadgetry you want on it.
The researchers are now working on a method to 3-D print on a moving surface, like a real human hand that naturally trembles a little. Ultimately, they want to use this technique to 3-D print integrated devices, containing multiple types of sensors and a power source, for example. An individual device such as this tactile sensor, McAlpine said, is just the beginning.
Originally published on Inside Science
Follow NBC MACH on Twitter, Facebook, and Instagram.