Using tape and a bit of epoxy-laced gauze, astronauts aboard the International Space Station have sealed a hole that had been causing a slow air leak from the station.
NASA said that the station's cabin pressure, which had declined since the leak was discovered Wednesday night, was holding steady after the repair and that the astronauts aboard were in no danger.
The hole, measuring about two millimeters (0.08 inch), was found in the upper section of a Soyuz spacecraft that is docked at the station. European Space Agency astronaut Alexander Gerst reportedly plugged the hole with his finger before Kapton tape — commonly used on aircraft and spacecraft as well as in electronic devices — was applied as a temporary patch. Then Russian astronaut Sergey Prokopyev completed the repair using epoxy on a bit of gauze.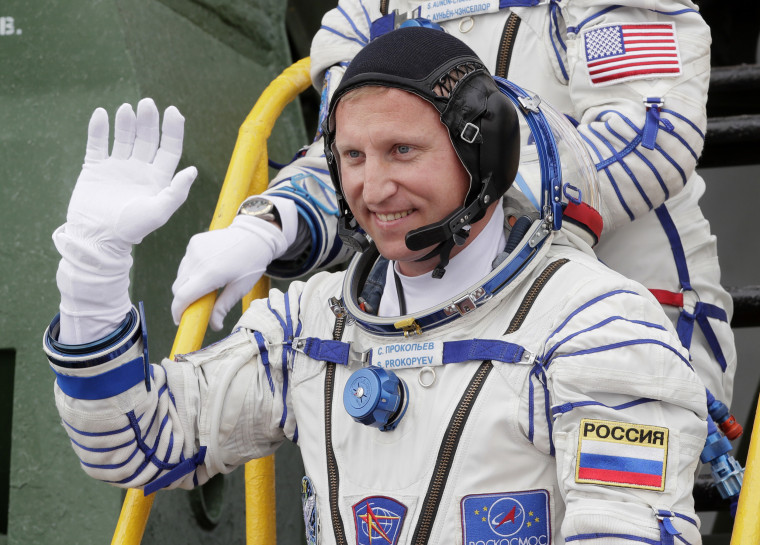 NASA hasn't said what caused the hole. But retired astronaut Scott Kelly, who served as commander of the space station on three expeditions, said in a tweet that the leak seems to have been caused by a micrometeoroid impact.
"We've dodged a lot of bullets over the past 20 years," Kelly said. "There's a lot of space junk up there."
The Russian space agency Roscosmos has convened a commission to determine the cause of the leak, NASA said.
The leak was detected Wednesday around 7 p.m. EDT by flight controllers in Houston and Moscow. After determining that the leak posed no immediate threat to the astronauts, the controllers chose not to wake the astronauts, who were asleep at the time. But the astronauts scrambled into action Thursday morning.
Six astronauts are currently aboard the station. In addition to Gerst and Prokopyev, they are NASA astronauts Drew Feustel, Ricky Arnold and Serena Auñón-Chancellor, and Russian astronaut Oleg Artemyev.
Want more stories about human spaceflight?