Eco-friendly electric cars have been around for years, and now it seems that what works on roads may soon be showing up in the skies. An all-electric single-engine airplane recently made its inaugural test flight in Australia, pointing toward a possible "green" revolution that could see small planes operate in Uber-esque fleets to provide short flights to customers on demand.
The Alpha Electro, a battery-powered two-seater made by Slovenian aircraft manufacturer Pipistrel, took off from Jandakot Airport in Perth and circled the airfield twice before landing. The flight went smoothly, according to Richard Charlton, finance director at Electro.Aero, a Perth-based startup working with Pipistrel to develop electric airplanes.
"It was very much without drama," he said in a written statement. "We were just in the pattern behind a normal aeroplane and the control tower was very excited."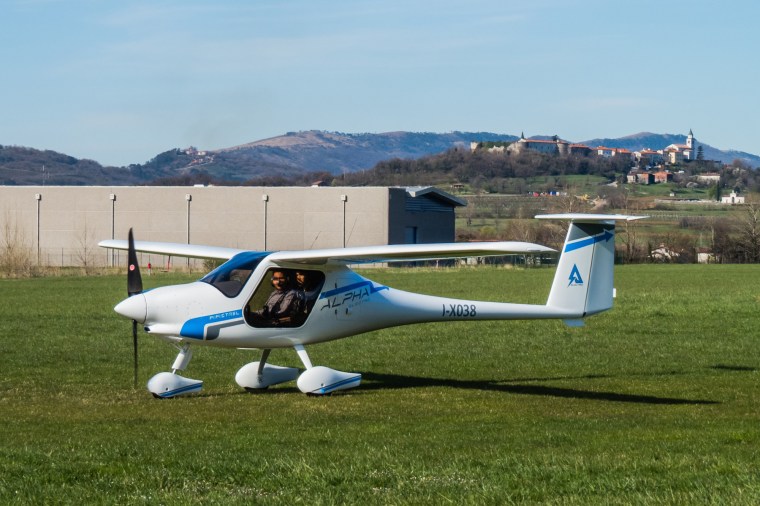 The plane is powered by two lithium-ion batteries and can fly at speeds of almost 100 miles per hour for up to 60 minutes on a charge, with an extra 30 minutes or so of reserve power, according to Pipistrel. Conventional gasoline-powered airplanes of similar size can fly for up to six hours over distances of about 795 miles, with a top speed of around 126 mph.
But electric planes promise key advantages over their gasoline-powered counterparts. In addition to producing no emissions, they'll be cheaper to fly and maintain. "The electric engine is really simple, Charlton said. "It has one moving part, it's a very small piece of equipment, and it is a solid-state motor."
Another big benefit is engine noise — or rather the lack thereof — of electric airplanes.
"If you want to operate in close urban setting…they're not going to let helicopters do that," said Dr. Richard Anderson, director of the Eagle Flight Research Center at Embry-Riddle Aeronautical University in Daytona Beach, Fla., who is not involved with the Pipistrel Alpha Electro project. "Electric propulsion allows airplanes to do things that we haven't been able to do for the past century."
Air travel that relies fully on electric power is still impractical for large planes, particularly when it comes to commercial airliners, Anderson told NBC News MACH.
Rather, he envisions this technology being used to build fleets of four-seater electric planes that provide ride-sharing services in the air, similar to how companies like Uber and Lyft operate on the ground.
"A helicopter is more efficient, but it makes way more noise," Anderson said. "If you landed a helicopter at your home, it wouldn't be acceptable to your neighbor, but this ability to be quiet will hopefully lead to a more socially acceptable method of transportation."
And urban commuters may not have to wait too much longer for their air taxis.
"I think 2022 is honestly when you'll start to see some of these enter service," Anderson said.