A devastating knee injury at the end of last season jeopardized American skier Laurenne Ross' Olympic dream, but with the help of virtual reality (VR) technology that let her train even away from the slopes, this downhill racer is ready to make her mark in PyeongChang.
Since early 2016, U.S. Ski & Snowboard has collaborated with California startup STRIVR, which provides VR training for people ranging from employees of Fortune 100 companies to NFL athletes. The company helps coaches use special cameras to record 360-degree videos and then stitches them into virtual experiences that can be viewed through VR headsets like the Samsung Gear or Oculus Rift.
"They now have the ability to replicate the mountain without actually having to be on the mountain," says STRIVR CEO Derek Belch. "They don't need to fly, they don't need a perfect day, they don't need to follow the winter and make sure there's always snow."
Last March R fell badly while competing in the giant slalom at the U.S. Nationals in Maine. "I just annihilated my knee," she says. "I tore almost all the ligaments, I broke some bones … so it was a really brutal injury."
Ross says her surgeon told her it would be nine months before she could ski again. But with results from the 2017-2018 season crucial in determining who would represent the country at the 2018 Winter Olympics in South Korea, Ross knew she had to be on the slopes for the start of the season in October.
That was less than seven months after her injury, so she knew it would mean a grueling recovery program. But Ross was able to get back on the snow — virtually, at least — within four months, using a VR headset to transport her onto racing courses.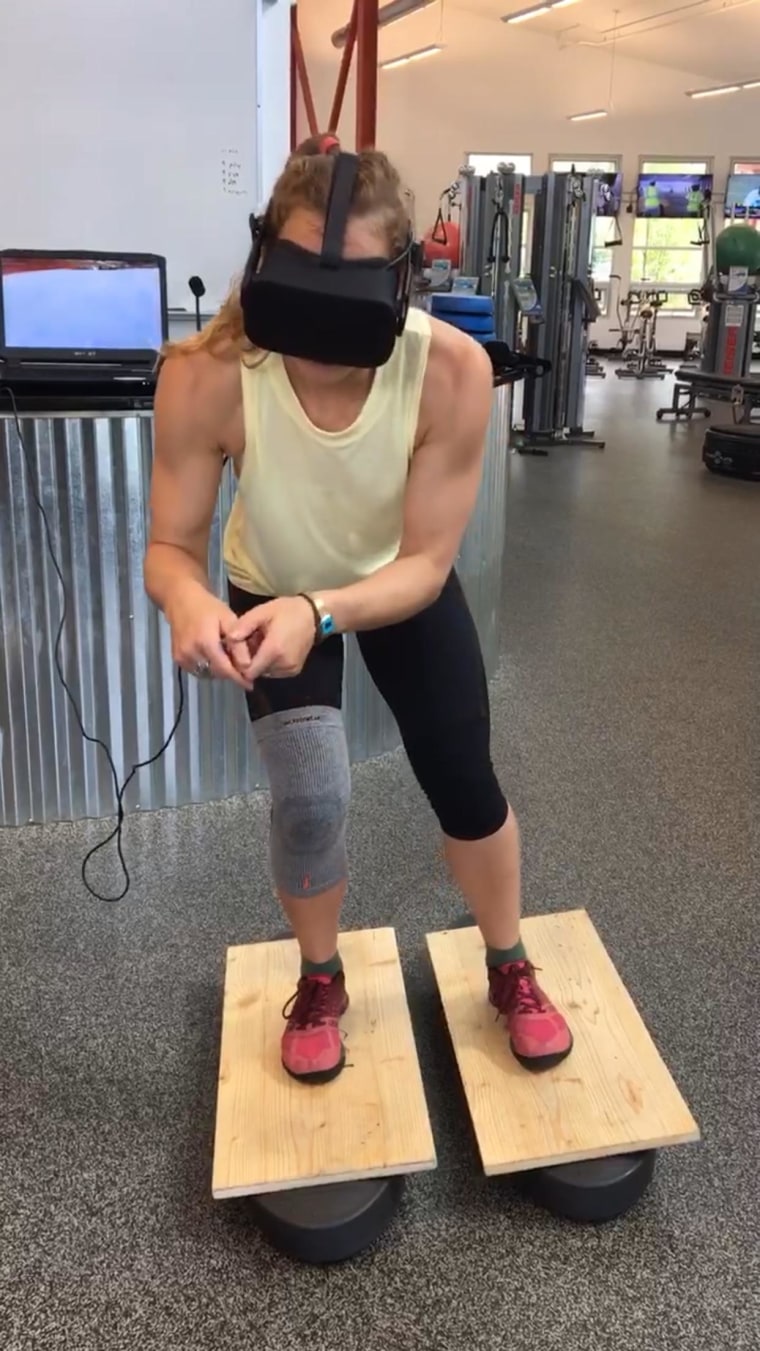 Ross knows the hard work of her recovery took place during daily eight-hour physiotherapy sessions, but she says the immersive VR experience was invaluable. Even though she was stationary while wearing the headset, she says it really felt as if she was racing down a mountain.
"I felt I was going really fast and I was actually on my skis going through a course," she says. "I think it's sort of instinctual, but you definitely make all the same movements and you activate a lot of the same muscles."
Ski & Snowboard's high-performance director, Troy Taylor, introduced the technology to athletes shortly after he was appointed in July 2015. He says VR helps athletes familiarize themselves with courses around the world.
At some events, skiers are given two practice runs before the race; in others, they're only allowed to inspect the course a few hours beforehand. Coaches normally get to conduct an inspection the day before and typically record video to show athletes that evening.
Now with 360-degree video and VR, coaches can build an immersive 3D experience that gives athletes a more in-depth picture of the twists and turns of the course, says Taylor. This boosts their confidence and lets them focus their inspection on the trickiest sections of the course.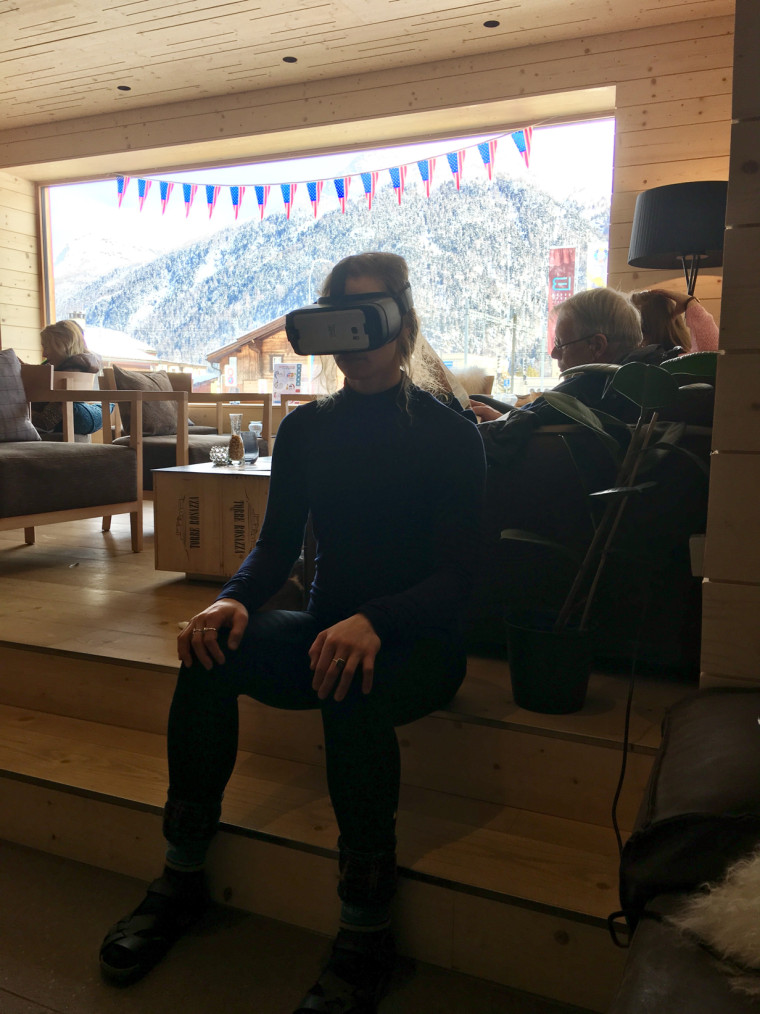 Initially, Ross used the VR headset while seated. As she regained strength, she often stood or balanced each foot on one-half of a foam roller to simulate skis.
In the final month of her recovery, Ross also used a skiing simulator at USSA's headquarters in Park City, Utah. Made by Los Angeles-based SkyTechSport, the simulator features a pair of skis that slide along two parallel railings. As skiers move their skis, sensors tracking the angle and pressure direct motors that drive the skis in a way that simulates the physical forces of downhill skiing.
To further enhance the realism, the user faces a screen showing computer-generated video of a skier's perspective of the course.
"The ski simulator is just a lot more physical," Ross says. "It was helpful to make those quick movements like you do in skiing and get the muscles adjusted and get my feet prepared in their boots."
Ross says it's hard to tell exactly how much VR contributed to her recovery. But she did manage to return to the slopes by October. In December, she finished eighth in the World Cup super-giant slalom in France, securing her berth on Team USA.