WASHINGTON — Jeff Bezos, chairman of Amazon and founder of Blue Origin, unveiled his space company's lunar lander for the first time on Thursday.
"This vehicle is going to the moon," Bezos said during an invite-only presentation to media and space industry executives.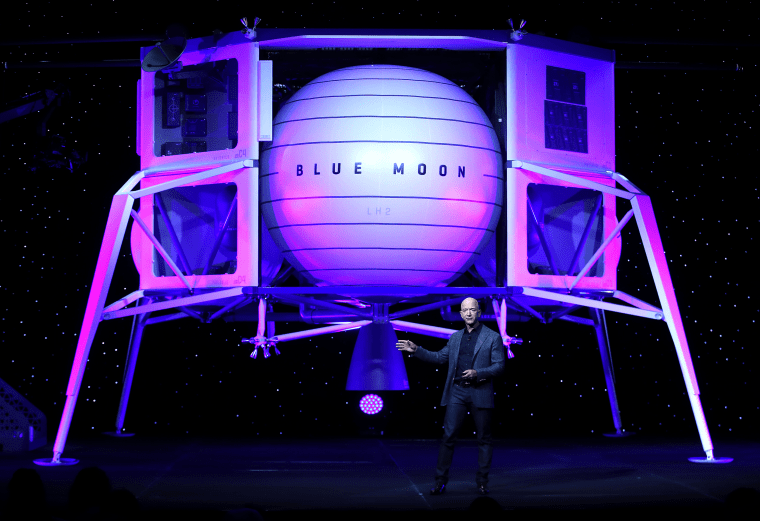 "We were given a gift — this nearby body called the moon," Bezos said. He added that the moon is a good place to begin manufacturing in space due to its lower gravity than the Earth. Getting resources from the moon "takes 24 times less energy to get it off the surface compared to the Earth," Bezos said, and "that is a huge lever."
Bezos also unveiled the company's BE-7 rocket engine at the event. The engine will be test fired for the first time this summer, Bezos said.
Blue Origin, established nearly two decades ago, has remained relatively quiet about the rockets, engines and capsules it is developing. With its Latin tagline of "step by step, ferociously," Blue Origin has been working on multiple space systems at the same time. Bezos invests more than $1 billion in the company each year, through sales of his Amazon shares.
Ahead of the event, Blue Origin tweeted a cryptic photo of famed explorer Ernest Shackleton's ship and a date, May 9, in the caption. A teaser for Thursday's event, the photo appeared to hint that Bezos' announcement would focus on sending cargo and even astronauts to the south pole of the moon. That's because Shackelton lends his name to a crater on the moon's surface, which NASA named after the explorer in 2006 due to its potential as a lunar outpost. Located at the moon's south pole, the Shackleton crater is believed by many to have deposits of frozen water.
Bezos offered only few details two years ago about Blue Origin's lunar ambitions. In a program the company called "Blue Moon," it would send a couple tons of cargo to the surface of the moon, to begin building the infrastructure of a lunar base. The first mission was proposed for 2020, in patnership with government programs like the Boeing-built NASA Space Launch System (SLS) rocket. But in May of last year, Bezos indicated Blue Origin may develop Blue Moon on its own.
Vice President Mike Pence earlier this year directed NASA to return U.S. astronauts to the surface of the moon within the next five years. NASA administrator Jim Bridenstine answered by saying the agency will meet the White House's directive, which represents an acceleration of NASA's existing lunar exploration timeline. NASA's fiscal 2020 budget request increased a massive increase in funding of the the Advanced Cislunar and Surface Capabilities (ACSC) program. Under ACSC, the agency would first send robots to the surface without crews, later following up with astronauts. Despite internal hesitancy, NASA is considering commercial alternatives such as Blue Origin for getting astronauts to the moon's surface.
Blue Origin's most visible program has been its New Shepard rocket system, which the company is developing to send tourists to the edge of space for 10 minutes. New Shepard has flown on 11 test flights, with its capsule, built to carry six passengers, reaching an altitude of more than 350,000. The capsule features massive windows, providing expansive views of the Earth once in space.
The company plans to send its first humans onboard a New Shepard rocket sometime in the next year. But it has yet to begin selling tickets. Blue Origin told CNBC last year that it will only offer tourists a ride to space "after our first human flights."
Additionally, New Shepard has served as a test bed for the company to develop its own reusability system. Like SpaceX's Falcon 9 rockets, the largest part of the New Shepard rocket -- the first stage "booster" — comes back and lands on a concrete pad shortly after launch.
Reusing rockets is a key development in the space industry as companies look to reduce the cost of sending humans, satellites, experiments and more to space. Blue Origin is building an immense rocket system, called New Glenn. Similar to New Shepard, the company plans to land New Glenn's rocket booster on a ship in the ocean
Bezos' ultimate ambition is to help humanity expand across the solar system, with a human population of more than a trillion living and working in space. Morgan Stanley highlighted Bezos' investments in space as a "force" in the industry who brings financial muscle unlike any other. Blue Origin is one of several space companies which Morgan Stanley said "will up the ante" this year.
Want more stories about space?
SIGN UP FOR THE MACH NEWSLETTER AND FOLLOW NBC NEWS MACH ON TWITTER, FACEBOOK, AND INSTAGRAM.