If road trips, theme parks, and beach resorts just don't do it for you, how about a stay in a swanky space hotel?
A Silicon Valley startup called Orion Span yesterday announced plans to open a luxury hotel in low-Earth orbit by 2022, and you can reserve a room for $80,000. Just be aware that that figure is only a down payment for a 12-day stay, which runs a stratospheric $9.5 million per person.
Dubbed Aurora Station, the orbiting inn will offer space tourists with deep pockets a chance to experience life like an astronaut. "That experience entails…growing food in space, running science experiments, doing astronaut certification," said Orion Span CEO Frank Bunger. "At the end of the trip, we're going to give them a hero's welcome back home as well."
But it won't all be hard work. In addition to witnessing luminous auroras against the blackness of space and gazing down on Earth as it passes below at a distance of 200 miles, guests will be able to enjoy an onboard "holodeck" inspired by the one known to fans of "Star Trek." And if you like sunrises and sunsets, you're in luck: Guests will be able to see more than a dozen of each every day.
Orion Span said Aurora Station will be able to accommodate four guests at a time, plus two crew members to make sure things go smoothly. The company provided scant details about how guests will get to and from the hotel, but said they are evaluating potential partners now.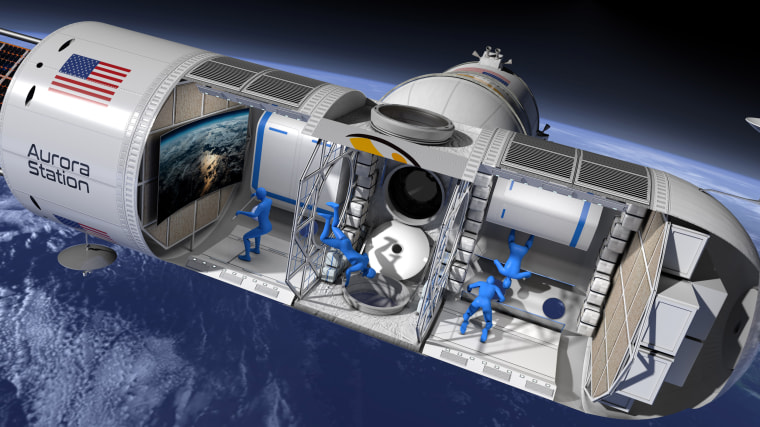 Construction of one Aurora Station "module" will begin in 2019, according to the company, with plans to launch it into orbit by late 2021. Additional modules could be attached later, Bunger said, adding that the overarching goal is to make spaceflight by private citizens a regular occurrence.
"The earliest step of that is to get people visiting in space first," he said. "So by making that a regular event and a recurring, comfortable event, we believe we are making steps toward having people be more permanently in space — and living there."
This wouldn't be the first time ordinary people have gone into space. Between 2001 and 2009, seven "private astronauts" rode Russian-made Soyuz rockets to the International Space Station for brief stays.
One was Richard Garriott, a video game developer and entrepreneur who reportedly paid $30 million for a two-week stay aboard the ISS in 2008. He applauds ventures like Aurora Station, calling them crucial for jumpstarting the commercialization of low-Earth orbit.
"Affordable destinations in space are needed for both research and private use," Garriott told NBC News MACH in an email. The ISS works well as a laboratory for NASA and its partners, he said, but it "remains far too expensive and politically complicated for many uses."
Of course, spending time in orbit around our planet transcends economic and political considerations.
"Seeing the Earth from orbit is a profoundly life-changing experience," Garriott said. "You feel not only remote and isolated, but simultaneously strangely intimately close…You feel more deeply connected to the future of our fragile planet than ever before!"
FOLLOW NBC NEWS MACH ON TWITTER, FACEBOOK, AND INSTAGRAM.