In a move that NASA said marks the beginning of "a new era in American spaceflight," the space agency Friday named nine astronauts who will fly to the International Space Station aboard commercial space capsules developed and made by Boeing and SpaceX.
The astronauts — named at a buoyant event held at Johnson Space Center in Houston — will be the first to launch from U.S. soil since NASA retired its space shuttle program in 2011.
"This is truly an exciting time for human spaceflight in our nation," Robert Cabana, a former astronaut and director of NASA's John F. Kennedy Space Center in Florida, said. "And believe me, it's only going to get better as we charge off into the future."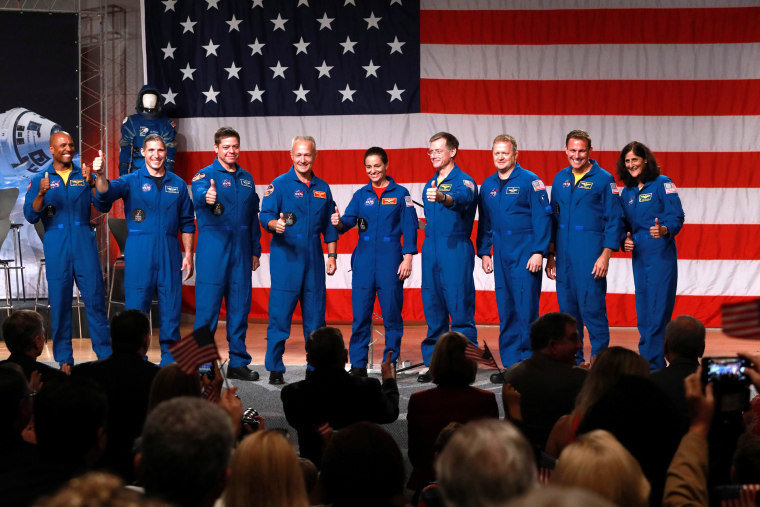 Some of the astronauts chosen — seven men and two women — are veteran spaceflyers, and some will be making their first trips to space. The astronauts were selected for test flights, scheduled to occur in 2019, and for the first formal missions to follow.
For the first test flight of Boeing's CST-100 Starliner capsule, NASA picked Eric Boe, a veteran of two space shuttle missions; Nicole Aunapu Mann, who became an astronaut in 2013 and will be making her first trip to space; and Christopher Ferguson, who flew on three space shuttle missions before retiring from NASA in 2011 and joining Boeing's commercial space operations division.
For the first test flight of SpaceX's Crew Dragon capsule, NASA selected Robert Behnken and Douglas Hurley, each of whom made two space shuttle flights. "The first flight is something you dream about as a test pilot," Hurley said.
For the first formal mission involving Boeing's CST-100 Starliner, NASA picked Sunita Williams, a former commander of the ISS who has spent 322 days in space, and Josh Cassada, who became an astronaut in 2013 and will be making his first trip to space.
The first formal mission of SpaceX's Dragon capsule will be crewed by Michael Hopkins, who has spent 166 days aboard the space station, and Victor Glover, who was selected as an astronaut in 2013 and will be making his first spaceflight.
The announcements were met with loud cheers from the audience, which included Sen. Ted Cruz, R-Tex., and other elected officials, NASA executives and members of the public.
In 2014, Boeing and SpaceX were awarded NASA contracts totaling $6.8 billion to develop private space capsules to ferry astronauts to and from the ISS. Both companies had intended to conduct crewed test flights this year, but those are now scheduled for 2019.
Once the Starliner and Dragon capsules are operational, NASA will no longer need to rely on Russia's Soyuz rocket and spacecraft to launch astronauts into low-Earth orbit.