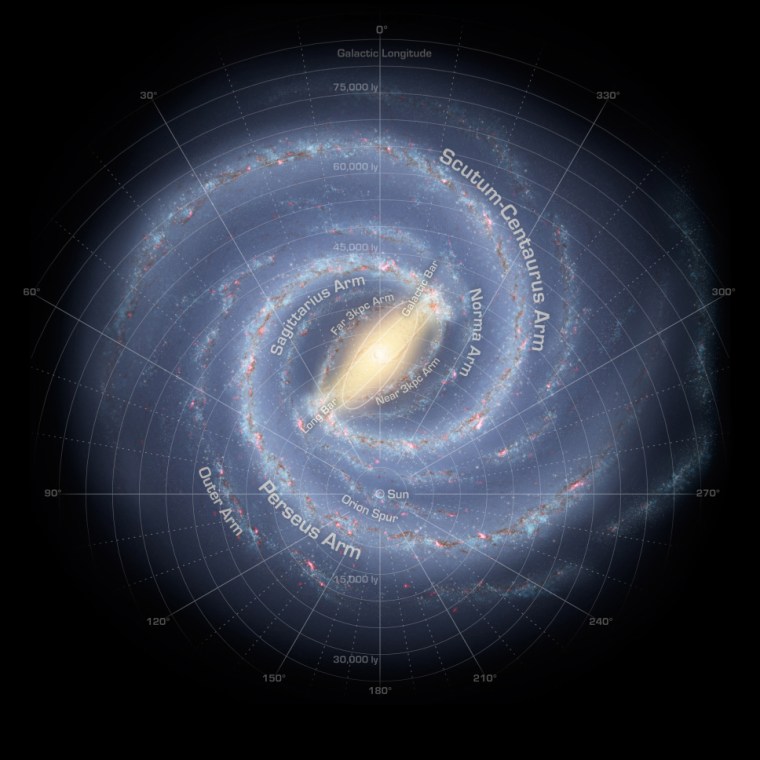 But the astronomers were able to create what's being called the first accurate three-dimensional map of our galaxy with help from newly published data for a type of star known as classical Cepheids. These huge, bright stars — up to 20 times bigger and 100,000 times brighter than the sun — produce pulsating light. They brighten at times, dim at others — all according to a precise and well-known schedule.
By looking at the observed brightnesses and pulsation periods of 1,339 of the Cepheids, the astronomers were able to use them as a sort of cosmic yardstick to pinpoint the stars' locations — and thus determine the overall shape of the galaxy.
"What this paper does is to trace the warp of the stars in the disk better than has been done in the past," Heidi Jo Newberg, an astrophysicist at Rensselaer Polytechnic Institute in Troy, New York, told NBC News MACH in an email.
The researchers concluded that the warping is likely caused by "torques" generated by the rotation of the vast inner disk of the Milky Way, which is a so-called barred spiral galaxy containing an estimated 100 billion stars.
But Newberg isn't so sure.
"I wonder whether there might be another explanation," she said in the email. "More recent work has shown that warps can be caused by dwarf galaxies that are orbiting, or falling into the Milky Way. Or possibly both mechanisms are at work."
Want more stories about astronomy?