Driverless cars may be our future, but that doesn't mean automakers have turned their backs on flesh-and-blood motorists. Now Nissan has come up with a technology designed to make driving more fun for the folks behind the wheel: a "brain decoding" system that gives automobiles the ability to anticipate a driver's action — hit the brakes or gas or make a turn — and then initiate the action before he or she does.
Dubbed "Brain To Vehicle," or "B2V," the system uses an electrode-studded skullcap to capture the driver's brain activity and artificial intelligence to interpret it.
B2V detects brain signals that will trigger the movement of the driver's hands or feet a moment before the movement begins. Thus, reaction times are cut by as much as half a second, the company said in a written statement. The driver turns the wheel and pushes the pedals as usual — but with an enhanced sense of nimbleness and control.
"When most people think about autonomous driving, they have a very impersonal vision of the future, where humans relinquish control to the machines," Daniele Schillaci, an executive vice president at Nissan, said in the statement, adding that "B2V technology does the opposite."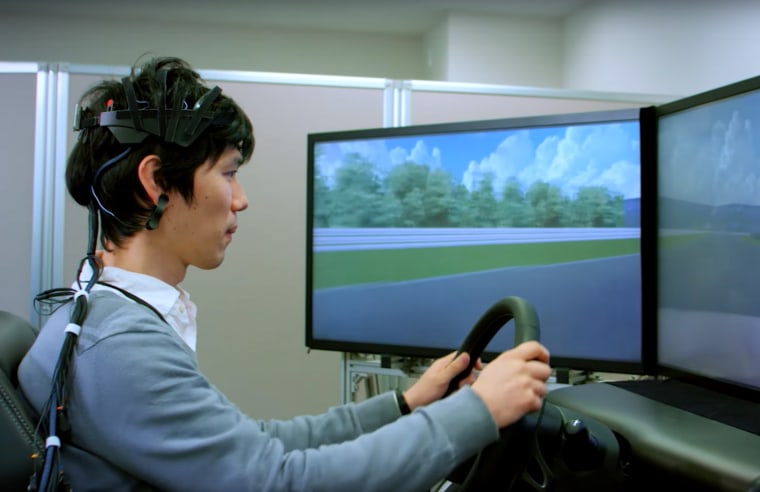 When the car is in self-driving mode, the same system can monitor the driver for signs of discomfort and take corrective action. If he or she is too hot, for instance, the system could crank up the air conditioner and change the position of the air vents.
That sounds great, but some experts have their doubts — especially about the cap.
"Anything that would require the driver to wear any type of sensor would be deemed intrusive," Dr. Jim Sayer, director of the University of Michigan Transportation Research Institute, told NBC News MACH in an email. "I think that some drivers might also wonder what other thoughts are being monitored. So I'm not too sure about the practicalities of the technology's adoption."
Sayer questioned what the system would do if a driver chose to do something unsafe or ill-advised — for example, tapping the bumper of a car ahead to register displeasure at having been cut off. "Is the system going to act on those types of thoughts, or only the 'legitimate' and safe ones?" he said.
Another leading expert on automotive technology, Stanford University's Dr. Chris Gerdes, wondered about the system's ability to pinpoint relevant brain activity.
"The brain is used for all sorts of things, so sorting out the signal you want from the 'noise' of other brain activity is often difficult," he said in an email to MACH. Gerdes, director of the university's Center for Automotive Research, added that this presents a "tricky problem."
Consumers will get a chance to see for themselves whether the system works as claimed. Nissan plans to use a driving simulator to demonstrate B2V at next week's Consumer Electronics Show in Las Vegas.