It may look like just another giant smokestack, but a 200-foot tower in the central Chinese city of Xi'an was built to pull deadly pollutants from the air rather than add more. And preliminary research shows the tower — which some are calling the world's largest air purifier — has cut air pollution significantly across a broad swath of the surrounding area.
Given those findings, the researchers behind the project say they hope to build an even taller air-purifying tower in Xi'an, and possibly in other cities around China.
"I like to tell my students that we don't need to be medical doctors to save lives," said Dr. David Pui, a professor of mechanical engineering at the University of Minnesota and one of the researchers. "If we can just reduce the air pollution in major metropolitan areas by 20 percent, for example, we can save tens of thousands of lives each year."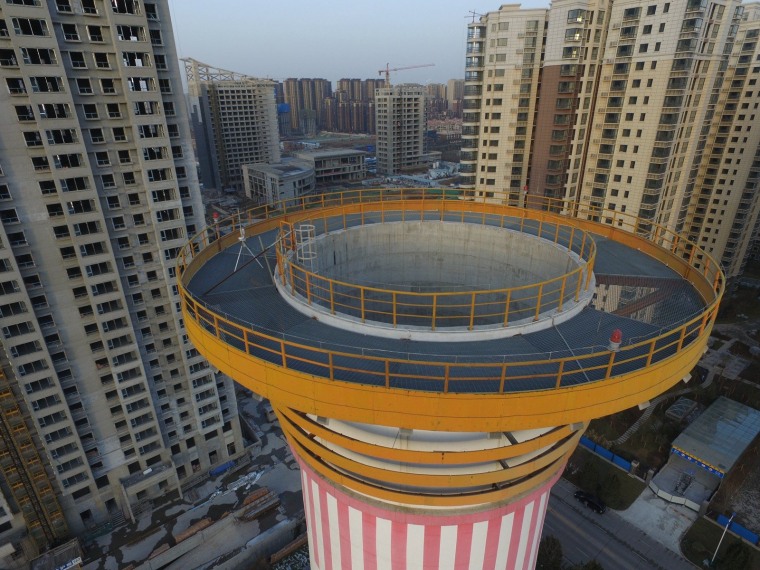 Built in 2016, the $2 million Xi'an tower, dubbed the solar-assisted large-scale cleaning system, stands atop an enormous glass-roofed greenhouse. Sunlight heats the air within the greenhouse, Pui said, causing it to rise through the tower, where a series of air filters trap soot and other noxious particles.
One type of pollutant the prototype tower is designed to catch is known as PM2.5 because it's made up of particulate matter no bigger than 2.5 microns in diameter. It's especially dangerous because these fine particles can be breathed deep into the lungs. A recent study led by Dr. Cao Junji, a chemist at the Chinese Academy of Sciences and the project's leader, showed a 19-percent drop in PM2.5 over 3.86 square miles in the tower's vicinity.
In addition to a proposed second tower in Xi'an, which would stand 984 feet tall, there are ongoing discussions about building massive air purifiers in the Chinese cities of Guanzhong, Hebei, and Henan, Cao told NBC News MACH in an email.
There's certainly a need to find new ways to fight air pollution, which worldwide causes or contributes to 6.5 million premature deaths worldwide, according to 2015 statistics. Dangerous air pollution is especially acute in many Chinese cities, in part because of the nation's heavy reliance on coal over greener sources of energy.
Pui called the towers an important advance in the fight against bad air, saying "I hope that people will realize that this is a really effective and cheap way to solve the PM2.5 problem — and later on, the [carbon dioxide] problem — for the benefit of mankind."
But not everyone is convinced.
Dr. Ming Xu, an associate professor of environmental engineering at the University of Michigan in Ann Arbor, said building air-purifying towers was an interesting idea but cautioned that it may be tricky to determine just how effective the towers are at curbing air pollution.
"Urban air quality can vary sharply over short distance due to non-uniform distribution of emission sources," Xu told MACH in an email. "More data and more rigorous analysis are required to evaluate the true impacts."
Xu, who wasn't involved in the tower project, added that it's important to take into account the energy costs involved with building and operating the towers. If the structure requires electricity from the grid that is fueled by coal, then operating the purifying system will itself generate harmful emissions. "That will be not so clever," Xu said.
There may also be more practical ways of mitigating air pollution, rather than building giant filtration towers, according to Dr. Robert Harley, a professor of civil and environmental engineering at the University of California, Berkeley, who was also not involved with the Xi'an tower project.
"Real progress in solving outdoor air pollution problems will require reductions in emissions from the major air pollution sources," Harley told MACH in an email, "such as heavy industry, coal-burning power plants, motor vehicles, and residential cooking and heating, especially if people are still using solid fuels such as wood or coal for those purposes."
FOLLOW NBC NEWS MACH ON TWITTER, FACEBOOK, AND INSTAGRAM.