SALEM, OREGON — They make a fine veggie burrito here at the Sassy Onion on State Street — but don't try to order one between 10 a.m. and 11 a.m. Pacific Time today. The restaurant, a stone's throw from the state capitol and smack-dab in the "path of totality" for today's total solar eclipse, plans to shut down in mid-morning so the staff can go outside and enjoy the spectacle.
Mind you, they'll open again when the sun reappears from behind the moon — and throngs of hungry eclipse chasers are expected at lunchtime. Those who work up a thirst during their time in the moon's shadow can order a "solar eclipse" — a special blend of vodka, espresso liqueur, crème de cacao, and orange juice — for $9.50. "It's been a bit crazy," says Hillarey Breau, a server at the popular diner, noting that business on Sunday was nearly double that of a week earlier.
Oregon will be the first state to see the eclipse, when the moon's shadow touches down near Lincoln Beach a few seconds before 10:16 a.m. Pacific Time today. (It will be the first time the moon's shadow will have struck the continental U.S. since the winter of 1979.) The shadow will then sweep eastward at nearly twice the speed of sound, passing through 14 states before leaving U.S. soil at the South Carolina coast north of Charleston.
The path of totality will be less than 70 miles wide but some 2,500 miles long. In Oregon, the total phase of the eclipse will last a smidgeon over two minutes. Viewers near Carbondale, Illinois, will experience the maximum duration of just over two minutes and 40 seconds. While millions of people will see the eclipse from all along the path of totality (weather permitting), the Northwest, with its combination of predicted sunny skies and spectacular scenery, is among the most popular destinations for eclipse enthusiasts and professional astronomers.
Dire Predictions
The good news is that the dire predictions for eclipse day — traffic congestion, gasoline and food shortages — don't seem to have come true, at least in this part of Oregon, as of suppertime on Sunday.
"I've been worried about the crowds and the traffic, but I haven't really seen it transpire so far," says Dr. Claire Raftery, a solar physicist at the National Solar Observatory in Boulder, Colorado, who will be among the scientists taking in the spectacle here — and also helping to organize public viewing event on the campus of Willamette University in downtown Salem.
As a precaution, she stocked up on essentials in Portland (which lies just outside the eclipse path) before driving down to Salem. "I think the shortages may be more of a concern in the smaller towns, than here in Salem," she says.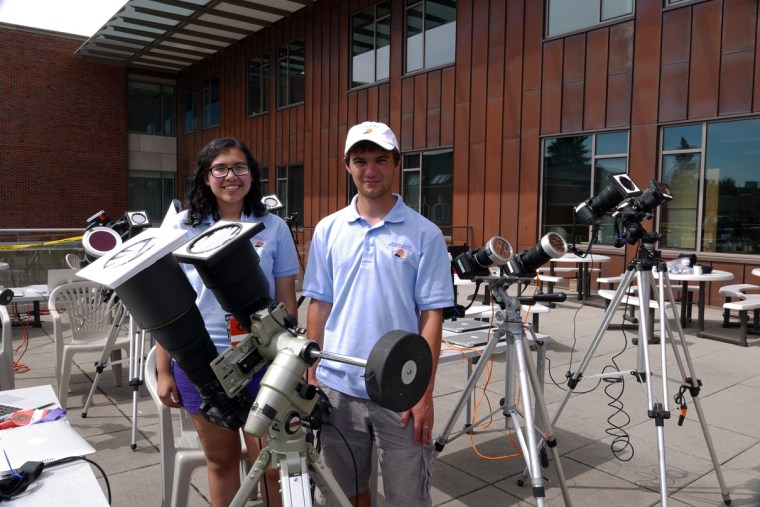 Officials estimated that a million visitors would come to Oregon for the eclipse — numbers that could cause problems in rural areas, where highways typically only have two lanes, and often there's no alternate route if the main road is blocked. East of Salem, on Highway 22, traffic was light on Sunday afternoon. But along the shores of Detroit Lake near here, several dozen eager campers had already pitched their tents; at least one man had simply set down his sleeping bag beside his car.
Celestial Cage Match
While the restaurants here are humming, and hotels, motels and campsites in the area are full, the downtown streets were mostly empty yesterday afternoon. At Willamette, the quads and gardens saw only a smattering of strolling visitors — some wearing eclipse T-shirts, of course — though it was clear that something big was afoot. A humorous black-and-white poster spotted on campus characterizes the eclipse as a celestial cage match, with the sun as "the champ" and the moon as "the challenger."
On the main quad, more signs marked "community viewing area" indicate where thousands will gatherfor the eclipse-viewing session. A "reserved viewing area" sign marks the site where astronomers will gather to to collect data during totality, when the sun is fully obscured by the moon. Among the astronomers expected to be on hand is Dr. Jay Pasachoff of Williams College in Williamstown, Massachusetts, who has seen 33 total solar eclipses previously — making him one of the world's best-known eclipse connoisseurs.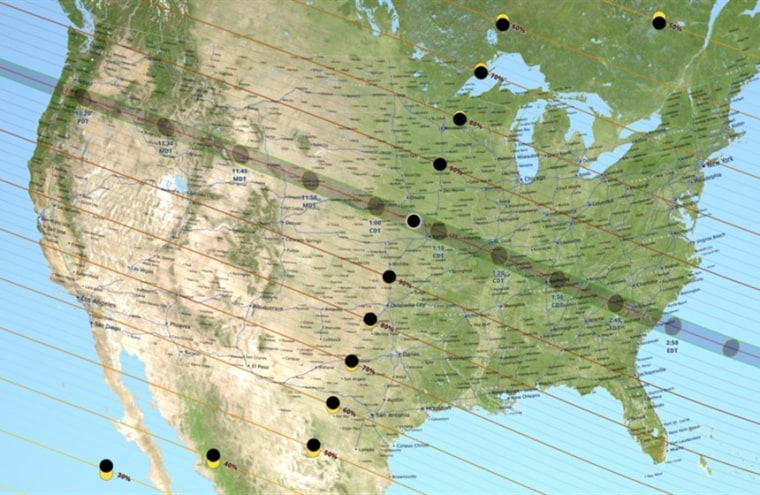 While Pasachoff and his colleagues will be using state-of-the-art telescopes and cameras, thousands more will be peering at the eclipse through those ubiquitous cardboard eclipse glasses — and staffers here are hoping they have enough to go around. (Between Willamette and the National Solar Observatory, organizers estimated they had a few thousand left to distribute.)
"We want to make sure as many people as possible can enjoy the eclipse, and to enjoy it as safely as possible," says Raftery. She says planning for the eclipse started more than a year and a half ago, adding, "But in the last six weeks, it's really taken over our lives."
On Tuesday, things will surely be quieter. But she suspects it might be at least another day before she can relax and think about something besides the eclipse. "I'm really looking forward to Wednesday," she says.