In brief: This past week at the 37th annual Gitex Technology Week, officials announced that Dubai Police officers will soon be racing over traffic jams on hoverbikes called "Hoversurf Scorpions," developed by Russian drone manufacturer Hoversurf.
POLICE HOVERBIKES
At the 37th Gitex Technology Week at the Dubai World Trade Centre, the Dubai police force announced that officers will soon be speeding around the city's skies on electric police hoverbikes. The Star Wars-style, battery-powered hoverbikes can fly at a height of five meters (16.4 feet) and reach speeds of up to 70 kilometers (43.5 miles) per hour. The bike was co-developed for emergency response teams with Russian drone manufacturer Hoversurf, and is called the Hoversurf Scorpion.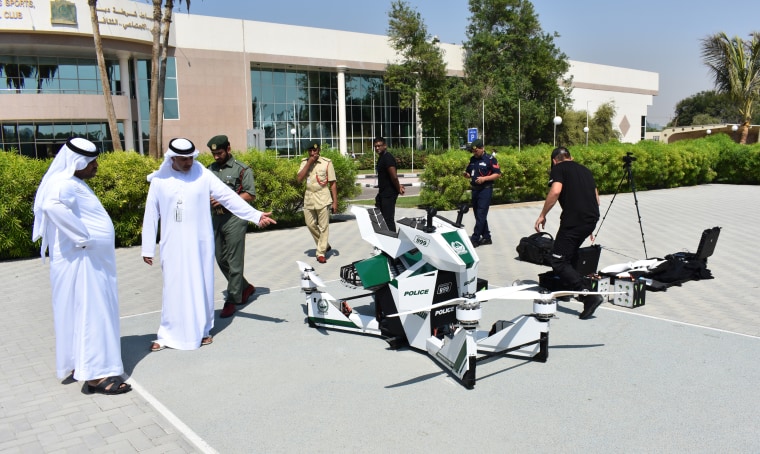 First Sergeant Ali Ahmad Mohammad told Gulf News the Scorpion can take an officer over heavy traffic in emergencies. "The bike can also fly without a passenger and can go up to six kilometers," he said. "It can fly for 25 minutes and can carry up to 300kg (661 lbs) of weight at a speed of 70kph."
Alexander Atamanov, CEO of Hoversurf, took to Facebook to confirm that the company and the Dubai police have agreed to mass produce the Scorpion in the Dubai area. He also posted the above video of the police hoverbike in action.
THE CITY OF THE FUTURE
Police at Gitex also revealed other advanced technology designed specifically for police use. For example, they showed audiences a smart electric motorbike equipped with multiple cameras used to identify reckless drivers, as well as small, self-driving vehicles that patrol the city and scan for persons of interest and criminals using biometric software.
"It can recognize people in any area and identify suspicious objects and can track suspects," Dubai Police Smart Services Department director Brigadier Khalid Nasser Al Razooqi told Gulf News. "It will be deployed at tourist destinations in Dubai. It has cameras and will be linked to the command room."
This latest police technology advances Dubai's reputation as the City of the Future and one of the most technologically advanced cities in the world. Dubai is already home to water jetpacks used for firefighting and a real life Robocop, but next-level technology permeates every area of life. A flying taxi service is in testing, and the 3D printed office of the future has already opened. A hyperloop and the world's first 3D printed skyscraper will also soon happen in Dubai, which already has its own official cryptocurrency.