"Starman" has had a smooth ride through the solar system — at least so far.
The spacesuit-wearing mannequin and its red Tesla Roadster have now sped beyond the orbit of Mars after launching into space in February aboard a SpaceX Falcon Heavy rocket, the aerospace manufacturer said Nov. 2 in a tweet.
The tweet includes a diagram showing Starman's current position along its orbital path as well as a coy reference to "A Hitchhiker's Guide to the Galaxy," Douglas Adams' comic science-fiction series: "Next stop, the restaurant at the end of the universe."
Musk is said to be a fan of the series.
The Feb. 6 launch marked the maiden flight of the Falcon Heavy, a towering, 27-engine behemoth that is designed to carry astronauts into deep space.
SpaceX's livestream of the launch afforded spectacular views of Starman and the electric convertible in space, including dramatic shots of Starman and the Roadster with Earth in the background.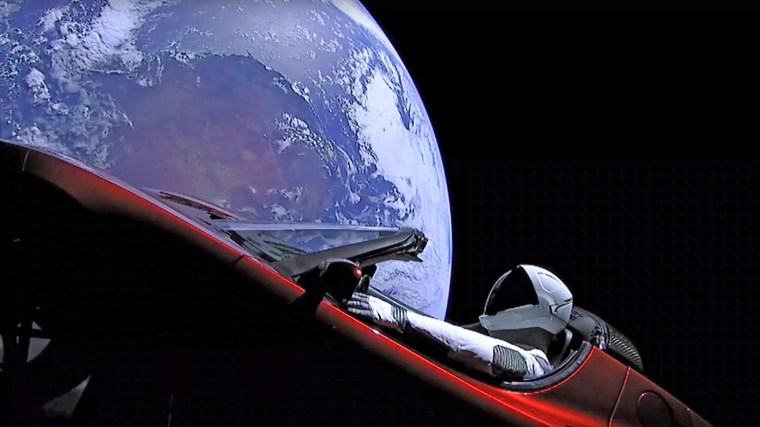 Starman is in an elliptical orbit around the sun, with an estimated top speed of 7 miles per second. SpaceX CEO Elon Musk has said the craft could continue orbiting for "millions or billions of years," which suggests the mannequin has a long journey ahead. As Seth Shostak, a senior astronomer at the SETI Institute in Mountain View, California, told NBC News MACH at the time, "This car is surely destined to rack up billions of miles."
The second flight of the Falcon Heavy is scheduled for January 2019.
Want more stories about spaceflight?