Scientists have come up with what they say is a way to spot bridges at risk of collapsing that other methods might miss — and none too soon. In the United States alone, more than 200,000 bridges are 50 years or older and 56,000-plus have been deemed structurally deficient — not necessarily unsafe at this point, but all competing for costly and time-consuming repairs.
The new technique uses computer modeling and high-resolution satellite images to detect subtle shifts in a bridge's structure that could indicate that it's starting to fail. Some of the changes are so tiny that they could be undetectable during traditional visual inspections, the scientists say.
"It can be hard for an engineer to spot [small changes] with the naked eye," said Pietro Milillo, a scientist at NASA's Jet Propulsion Laboratory in Pasadena, California, and the leader of the international team of scientists who devised the method, which was described last month in the journal Remote Sensing. But with satellite images, he added, the researchers determined that it was possible to "detect deformations and actually prioritize engineers' intervention to these structures … This method cannot only be used as a warning, but also as a tool that can prioritize which infrastructure should be fixed first."
Research on the new technique began in the aftermath of the 2018 collapse of the Morandi Bridge in Genoa, Italy, a catastrophe that killed dozens in one of that nation's biggest cities.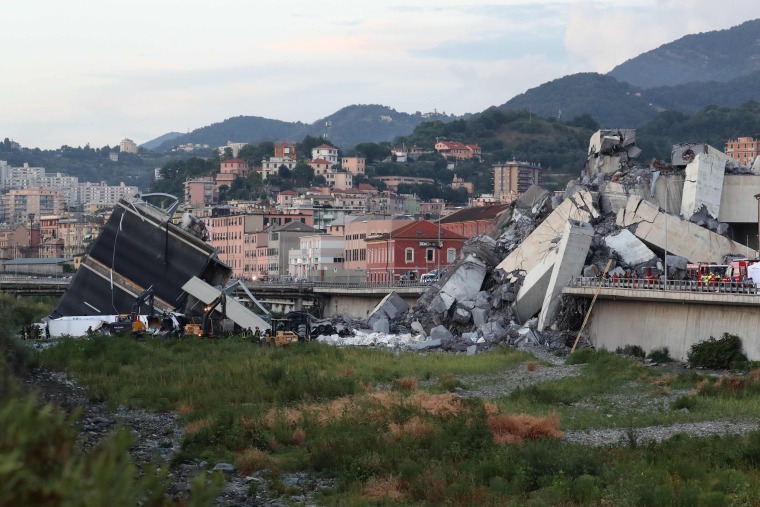 Milillo and his collaborators at the University of Bath in England and the Italian Space Agency built a detailed computer model of the bridge using successive satellite photos taken between 2003 and 2018. The satellites were equipped with so-called synthetic aperture radar, which can create high-resolution three-dimensional images. Then a computer algorithm was used to pinpoint minute but worrisome shifts in the bridge's structure as far back as 2015 — three years before the deadly collapse.
"A satellite orbiting 680 kilometers in space is capable of detecting deformation on the order of a millimeter," Milillo said. That's about 0.04 inch, or less than the thickness of a dime.
Bassem Andrawes, a professor of civil and environmental engineering at the University of Illinois Urbana-Champaign, said the method held promise as a useful complement to visual inspections, which focus mainly on identifying major cracks and other signs of impending collapse.
"It's very exciting," he said of the new method. But he said there was "room for improvement." While it might have been relatively straightforward to spot worrisome shifts in the Morandi Bridge, whose supports were clearly visible from above, he said it might be hard to spot such shifts in bridges whose supports lie below the road surface.
What's more, he added, satellite-based inspections would have to be able to distinguish bridges' natural movements, such as expansion and contraction in response to shifting temperatures, from deformations that signal structural weakness.
Milillo agreed that more work was needed to make the system operational. "The real challenge is to set up a near-real time system capable of identifying those signals before those collapses happen" and alerting the authorities, he said.
And of course, there would have to be enough of the specialized satellites in orbit to keep an eye on the world's bridges. Another synthetic aperture radar satellite will be launched into space in 2022 as part of a joint mission between NASA and the Indian Space Research Organization.
"What I hope is that in the future we can have a constellation of SAR satellites orbiting always, kind of like we have GPS now," Milillo said. "I think this technology can do a lot of good for safeguarding infrastructure and human life."
Want more stories about science?
SIGN UP FOR THE MACH NEWSLETTER AND FOLLOW NBC NEWS MACH ON TWITTER, FACEBOOK, AND INSTAGRAM.