Uber has revealed new details about its planned air taxi program and unveiled a prototype of the futuristic-looking electric aircraft that soon could be whisking passengers over traffic-clogged streets to their destinations.
The company aims to conduct test flights of its air taxi in 2020 in Dallas or Los Angeles, with commercial service to begin as soon as 2023.
"We think cities are going to go vertical in terms of transportation and we want to make that a reality," Uber CEO Dara Khosrowshahi told CBS News, which got a look at the Uber Air prototype air taxi in advance of a May 8-9 meeting in Los Angeles where it was unveiled.
Uber said its air taxi would take off and land vertically like a helicopter but would be much less noisy. The craft will have a cruising speed of 150 to 200 miles an hour and a range of about 60 miles, Wired reported.
The sleek aircraft has four sets of stacked horizontal rotors for lift and a propeller mounted on the tail, making it look a bit like an oversized hobbyist's drone. It has room for four passengers and a pilot, though Uber said the aircraft would likely operate autonomously once its safety has been demonstrated.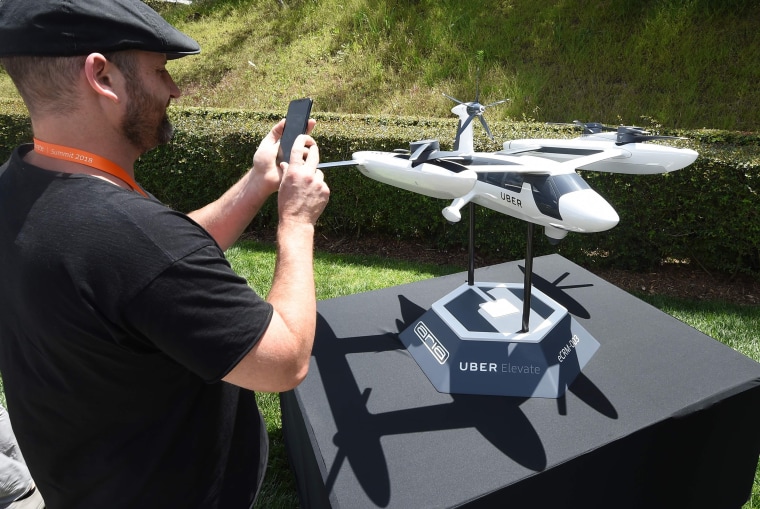 Uber's air taxis would be summoned with a smartphone app similar to the one used to hail Uber cars, according to Khosrowshahi. Passengers would be picked up and dropped off at "skyports" atop buildings in urban areas as well as at airports, with some skyports possibly handling hundreds of flights a day.
To help ensure that Uber's fleets can operate safely and efficiently in busy urban areas, the company has teamed up with NASA to gather data on air traffic and safety issues from a research facility near Dallas/Fort Worth International Airport.
Khosrowshahi told CBS News that the company hopes to make air taxi transportation "affordable for normal people."
Uber is likely to face competition. Airbus, Kitty Hawk (backed by Google co-founder Larry Page), and German aviation startup Volocopter are just some of the companies working on similar flying taxi services.
But some experts expressed doubts that autonomous air taxis represent the future of transportation.
"It is one future possibility for transportation, but vertical takeoff and lift aircraft are notoriously difficult to build and operate safely," Dr. Missy Cummings, director of the Humans and Autonomy Laboratory at Duke University in Durham, North Carolina, told NBC News MACH in an email. She added that "given the significant technical risks as well as the regulatory mountain to climb, I doubt their autonomous aircraft vision will come to fruition anytime in the foreseeable future."
Mike Hirschberg, executive director of the Fairfax, Virginia-based Vertical Flight Society, agreed that Uber's ambitious timeline is "very challenging." But, he added, "I think even if only 50 percent of their vision of this comes to pass, it's still going to be incredibly revolutionary."
FOLLOW NBC NEWS MACH ON TWITTER, FACEBOOK, AND INSTAGRAM.