Two astronauts made history Friday morning as the first women to participate in an all-female spacewalk.
Christina Koch and Jessica Meir ventured outside the International Space Station at about 7:50 a.m. to make an urgent repair to its power system. They concluded the spacewalk 7 hours and 17 minutes later, just before 3 p.m.
"Another milestone in human space exploration is officially complete!' said a tweet from NASA.
They were successful in their mission to replace a faulty battery charge/discharge unit (BCDU) that failed to activate earlier this month when new lithium-ion batteries were installed on the station's exterior, according to NASA. The faulty BCDU will be sent back to Earth for inspection.
They were also able to extend their spacewalk by about two hours to tackle some additional "get-ahead tasks" on the space station.
The discharge units regulate the amount of charge batteries collect from solar arrays while the station orbits Earth at nighttime, providing increased power. NASA says the failure has not affected station operations or crew safety. Still, NASA pushed the planned repair up from Oct. 21 to Friday.
NASA noted the "historical significance of the event."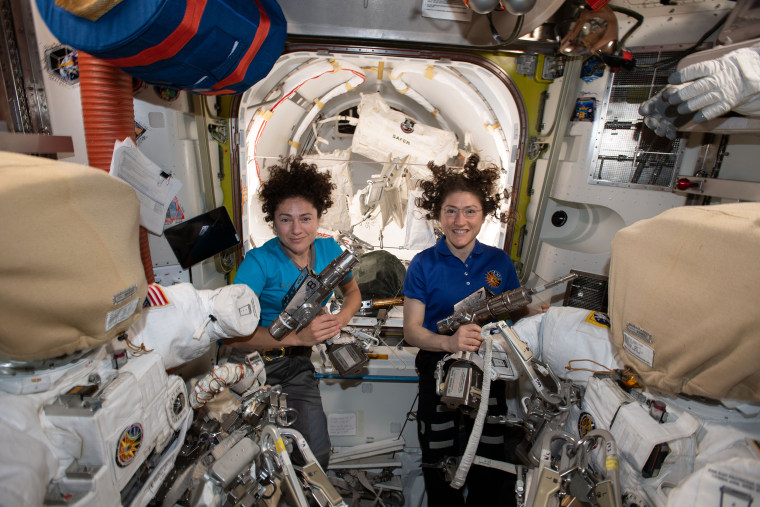 Originally, NASA had planned an all-female spacewalk in March. But that event — which was to have involved Koch and NASA astronaut Anne McClain — was scrapped because there weren't enough spacesuits of the right size available on the station. NASA was criticized for not having enough uniforms for two women to participate in a spacewalk together.
NASA livestreamed the event. Koch wore a spacesuit with the red stripes, and Meir wore a suit with no stripes.
It was Meir's first spacewalk and Koch's fourth, according to NASA. Both are on their first spaceflight after they were selected as astronaut candidates in 2013, as part of a class that was 50 percent women.
Astronaut Stephanie Wilson, who has completed three spaceflights, guided the pair from Mission Control. The three commentators narrating the endeavor for NASA were also all female.
President Donald Trump called the astronauts during their walk to thank and applaud them.
"Congratulations Christina and Jessica on this historic event," Trump said. "This is truly historic, and you're right now on television all over the world so don't get nervous."
Meir thanked the president but added "we don't want to take too much credit because there have been many other female spacewalkers before us. This is just the first time that there's been two women outside at the same time."
"For us, this is really just us doing our jobs," she said. "We were the crew that was tasked with this assignment. At the same time, we do recognize that it is a historic achievement, and we do of course want to give credit to all of those that came before us," Said Meir, who added she hoped the pair could be an inspiration to everybody, not only women.
"You're very brave brilliant women and you represent this country so well and our country is very proud of you and we are very proud of you," Trump concluded, adding that the mission was one step in the goal of getting to Mars.
NASA plans to put the first woman on the moon by 2024.
Meir became the 15th woman to spacewalk. Forty-three spacewalks have included a woman since 1984, when a Russian cosmonaut spacewalked in July of that year and a NASA astronaut did in October.
The all-female spacewalk was the second of what NASA has called a "spacewalk bonanza," with 10 outings scheduled through December.