SpaceX's Falcon Heavy rocket successfully completed its long-awaited maiden flight on Tuesday, roaring into the blue skies over Kennedy Space Center to usher in a new era of spaceflight.
The gigantic booster, which lifted off at 3:45 p.m. ET, could one day take astronauts to the moon and Mars. The rocket rose over the Atlantic Ocean before its two expended solid rocket boosters fell back to Earth and landed upright, just as planned. The third booster failed to make a landing on a robotic drone ship at sea.
SpaceX CEO Elon Musk said he felt "quite giddy" before the launch. "What I find strange about this flight is normally I feel superstressed out the day before," he told reporters in a press briefing on Monday. "This time I don't."
Musk's confidence seems to have been borne out.
The Falcon Heavy is essentially a supersize version of SpaceX's standard Falcon 9 rocket, which has been ferrying cargo to the International Space Station since 2012. But instead of one central booster, there are three — and three times the thrust of the Falcon 9.
The rocket weighs more than 3.1 million pounds and stands almost 230 feet high. It's designed to carry up to 140,000 pounds to low-Earth orbit, or more than 37,000 pounds all the way to Mars.
(Story continues below graphic)
The Falcon Heavy is designed to lift more payload to orbit than any American booster since NASA's Saturn V, the rocket that took astronauts to the moon during the agency's Apollo program.
Some see the Falcon Heavy as an alternative to NASA's Space Launch System, the huge new rocket that the space agency is developing with the goal of carrying astronauts into deep space and Mars.
For its maiden launch, the Falcon Heavy carried a special payload from Musk's electric car company: a red Tesla Roadster. Initially, Musk said he intended to put the car into orbit around Mars, but the current plan is to send the car into an elliptical orbit around the sun.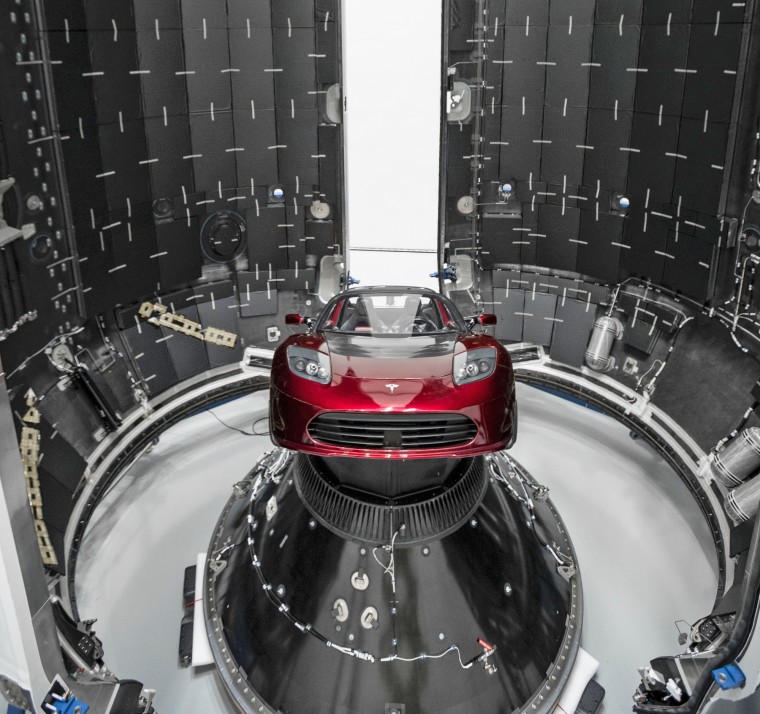 Today's test launch occurred from Launch Pad 39A, the site of some of the most historic launches in space history. The Apollo 11 mission that landed Neil Armstrong and Buzz Aldrin on the moon launched from Pad 39A in 1969, and the first space shuttle, Columbia, launched from 39A in 1981.
Additional reporting was contributed by Alyssa Newcomb.