The freak storm that dumped more than 3 feet of hail on Guadalajara, Mexico, on Sunday left locals and people around the world wondering how such an extraordinary event could hit an area that just days before had been basking in warm, sunny summer weather.
Some immediately pointed the finger at climate change. "Hail more than a meter high, and then we wonder if climate change exists," tweeted Enrique Alfaro Ramírez, governor of Jalisco, the state in southwestern Mexico where Guadalajara is.
But scientists aren't so sure of the link.
"One good picture often leads people to go, 'This is unprecedented,'" said John Allen, a meteorologist at Central Michigan University in Mount Pleasant. "It looks impressive, but we've seen similar events in other parts of the world fairly recently. … I really don't think we have a way to say conclusively that an event like this is attributable to climate change."
Allen said hailstorms aren't unheard of in places like Guadalajara, whose 5,100-foot elevation and location in a mountainous region make it particularly vulnerable to the sort of slow-moving thunderstorm that unleashed all that hail on the city's 1.5 million residents.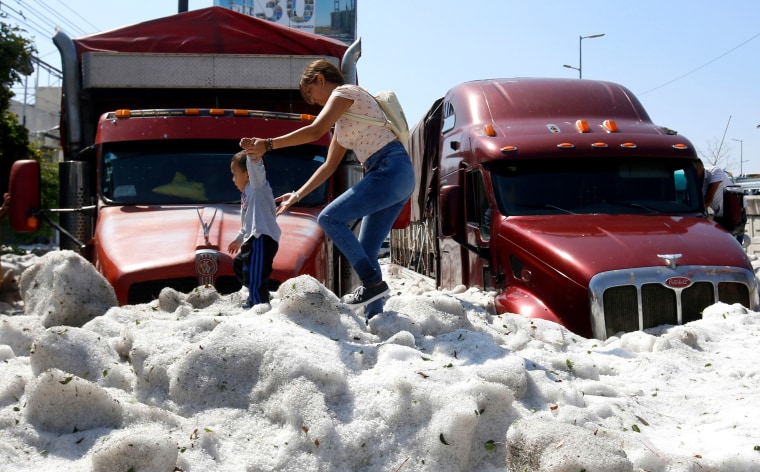 And hailstorms are more common in summer than at other times of year, since the atmosphere then tends to be wet and unstable enough for hail to form, said Julian Brimelow, a scientist with Canada's Department of the Environment and Climate Change in Edmonton.
Brimelow agreed that it was hard to conclusively pin the Guadalajara hailstorm on climate change. But he said some recent research, including his own, suggests that warmer temperatures could affect the size of hailstones, with large stones becoming more common.
Hail forms during thunderstorms when powerful updrafts push raindrops into freezing regions of the atmosphere, where they freeze into icy balls. The hailstones can grow as cold water droplets collide with them and freeze. Once the onion-like hailstones become too heavy to be supported by the rising air currents, they fall to the ground.
Sunday's storm, which buried cars and damaged hundreds of homes in Guadalajara, was notable not for the size of its hailstones but for the quantity, said David Easterling, a climate scientist at NOAA's National Climatic Data Center in Asheville, North Carolina.
"What appears to have happened is a very slow-moving storm that produced a lot of small hail," he said. "Not very large stones, but a lot of it."
The hail was accompanied by heavy rain, which washed the hailstones into huge piles in low-lying areas. That explains photos and videos showing cars almost completely buried in icy drifts known as hail glaciers.
"Flooding picks up all the hail from the higher ground and flows it to the lowest area in the region," said Patrick Marsh, a meteorologist at NOAA's storm prediction center in Norman, Oklahoma. "So you end up with these massive mounds of hail."
Similar conditions led to dramatic hail glaciers in Amarillo, Texas, in 2012 and in Clayton, New Mexico, in 2004.
Alfaro said Sunday that no injuries or fatalities had been reported. But hailstorms do pose a serious risk to life and property, Marsh said. He offered a bit of advice for people in an area hit by hail.
"The best thing you can do is go indoors," he said. "Don't go looking for the hail glaciers until after the storm has passed."
Want more stories about science?
SIGN UP FOR THE MACH NEWSLETTER AND FOLLOW NBC NEWS MACH ON TWITTER, FACEBOOK, AND INSTAGRAM.