If sci-fi films like "Back to the Future" or "Blade Runner" — or even the cartoon series "The Jetsons" — are to be believed, the highways of the future will be over our heads rather than under our feet. And now a European company is looking to build a futuristic vehicle that could fulfill these lofty fantasies.
Bratislava, Slovakia-based AeroMobil yesterday unveiled its concept for an autonomous flying car that could operate as an air taxi to carry four passengers within and between urban centers — while also offering the capability of driving on roads like an automobile.
"The customers for this type of travel might be daily commuters or travelers who will need a fast and efficient connection up to 100 miles," AeroMobil CEO Juraj Vaculik told NBC News MACH in an email.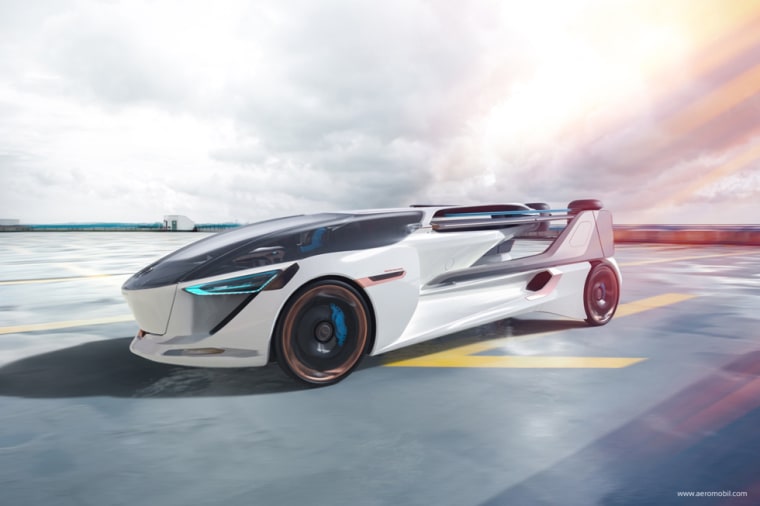 Renderings of the AeroMobil 5.0 VTOL show a wheeled vehicle with two rotors on its folding wings and a rear-mounted propeller. The craft would take off and land vertically like a helicopter, while its wheels would allow it to operate on roads to provide passengers door-to-door service — or if bad weather makes it unsafe to fly, Vaculik said.
But not everyone is on board with the concept of a car-plane hybrid. Dr. Richard Anderson, a professor of aerospace engineering at Embry-Riddle Aeronautical University in Daytona Beach, Florida, questions whether a vehicle that is sturdy enough to use on the ground will be too heavy to take to the air with any measure of efficiency.
"Airplanes that take off vertically are critically weight sensitive," Anderson said. "With a vehicle like this, you have to meet regulations for airplanes and cars, both of which add weight in different categories. You'll have car stuff that you wouldn't normally have in an airplane that will add weight, and vice versa."
That extra bulk could lower the vehicle's range and speed, he added.
AeroMobil says its flying car will have a 100-mile range. But Anderson thinks that may be a bit optimistic. "The problem with electric is it relies on batteries, and batteries right now weigh 70 times more than gas," he said. "A lot of these estimates must assume that batteries are going to get better way faster than they have historically."
Tesla CEO Elon Musk has expressed his own concerns about flying cars. In a 2015 interview reported by Inc., he said safety for people on the ground will be a big issue. "Even in autopilot, and even if you've got redundant motors and blades, you've still gone from near-zero chance of something falling on your head to something greater than that," Musk said, according to the news outlet.
AeroMobil says the 5.0 VTOL should roll out within five to seven years, but it's not the only company working to develop flying cars. Terrafugia of Woburn, Massachusetts, is developing a vehicle that can transform from an airplane into a car. Other companies such as Joby Aviation of Santa Cruz, California, the German company Lilium, as well as aerospace giants like Boeing and Airbus, are working on similar air taxi concepts.
Yet Anderson is dubious about the idea of taking to the skies and flying over traffic jams that bedevil people on the ground. "It's hard to see in the near future that this makes a lot of sense," he said. "The math is easy to do, and if you put today's batteries in, you'll see that we're just not there."
FOLLOW NBC NEWS MACH ON TWITTER, FACEBOOK, AND INSTAGRAM.