As the global demand for renewable energy ramps up, wind farms are becoming bigger as well as more numerous — and as suitable sites on land grow scarce in some parts of the world, power companies are looking offshore for new places to build.
Now a consortium of companies has announced plans to build the world's biggest wind farm — one that would dwarf any existing wind power facility on land or at sea.
The first stages of the proposed wind farm could be operational as soon as 2030 at Dogger Bank, a shallow patch of the North Sea about 100 miles off England's northeastern coast and well out of sight of people on land.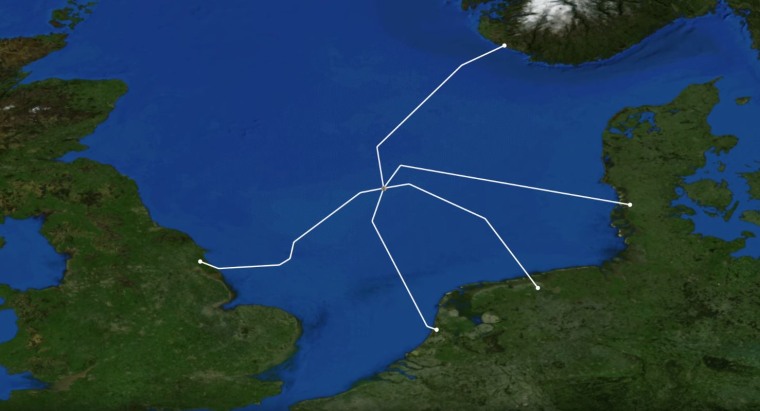 The completed project would combine the power of thousands of individual wind turbines, each standing several hundred feet above the waves. It would be able to generate up to 30 gigawatts of electricity. That's more than seven times the power that will be generated by the largest wind farm being built so far, a cluster of four offshore projects with a total capacity of 4 gigawatts, 24 miles from the same English coast.
The thousands of giant turbines at Dogger Bank would spread over 2,300 square miles of ocean — an area about eight times the size of New York City. The turbines would be linked by undersea cables to an artificial island equipped with high-voltage transmission systems, port facilities, and an airstrip.
Stormy waters
Offshore wind power generation is at an early stage of development in in the U.S., which has large areas of land suitable for onshore wind farms. The first U.S. offshore project, the Block Island Wind Farm off the coast of Rhode Island, went online in 2016.
But in the densely populated nations of northwest Europe, many of the best wind farm sites are already occupied, says Rob van der Hage, a spokesman for the consortium behind the Dogger Bank proposal, which is known as the North Sea Wind Power Hub project.
"Dogger Bank would be fantastic," he says. "For decades it has been considered the Holy Grail for offshore wind."
Dogger Bank is only between 50 and 120 feet deep, and turbines are much less costly to build in shallow water.
And while storms can make Dogger Bank dangerous for cargo ships and fishing boats, the strong winds mean the offshore turbines could operate for longer periods than turbines nearer the coast or onshore, which are typically switched off for up to half the time because winds are too light.
Artificial island
Building the artificial island as a power hub for the giant wind farm would be one of the biggest challenges, says van der Hage. "It's a very windy area, with a very rough ocean'" he says. "But in our understanding, this could be done."
An artificial island could also benefit the undersea environment at Dogger Bank, where the seafloor is strewn with the remains of centuries of shipping and fishing activities, and could include habitats for sea birds and sea mammals.
The consortium is consulting environmental groups about issues like the noise made by so many turbines, van der Hage says, adding "the [environmental groups] also see the value of offshore wind for our future."
The central location of the giant Dogger Bank wind farm would let it supply power to several nations around the North Sea — via undersea electricity cables or by supplying "green hydrogen" fuel created with wind power.
The ability to supply power to multiple countries would also help balance the use of renewable energy resources, says van der Hage.
"In a future with more dominant renewable energy sources, the energy system will become a lot more volatile as well, because the wind doesn't blow all the time and the sun doesn't shine all the time."