It's been almost half a century since Apollo astronauts walked on the moon — and drove their ungainly car-like rovers across the lunar surface. But with the help of automaker Audi, a group of Berlin-based engineers is planning the first-ever private moon landing in 2018 — not only touching down on the moon but also delivering a pair of robotic rovers.
Plans call for the wagon-sized Audi Lunar Quattros to visit the site in the moon's Taurus-Littrow valley where Apollo 17 astronauts spent three days in December of 1972. Ground-based technicians will steer the solar-powered rovers to the site. There they will capture high-definition images of the Lunar Roving Vehicle driven by Apollo 17 astronaut Gene Cernan and beam them back to Earth.
The group is eager to know how the old NASA rover has fared in more than 45 years of exposure to the harsh lunar environment.
"We want to see how it looks like," says Karsten Becker, head of electronics for PT Scientists. "Has it been bombarded to shreds or is it standing there like on the day they left it? Is there dust on it, and if not, why not? There are many interesting scientific questions you can answer by going back to it."
In addition to providing a close-up view of the old NASA vehicle, the Audi rovers will carry out experiments for scientists in the U.S., Canada, and Sweden. One involves an attempt to determine how seeds might grow in the moon's reduced gravity.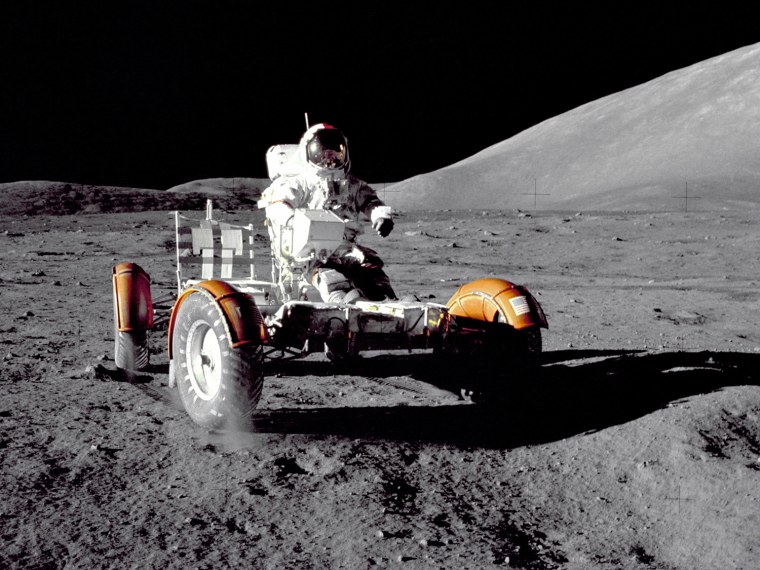 PT Scientists also plans to demonstrate the feasibility of establishing mobile phone coverage on the moon. One day astronauts visiting might be able to call home from the lunar surface using just an iPhone — at "astronomical roaming rates," Becker jokes.
Photos: Apollo 17 Photos Spotlight Man's Last Trip to Moon
The twin rovers are made of 3-D printed aluminum and each of the four wheels is driven by its own motor and can turn 360 degrees. The rovers weigh about 77 pounds each and have a top speed of 2.2 mph. To get to the moon, they'll be rocketed into geostationary orbit aboard a SpaceX Falcon 9 rocket, and then be propelled into the moon's orbit via a single burn. Another series of burns will initiate its descent and help the lander arrive at its targeted spot on the surface.
Before the Audi rovers journey to the moon, one will debut this summer in "Alien Covenant" assisting the sci-fi film's astronauts with maintenance of the spacecraft. Becker was on location in New Zealand remote controlling the rover during the shoot and says many of the crew were too nervous to touch it.
Follow NBC MACH on Twitter, Facebook, and Instagram.