Elon Musk, the futurist billionaire behind SpaceX and Tesla, outlined his plans to connect humans' brains directly to computers on Tuesday night, describing a campaign to create "symbiosis with artificial intelligence." He said the first prototype could be implanted in a person by the end of next year.
Arriving at that goal "will take a long time," Musk said in a presentation at the California Academy of Sciences in San Francisco, noting that securing federal approval for implanted neural devices is difficult. But testing on animals is already underway, and "a monkey has been able to control the computer with his brain," he said.
Musk founded Neuralink Corp. in July 2016 to create "ultra-high bandwidth brain-machine interfaces to connect humans and computers." The company said in 2017 that its initial goal was to devise brain interfaces to alleviate the symptoms of chronic medical conditions.
It's widely presumed, however, that Musk is characteristically after something much larger. He has frequently warned that the rapid advance of artificial intelligence, or AI, threatens to leave humanity in the dust, calling it an existential risk.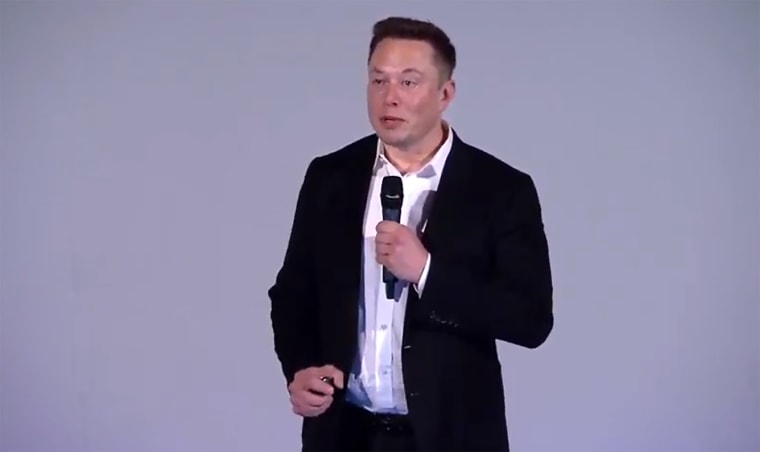 Musk repeated Tuesday night that one of the goals of Neuralink was to treat brain disorders, saying, "We can solve that with a chip."
But he went on to say that it also sought to help you "preserve and enhance your own brain" and to "create a well-aligned future."
As he has before, Musk warned that as it stands, humanity is at risk of being left behind by the rapid advancement of artificial intelligence, or AI — "even in a benign AI scenario — hopefully, it is a benign scenario."
Addressing that, Musk said Tuesday, will require finding a way for the brain to "merge" with AI, most likely through tiny wireless chips implanted in the brain through a 2-millimeter incision to create what he called "some sort of symbiosis with artificial intelligence," with a goal of no less than securing "humanity's future as a civilization relative to AI."
The biggest technical hurdle is bandwidth, Musk said, meaning the tools humans use to interface with computers, like current hardware systems and smartphones.
While Neuralink "aspirationally" hopes to implant the first chip in a human patient before the end of 2020, Musk acknowledged that the larger goal will take a long time. Still, the ultimate hope is for "some sort of symbiosis with artificial intelligence," which he said would take root "at the civilizational scale."
"With a high-bandwidth brain interface, I think we can have the option of merging with AI," he said.
Asked how Neuralink could make such an advance system affordable and widely available, Musk said the infrastructure would be so simple that it wouldn't need expensive neuroscientists to implant and maintain.
"I think it's safe to say you could repay the loan with superhuman intelligence," he said. "I think it's a safe bet."
In November, Musk touted "an AI extension of yourself" in an interview with comedian and podcast host Joe Rogan, saying: "If you can't beat it, join it.
"From a long-term existential standpoint, that's, like, the purpose of Neuralink, to create a high-bandwidth interface to the brain such that we can be symbiotic with AI," he said. "Because we have a bandwidth problem. You just can't communicate through your fingers. It's just too slow."
Such an interface, he claimed, would allow "anyone who wants to have superhuman cognition — anyone who wants." At some point, he said, people would be able to "upload into a new unit, literally," when they die.
Those high-flying promises have convinced some heavy hitters.
Neuralink's most recent Form D securities notice to filing with the Securities and Exchange Commission, or SEC, filed in May, disclosed that the company had raised more than $39 million from seven investors — more than three-quarters of its goal.
Musk, 48, whom Forbes lists as the 40th-richest person in the world, founded or co-founded PayPal Inc., the electric car company Tesla Inc., SpaceX (which wants to start commercial space flights by 2021) and The Boring Co. (which seeks to build an underground "hyperloop" allowing commuters to travel between New York and Washington, D.C., in a half-hour).
He also co-founded OpenAI LP, initially a nonprofit venture seeking to "ensure that artificial general intelligence benefits all of humanity." Earlier this year, OpenAI shifted from a being a nonprofit to being a so-called capped-profit company, which would allow it to make profits "while including checks and balances to actualize our mission."
Tesla and SpaceX are widely seen as successes that have fundamentally advanced technology in green transportation and space exploration.
But other of Musk's efforts have stumbled: Last August, in an attempt to reduce pressure from investors and critics, Musk tweeted that he was taking Tesla private at $420 per share without first consulting his board or notifying shareholders.
The announcement ran afoul of SEC regulations after it turned out that Musk hadn't struck an agreement with private investors to finance the move. The SEC ordered him and Tesla to pay $20 million each in penalties, and Musk had to step down as chairman for three years.
In September, the significance of Musk's $420-a-share price became clear when Musk smoked marijuana on the air during his appearance on Rogan's podcast. Tesla's stock plunged by 9 percent as investors questioned his stability.
Then, in November, The Boring Company announced that it was withdrawing plans to develop a "test tunnel" of its hyperloop system in Los Angeles.
State and local officials said Musk's plans hadn't been submitted for review or permits — formally or even informally.