Just as self-driving cars are poised to change the way we get around, smart technology on the farm is set to revolutionize the way we cultivate the food we eat.
Farmers already plant, weed, and harvest crops with the help of sophisticated machinery. But these machines — including huge tractors and combines guided by Earth-orbiting satellites — are about to become a lot smarter and more capable.
For one thing, these machines will be able to work autonomously. Eliminating the driver cuts labor costs, of course. But it also helps ensure that crops aren't left to rot in the field because no one is available to pick them at prices farmers are able to pay.
"In tens of millions of acres in the U.S., there's not really people who want to go out and pull weeds in the 100-degree heat," says Ben Chostner, an executive with Blue River Technology, a Sunnyvale, California-based startup that is developing automated farm machines to apply fertilizer and weedkiller.
And since plants give off greenhouse gases as they deteriorate, getting everything harvested helps protect the environment, too.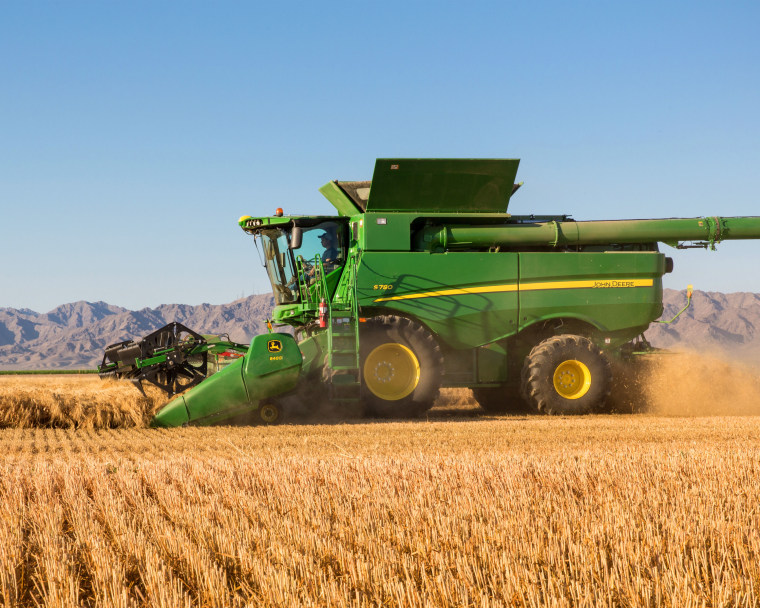 Automation, coupled with the data science that's lately revolutionized other fields, will let farmers apply fertilizer, pesticides, and herbicides precisely where they're needed. That will reduce the environmental impact of potentially toxic chemicals and make it easier for consumers to understand and limit their exposure to these compounds.
"Efficiency is going to increase," says Stavros Vougioukas, an associate professor of biological and agricultural engineering at the University of California at Davis and a noted researcher on farm automation. "Environmental impact and energy costs will be basically optimized."
Smart Tractors Get Smarter
Today's farm machines already drive themselves, more or less. Farmers are on board mostly to ensure safety and make minor tweaks — in the way seeds get planted, for example.
"The farmer really has to be there because only the farmer knows how to farm — the computer doesn't," says Kraig Schulz, co-founder and CEO of Autonomous Tractor, a startup in Fargo, North Dakota.
But as farm equipment makers equip their machines with the same sorts of sensing devices used in self-driving cars and trucks — video cameras, radar, and the like — there will be no need for drivers. A series of autonomous farm machines could be controlled by one person working in an office. And in addition to cutting costs, that will help farm workers limit their exposure to pesticides and herbicides.
Efficiency is going to increase. Environmental impact and energy costs will be basically optimized.
Stavros Vougioukas, associate professor of biological and agricultural engineering at the University of California at Davis
Farmers and other stakeholders, including insurers, are starting to buy into the notion of autonomous farm machines, says Mel Torrie, CEO and founder of Petersboro, Utah-based robot maker Autonomous Solutions.
"If they can automate a car driving autonomously down a California street, surely they can automate my tractor," Torrie says about the way farmers think.
Related: Are These Drones the Fix for Our Depleted Forests?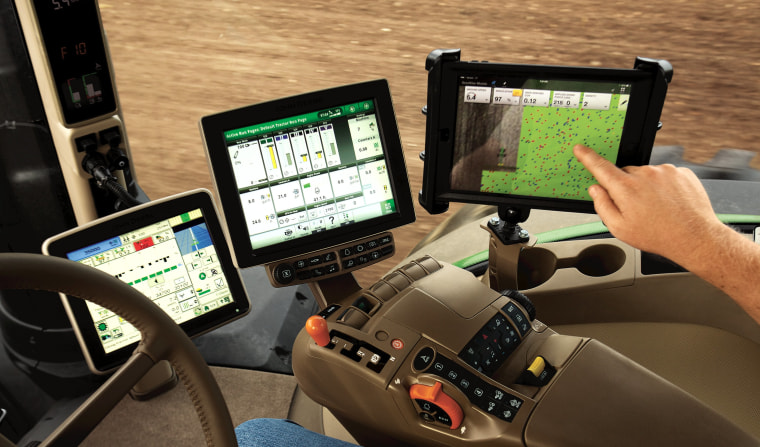 ASI, as the company is known, is working with vehicle manufacturers on prototype tractors that can operate autonomously to plant crops and till fields, using computer vision and radar to avoid obstacles, even in low-visibility conditions. The company aims for farm tests by next year, with commercial rollouts within five years.
"Next year, it's definitely ASI's plan that you will be able to drive past a field and see these out operating," says Torrie.
Picking Fruits and Vegetables
Crops that don't grow in neat rows, such as tree fruit like apples and cherries, are still harvested largely by hand. But that too is set to change. Advances in machine vision and touch sensors, which allow machines to see and feel produce on the vine, are key. Ditto for so-called "fruit walls," where trees are bred and pruned to create near-flat clusters of fruit easily accessible to picking machines.
Those advances are enabling tests this year of robotic apple harvesting in Washington state, the nation's largest apple producer. At least two companies — Israel's FFRobotics and Haywood, California-based Abundant Robotics — are preparing to sell apple-picking robots by the end of the decade. The FFRobotics machines will use robotic arms to grasp the fruit, while devices from Abundant Robotics will use suction to pluck them from tree branches.
"We're looking at commercial availability within one or two years from now, which is really incredible," says Matthew Whiting, associate professor of horticulture at Washington State University in Pullman. "I would be shocked if we go three, four decades out and there would be significant human involvement in the harvesting of fruit products."
Farming by the Numbers
The gradual shift from humans to machines is also driving a move from conventional agricultural spraying practices to so-called precision agriculture, in which fertilizers and other agricultural chemicals are applied exactly where and when they are needed and in just the right amounts.
"We will know what each machine sprayed, exactly how much it sprayed, what days, what times," says Vougioukas. "All of this would be automated."
One big player in the move to precision agriculture is machinery giant John Deere. The Moline, Illinois-based manufacturer recently unveiled a line of sprayers equipped with computer vision and touch sensors. Deere is also developing new combines with vision sensors that analyze the quantity and quality of grain as it's harvested. The machine would guide farmers to optimize settings, like the speed at which the grain is processed and the angles of the machine's components. The goal: maximize the amount of grain harvested while ensuring that it's not damaged by the harvesting process.
Related: An Aquaponic Vertical Farm Grows in Brooklyn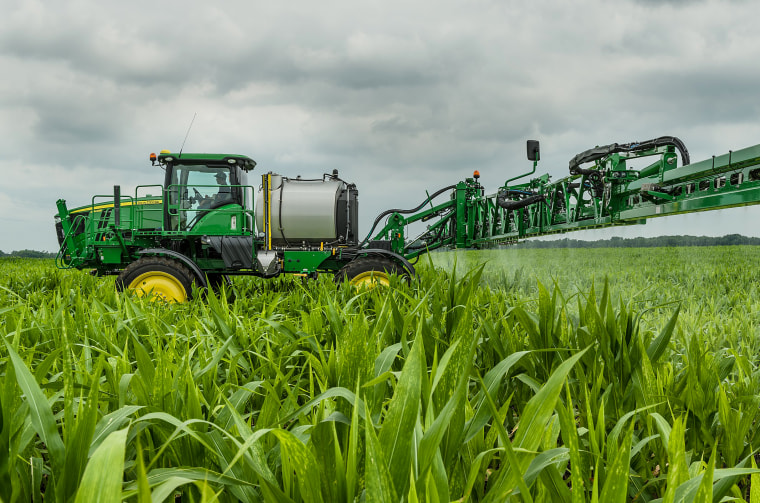 "I think we've only scratched the service in terms of the types of sensors we could employ in precision agriculture on machines," says John Teeple, director of technology in Deere's precision agriculture solutions group.
Next year, Blue River Technology plans to roll out automated crop sprayers featuring computer vision algorithms similar to those that let Facebook and Google recognize faces. The algorithms will be able to tell individual crop plants from weeds. That way, Chostner says, the appropriate chemicals can be applied with unprecedented precision, reducing by as much as 80 percent the amounts needed.
While Blue River is focusing primarily on row crops like lettuce, Whiting says similarly precise chemical treatments will likely find their way to fruit orchards as well.
"It really is a cool time to be working in this area, because it is just emerging," he says.